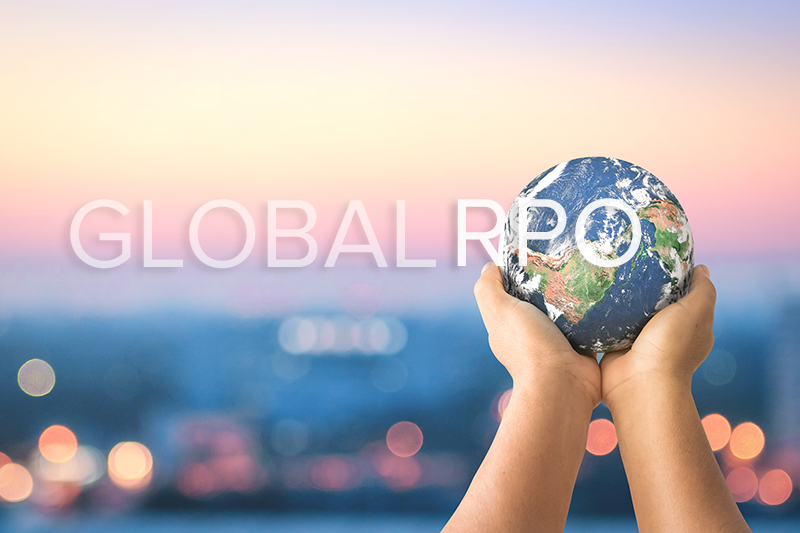 The world may be getting smaller. Still, its demands are growing daily, as are the needs to fill the ever-shrinking market of talent. Recruitment Process Outsourcing (RPO) continues to rise to meet these demands.
Why? It's more than likely this ascension undoubtedly comes from a parallel demand to increase efficiencies of recruitment functions and the need for finding sought after quality hires.
As per a 2018 report by the Korn Ferry Institute, it states, "there will be a global human talent shortage of more than 85 million people, or roughly equivalent to the population of Germany. Unchecked, by 2030, that talent shortage could result in about $8.5 trillion in unrealized annual revenues."
Staggering numbers! And we're only ten years away from the referenced forecast.
To understand the future look at the past
Traditionally, employers chose recruitment process outsourcing services to reduce recruitment costs better. Around 25 years ago, it was first initiated as an accounting play to have an improved balance in budgeting, following the popular Business Process Outsourcing (BPO) model.
Following the outsourcing model, recruiting firms were first used to identify the always hunted "purple squirrel" rather than just discovering where the best talent is hidden.
These days it's not just that simple.
Its growth has now evolved to include targeted engagements and sourcing strategies. Essentially, the RPO global evolution began by improving recruitment processes that were expected to raise the level of the playing field when determining the competitiveness of RPO service providers.
Today, recruiting organizations understand that if they fail to keep up with the competitive pace of RPO enhancements, they may be left behind or dissolve.
The adoption of RPO has evolved
RPO has changed the recruiting and staffing world across the globe. The demand for its benefits quickly values the adoption of its models. At its roots, RPO is evolving, but still keeping in mind, it's very much a people business.
Recruitment expansion into new global markets realizes the approach to talented candidates from companies across the value chain changes. Conducting potential candidate interviews across the globe, and with language barriers to overcome, efforts require the assistance of "local staff who understand the language and culture."
For example, Cynthia Cohen and Maru Gonzalez, founders of RPO-consulting firm, Mynt Consultants, initially started their RPO practice in Latin America and currently serve clients all over the world.
Cohen advises, "When thinking about RPO, it is the system of outsourcing processes to someone else, and in turn, that someone else adopting your methods in alignment with their own.
Cohen continues, "with this activity, the involvement of many different players is widespread when RPO providers have their CEOs all over the world (LATAM, APAC)
This holistic approach has dramatically changed the global dynamics with global-minded experts alike as to how they can obtain a more extensive pipeline of talent.
Erin Petersen of PeopleResults states, "A global capable RPO team provides the benefits 24/7 recruiting which in turn provides progress around the clock."
With a global ecosystem and more international engagements, multicultural teams with global expertise can help identify needed skills, possible gaps, and the best places to find talent.
The Growth of RPO Globally
Many drivers are influencing this market as discussed by Everest Group's annual RPO report. Due to the increasing popularity as well as demand for RPO services, regional players are expected to emerge. The market is becoming even more competitive as it grows.
In the meantime, let's take a look at some of the data points that impact this growth by industry analysts who vigorously monitor the global market and presents daily insights.
The Global RPO market is the fastest-growing HRO market with a 16% growth rate (2016) and has an estimated revenue of USD 2.8B.
Over 3,000 multi-process RPO deals signed as of 2018, with a minimum of four or more recruitment processes and a minimum contract term of one year.
The global recruitment process outsourcing (RPO) market was valued at US$ 5.01B in 2017 and is estimated to expand with a CAGR of 14.4% from 2017 - 2025.
The data-driven story fits in perfectly. It will demonstrate an RPO's efficiency, as well as help visualize and improve the analysis of talent acquisition strategies. As Andrew Brown of Saba Software reminds us, "Corporations will need to utilize software that caters to country-specific needs and regulations to see all the talent available."
Global RPO partners are your integrated partners
Kim Pope from WilsonHCG urges, "Leading RPO providers invest significant time and energy to understand their clients' cultures, business needs, and employment brands."
As such awareness and commonality of challenges exists in every country, the evolution of RPO partnerships demonstrates that it's not just outsourcing anymore; now, it's only a piece of it.
Additionally, Cohen shares, "RPO is 100% focus at recruiting based on the client's culture, business goal, mission, and vision. Thus, it is essential to work to the highest standards and create a consistent recruitment process."
The employment landscape is evolving the relationship between RPO providers and businesses. However, also utilized as integration partners, RPOs have audiences of their own.
As one of the beneficial eccentricities, companies can attract plenty of new customers through RPO audiences as well. Both sides can consolidate their efforts and help to create value for one another.
Peterson further advises, "culture gaps will need to be bridged." RPOs and their investing partners will increasingly work together to deliver the best results possible for clients and candidates, no matter the location.
What's next for the global RPO market?
With an increasing demand for more streamlined recruiting processes, RPO services will continue to look at new methods and technology for optimized performance and results.
As the RPO market grows, so does its innovation. Solutions such as Total Talent acquisition will continue to become a focus of regional RPO vendors and buyers trying to gain position. Growth in size and profitability will undoubtedly encourage bolder attempts to penetrate the global market
RPOs digital strategies will enhance career site interfaces, creating requirements that stand out, and providing the best user experience for all channels will exist like never before.
Regional players will emerge in the coming years, which will make the market considerably competitive. Startup businesses look for a piece of the pie attempting to establish themselves and find expansive ways to survive. RPO environments will undoubtedly encompass more advantageous players to drive consistency and add value.
The Human Capital Institute (HCI) Kronos study shows as "the world of work evolves, so too must the ways we attract, recruit, and retain our workforce."
Lastly, as international talent needs, demands, and conditions change, the ripple effect will continue to be felt on a global market scale. The rising need for RPO benefits isn't quite ready to hit the ceiling yet.