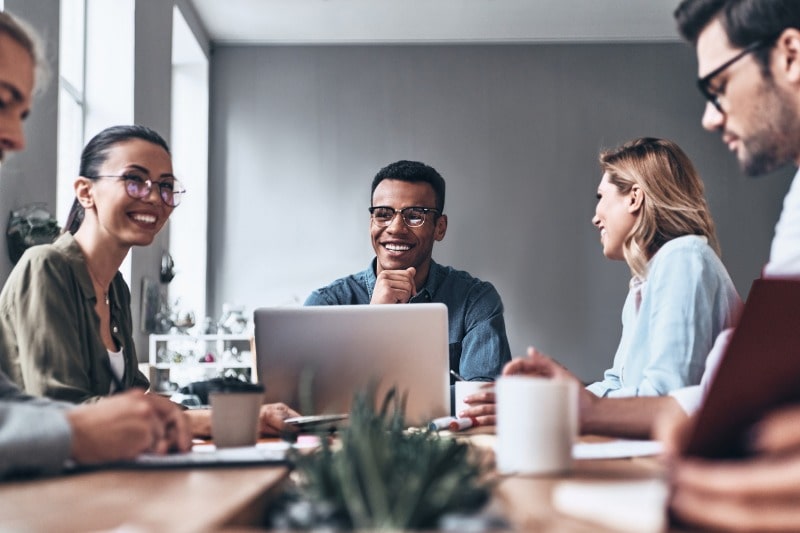 Recruitment Process Outsourcing (RPO) can profoundly impact an organization's hiring outcome. For RPO providers to stay competitive, they must understand the top-of-mind problems of today's RPO buyers.
During our 2023 Global RPO Expert panel, Lokesh Goyal and Sailesh Hota, Practice Directors with Everest Group and leading RPO analysts, discussed Everest Group's recent research findings on the current state of the global RPO market, the challenges businesses face with hiring, emerging trends, and how RPO leaders can prepare for the future of talent acquisition.
We are publishing four blog posts summarizing each topic discussed during our global RPO expert panel. In our first post, we published a summary of the discussion centered around the current state of the global RPO market and why these experts are optimistic about the future of the global RPO market.
Our second post in the series focuses on the top five business challenges today's RPO buyers face–the top challenges RPO providers should solve for their clients. This blog post aims to help RPO leaders understand and resolve the top challenges for current and potential users of RPO services.
Despite Economic Challenges, Optimism Remains
Despite the economic challenges buyers of outsourced recruiting services face, Everest Group's research indicates a positive future. Goyal shared how these buyers ranked their top five business challenges over the past three years. He then provided the positive side of the last two challenges facing buyers.
Goyal showed that the top five business challenges facing buyers of outsourced recruiting services are as follows:
Cost of overall talent acquisition

Adapting to evolving customer needs and business models

Talent/Skills Shortage

The slowdown in demand

The slowdown in decision making
Goyal said that the current economic slowdown had pushed the cost of overall talent acquisition to the top business challenge in the short term among outsourcing buyers. The following top challenge is adapting to evolving customer needs and business models; these challenges are about improving and refining existing processes for optimized performance. Interestingly, the skills shortage has dropped from the top concern in 2022 to the third key consideration. He emphasized that while buyers highlighted the slowdown in demand and decision-making, they ranked these challenges fourth and fifth, respectively, indicating these are minor business challenges.
He also observed that those businesses that view the slowdown in demand and decision-making as minor continue to grow and generate demand for their core activities, providing an opportunity for increased talent acquisition.
Watch the webinar for a complete analysis of the current state and future outlook of the global and North American RPO market
Here are the critical considerations for buyers in their TA program/vendor selection process that RPO leaders need to know.
Top Hiring Challenges RPO Buyers Need to Solve
The Everest Group survey broke down company size into three categories: large (over 15k employees), mid-size (3k-15k employees), and small (less than 3k employees).
From the research, Goyal observed that the four primary considerations across all buyer categories in the RPO market were process improvement (how well the provider's technology works and how they can use the data), providing quality candidate experience, analytics, insights, and cost reductions.
He said that surveyed buyers highlighted the need for RPO service providers to focus more on insights and analytics. The data showed that technology access was a significant necessity for most buyers, indicating a need for service providers to align their investment strategies with technology. Although midsize buyers mentioned cost optimization or reduction as a concern, small and large-sized buyers did not view it as needing improvement. Value-added services such as consulting and advisory support, DEI advisory, and employer branding were highly appreciated by buyers who expressed hope to see more of these capabilities developed by RPO providers. Overall, the data showed that RPO service providers need to focus more on insights and analytics, technology, cost optimization, and offering value-added services.
Regarding value-added services, Hota differentiated what value-added services mean based on buyer size. He noted that large buyers view value-added services as advanced analytics and consultation for services like workforce planning. Small and mid-sized buyers see value-added services as employer branding, simple workforce planning, on-demand, and recruiter training. He emphasized the importance of RPO leaders understanding the nuanced demands of different buyer sizes.
RPO Becoming a Vital Part of Talent Acquisition
Goyal observed that the RPO market expanded significantly post-COVID because of increased demand for flexible recruitment services, driven by their speed and agility. Services like Project RPO (short-term services) provided organizations with efficient hiring of hundreds or thousands of employees. However, he noticed that the trend is shifting towards long-term strategic partnerships.
Despite the popularity of flexible recruiting models such as Project RPO, Goyal said that the shift towards long-term models was underlined by RPO buyers viewing RPO as a vital part of their talent acquisition programs, and strategic partnerships allowed for more sustainable talent acquisition programs. He predicted that future deals would be more strategic, long-term contracts, as RPO buyers look beyond viewing these services as just a quick solution but as potential long-term strategic partners.
Small and Mid-Size Firms Test Run RPO Using Project RPO
That said, Goyal observed that the predominant trend in 2021 was short-term engagements (less than 12 months), known as project deals, especially among small and midsize organizations. However, the interesting point that Goyal emphasized was the inclination of small and mid-sized organizations towards RPO project-based deals. This approach, he said, indicates their tendency to test the waters before committing to long-term enterprise deals. He added that as first-generation buyers or early adopters of RPO, these smaller organizations typically start with project-based engagements as a litmus test. If these short-term deals align with their more extensive talent acquisition strategies, these entities tend to switch to longer-term enterprise engagements. He said this trend should persist in the midterm future among small- and mid-sized organizations.
Lokesh Goyal explains the data showing the tendency of small- and mid-size firms testing RPO with Project RPO.
Key Takeaways
Joe Marino, Chief Operating Officer with Hueman People Solutions, pointed out that between 2020 and 2022, the top-ranked challenge for organizations was the availability and supply of skilled talent. Now in 2023, it's superseded by the cost of hiring talent, possibly due to the economic downturn. The price may decrease as a primary concern if inflation lowers, causing the focus to return to talent supply and demand.
His rationale for his thesis is that despite the high cost of hiring talent, the talent shortage is still prevalent and should regain its position as the prime challenge once the cost pressures subside, possibly in the next 12-24 months. Job openings are still near record highs, over 9 million compared to 7 million before the COVID-19 pandemic. This increase in job openings is concurrent with a 3 percent surge in the Consumer Price Index (CPI). The CPI is the main outlier for supply and demand for talent within talent acquisition. Therefore, Marino makes a strong case for the supply and demand of talent to return to being the number one concern of organizations.
Hota's takeaway is that changes in various market sectors and increased openings have led to a significant shift in buyers' thinking. Over the past few years, the chaos in the talent landscape led to the realization that in-house HR and talent acquisition teams often can't handle these market changes. Therefore, small to mid-sized clients and even closed sectors like healthcare are beginning to experiment with RPO due to these changes.
Many RPO buyers in healthcare are trying to catch up to other industries, such as banking and financial services, which have been ahead for about half a decade. This shift is a significant change, with RPO being seen not just as a transactional or outsourcing program but as a critical component in strategic growth in 2023.
Kim Davis, a serial RPO entrepreneur, agreed with the research findings indicating increased projects and attributing it to buyer initiative and provider necessity. He observed a change since 2022 where providers are now compelled to participate in projects, starkly contrasting their previous reluctance. He also suggested the existence of underlying pressure necessitating providers to shoulder more shared risk. "Providers are now expected to contribute beyond management fees and assume additional risk to ensure project completion," he said.
All of this illustrates that businesses are seeking talent amid the economic downturn, and various-sized buyers of RPO services have different needs regarding quality candidate experience, analytics and insights, cost reduction, and value-added services. Businesses are slowly but surely redefining their talent acquisition strategies to better fit with changes in demand and technology, embracing RPO solutions as a means of speed and efficiency, and even leveraging project-based deals before committing to enterprise deals.
Marino suggested that organizations should be prepared to recalibrate their talent strategies because the shortage of skilled talent will again be the biggest challenge they face in the next 12-24 months. A huge challenge can invite a great opportunity!
We encourage you to watch the 2023 State of Global RPO Market webinar. The slides with charts and the research data provided in the webinar will give you the insight you need to pivot your RPO offerings to meet the needs of current and future RPO buyers.
2023 Global RPO Expert panel blog series:​​​​​​​
RPO Experts Remain Positive About Global RPO Market's Future