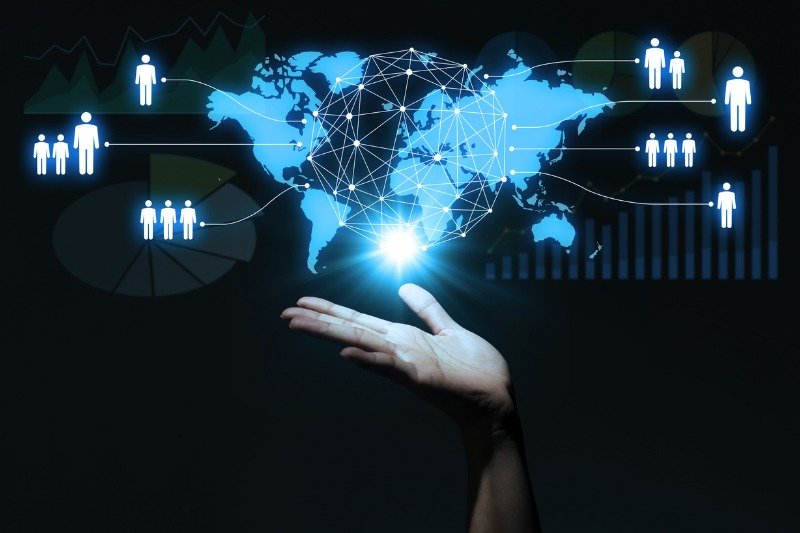 Who are the major players in the recruitment process outsourcing (RPO) industry? What are some of the recent business transactions in the RPO space? How are firms responding to the evolution of the RPO marketplace? What does the RPO echo system look like now or five years from now? To answer these questions and provide a comprehensive coverage of the RPO marketplace, the Recruitment Process Outsourcing Association is launching the RPO Market Report, an online blog featuring top stories and news from the RPO world.
When I recently asked RPOA co-founder John Younger where he thinks the RPO industry is on Roger's Innovation Adoption Curve, Younger submitted that RPO is over the Chasm (as defined by Geoffrey Moore in Crossing the Chasm) and in the early majority stage. "RPO is not going away, but it's not mainstream yet," Younger said. Industry research supports this position and shows healthy growth in the RPO market.
According to a new market research report published by Credence Research "Recruitment Process Outsourcing (RPO) Market (On-demand RPO and End-to-end RPO) – Growth, Share, Opportunities, Competitive Analysis and Forecast 2015 – 2022" the global recruitment process outsourcing (RPO) market was valued at US$ 3.5B in 2014 and is estimated to expand three fold with a CAGR of 14.4% from 2015 to 2022.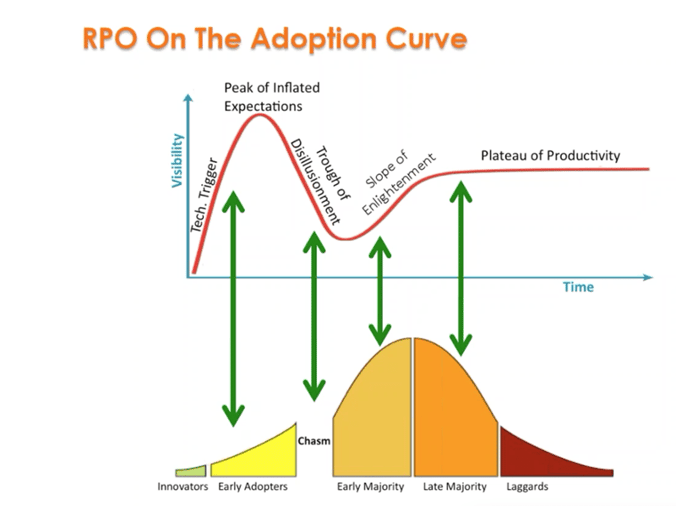 Early adopters of recruitment process outsourcing, including RPOA's co-founders John Younger and Mike Mayeux, pushed the envelope and experienced a lot of resistance. Business leaders feared they would be losing control of their hiring by outsourcing their recruiting function. "We had to educate the market that who you hire is core to your business, how you recruit is contex," said Younger, and "most companies don't have the internal resources for hiring, recruiting, metrics and accountability as an RPO who's sole focus is nothing but recruiting processes". There was also a peak of inflated expectation that "RPOs will miraculously fill every job and really fast." On top of that, many contingency, retained, and sourcing agencies (specially in India) started claiming to be RPOs, which created noise in the market and some bad reputation to overcome.
Nowadays as more companies start testing RPO, they will be "blown away with how much control they have and how much elasticity it gives them in their hiring and recruiting functions," says Younger.
As the RPO industry starts to mature, we're seeing RPO providers evolving in response to client needs, changes in the recruiting landscape, and competition from new comers. For some clients, the industy experience is becoming a major differentiator (health care and information technology for example). As a result some RPOs will start specializing in certain verticals. RPO delivery models are also starting to evolve and range from full recruiting outsourcing, to project-based RPO to everything in between. In addition to clients' needs, RPOs are starting to look for strategies to compete against one another as more new comers enter the RPO arena.
The Recruitment Process Outsourcing Association is delivering on its original mission of "educating the market about RPO" by introducing the RPO Market Report and its Spotlight series, which highlights some of the RPO players and their strategies to differentiate, rebrand or restructure their business as they navigate the RPO echo system.

In our first story, we present Advanced RPO, a great example of a new comer with an experienced RPO team that decided to rebrand their business in order to align with market changes.