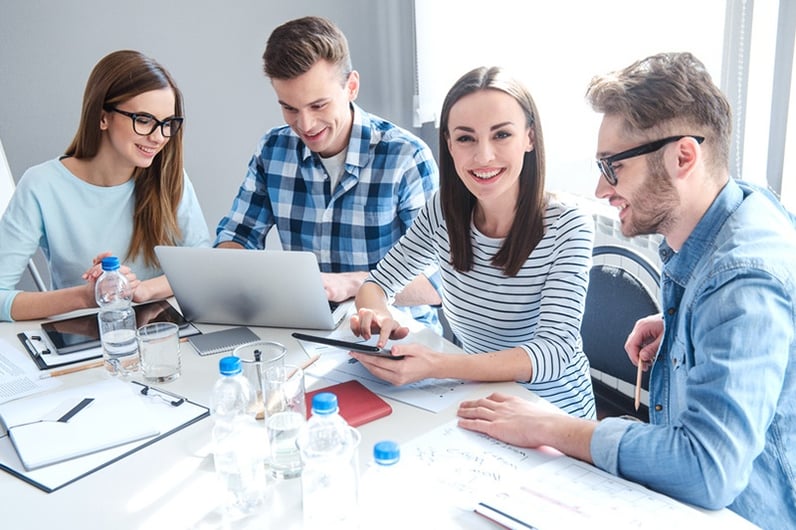 Have you ever felt a thrill from seeing a team perform in perfect harmony? Whether it's setting up the perfect jump shot, lining up a goal, or giving a flawless presentation, teams who work together can achieve goals far beyond the reach of an individual going solo. In this week's RPOA Weekly we focus on building a great team, with articles that discuss building teams in different areas of recruiting, using team-building exercises to identify great candidates, and techniques for building a strong RPO partnership.
How to Build Your Perfect Recruiting Team – Accolo - @AccoloRPO
What do the Fantastic 4 and San Francisco Giants have in common? This article says it's that they're perfectly balanced teams, groups of experts whose skills cover all the bases. Discover how to find the perfect recruiting team for your business, no matter what your goals are or what option works best for you. This article discusses team-building for internal and external recruiting teams, contract/contingency recruiting and RPO, and focuses on the three most important skill sets you need in your recruiting team.
Building an RPO Team is Like Building a World Series Contender – Taylor Strategy - @taylor_strategy
Professional sports teams are built carefully, selecting players that balance and enhance each other's strengths in order to achieve a definite goal – winning the title. As it turns out, building a winning RPO team works just the same way. Learn what Cleveland's stellar 2016 year in sports can teach you about zeroing in on important metrics, hiring the right people, and scheduling regular communication to make your partnership a success.
Not Just Hiring – How to Get the Right People into Your Organization the Right Way – Method3 - @method3
If you want results from your recruiting, you need to take time to think about what you're trying to do. Tick and box and get a warm body in the door? Or find the right person at the right time, and get them excited and ready to contribute? Explore the three essential questions that you have to answer in order to get results from your recruiting, learn the difference between hiring and recruiting, and discover how you can forge an emotional connection with a candidate that gets them on board and ready to go.
Why You Should Use Team-Building Activities in Your Hiring Process – ERE - @ERE_net
Team-building activities aren't just for existing teams. They can also be used to build teams, helping recruiters identify which candidates are right for the job. Find out how recruiters use team-building exercises to see their candidate's natural personalities, observe how they work in a group setting, assess if the candidate has the qualities they're looking for in a new hire, and gauge if they'll be a good fit for the company culture. The article also recommends different team-building activities according to what recruiters are looking for – leadership qualities, resilience and mental toughness, and more.
RPO Partnership: Impactful Techniques for Building a Strong Foundation – RPOA - @RPOAssociation
Successful RPO relationships are partnerships, with each participant contributing something of value to achieve a greater whole. Learn the techniques that Ryan Baca of About Talent and Heather McGotty of Welch's Foods used to establish the partnership that made their recent RPO engagement a success, such as establishing a shared purpose, communicating constantly, identifying metrics, celebrating achievement, and focusing on continual improvement.