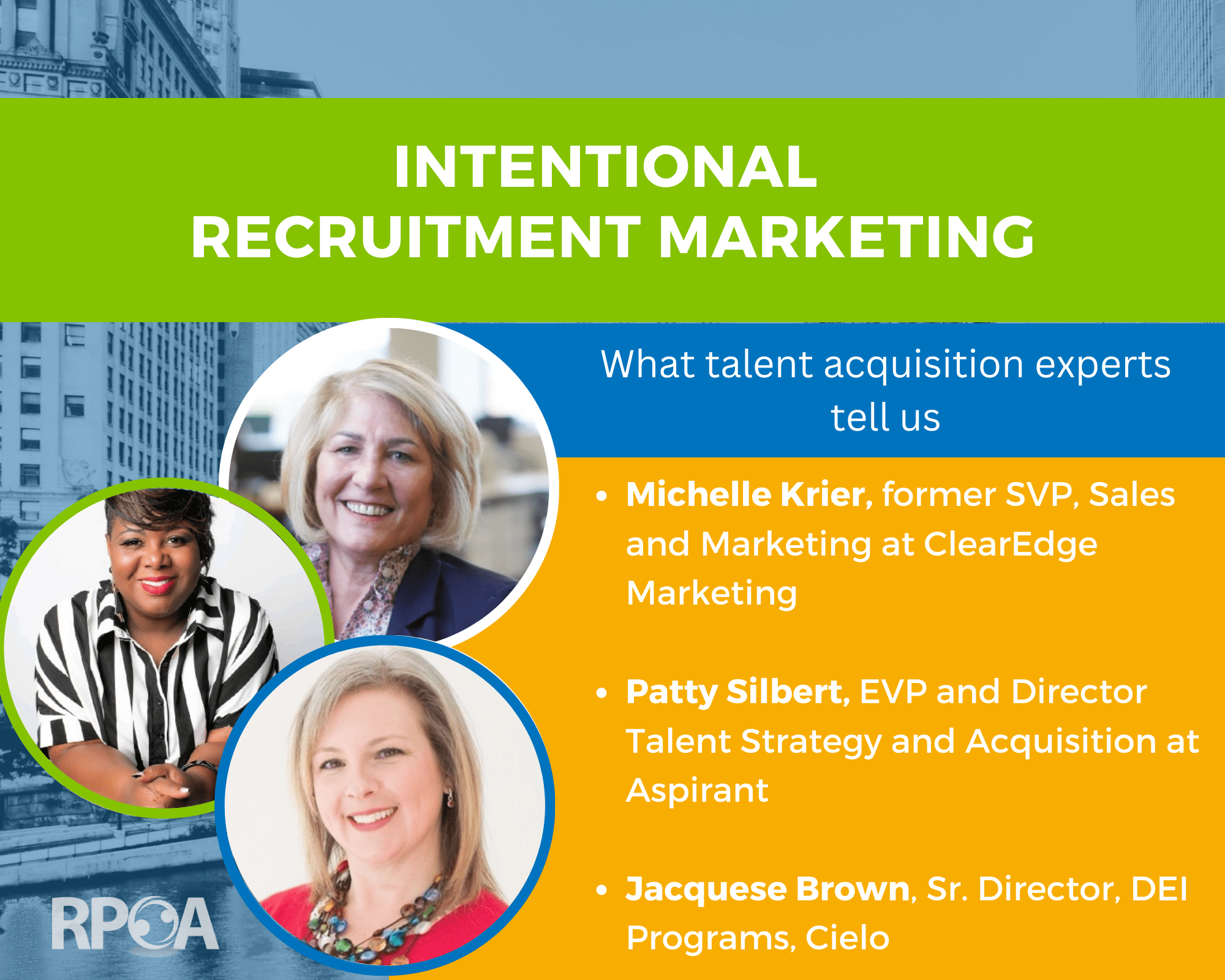 Intentional recruitment marketing is a concept that companies introduced previously. Businesses have always seen purposeful and deliberate recruitment actions as important to attracting and retaining top talent. Organizations also know that they need to improve the candidate experience. A Clear Edge Marketing report stated that 70 percent of employers would invest or plan to invest resources into improving their candidate experience. However, to improve the candidate experience, employers must first improve candidate engagement. Having an intentional recruitment marketing strategy can enhance the engagement of candidates. During the recruitment marketing panel at the 2022 RPOA third annual conference, Patty Silbert of Aspirant moderated the discussion between Michele Krier of Clear Edge Marketing and Jacquese Brown of Cielo Talent that helped RPO and TA professionals understand the value of intentional recruitment marketing. This post is an overview of that discussion.
Candidate Experience v. Candidate Engagement
When creating an intentional recruitment marketing strategy, it's essential to understand the difference between candidate engagement and candidate experience. The candidate experience is the overall impression the candidate has of your company. On the other hand, candidate engagement is the strategy or the selling arguments your company uses to engage the candidate, resulting in a good experience with your company and the hiring process.
What is An Intentional Recruitment Marketing Strategy
Most recruitment marketers understand that there are many levels to a recruitment marketing strategy. Brown believes a successful intentional recruitment marketing strategy comes down to knowing your end goals or desired outcomes. She also shared that a deliberate recruitment marketing strategy always starts with asking:
What do you want?

Do you understand the audience's demographic with whom you're trying to connect?

Do you know the nuances of speaking with them?
Intentional recruitment marketing involves setting specific goals and planning carefully to ensure that all recruitment marketing efforts align with your end goals. It also targets particular audiences and tailors messages to appeal to them.
Brown shared that companies could be "connecting with their audience," but that audience has no intention of applying for that job because the company's message doesn't resonate with them. So honing your message to your targeted audience is very important.
Krier also shared that when it comes to an intentional recruitment marketing strategy, companies need to understand whether they're planning for what will happen or are winging it and hoping for the best. She added that the most important thing companies need to do before writing a job post is reflect on the following:
Who are you trying to attract?

How do you want them to react when they interact with your message?

Where are they going to interact with you?

What actions do you want the candidate to take?

Go to your website.

Apply for the job with one click.
What is compelling about your organization or the organization you are working with?
The Value of An Intentional Recruitment Marketing Strategy
Candidates have many employment options. And both Brown and Krier emphasized that it's essential for companies to stop and reflect on who is the right person for the open role in their company. They agree that implementing an intentional marketing strategy will help employers engage suitable candidates.
By targeting specific audiences and tailoring recruitment efforts to appeal to those audiences, businesses can attract a larger pool of qualified candidates and create a more personalized and enjoyable candidate experience. That positive experience signals to candidates how your company values its employees. A Career Builder study of candidate experience reported that 78 percent of candidates said that the whole hiring experience signals to them how an organization values its people.[1] And from a favorable impression, companies can increase the likelihood of engaging top talent and improving the quality of hires.
To learn about intentional recruitment marketing and more, visit the 2022 RPOA Conference on demand to watch the whole discussion.
Sources:
[1] https://resources.careerbuilder.com/guides/candidate-experience-guide