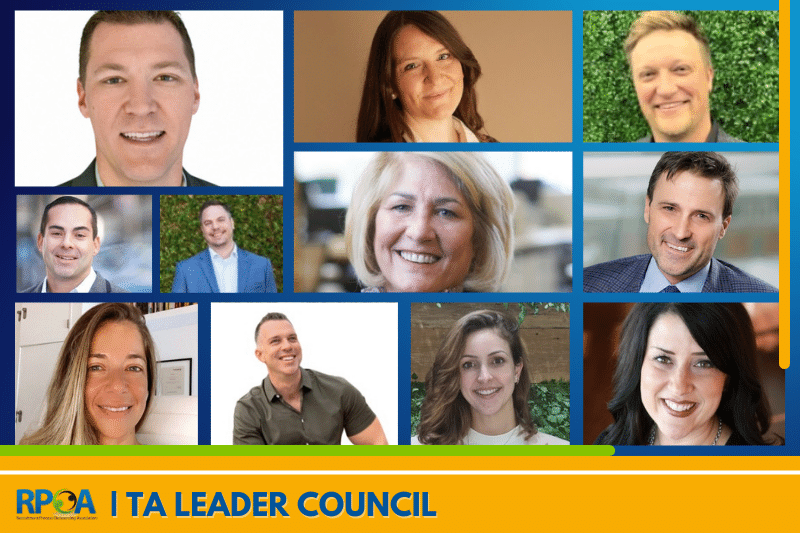 Candidate ghosting, quiet quitting, the Great Resignation, AI-talent acquisition technology, total talent acquisition, and direct sourcing are some of the new trends that surfaced or intensified in 2022. The Recruitment Process Outsourcing Association covered many of these topics in our webinars, blogs, and conference sessions this year. In this special post, we asked members of the TA Leader Council to reflect on their experiences and unique perspective on talent acquisition challenges. Here's a curation of their insightful responses.
RPOA: Based on your experience, what were the top talent acquisition challenges of 2022? What were some of the new, unique, or specific challenges employers faced this year, and what caused them?
Cynthia Cohen, Global Managing Director and Owner, Mynt Consultants, Argentina
The lack of candidates was a big challenge. Companies were hiring as never before, fueling the "war for talent." I've never seen such a crazy salary increase across the globe as in 2022. Companies backed-up with large financial investments, especially startups and fintechs, were setting the bar high for paying people amounts that big corporations could not compete with.
Also, new platforms have allowed companies to hire anywhere in the world and thus avoid local taxes and higher wages, generating unequal global competition for talent.
Patty Silbert, EVP and Dir. Talent Strategy and Acquisition, Aspirant
Based on my experience, the top TA challenges in 2022 included the ongoing labor shortage, skills gaps, and employers needing to meet new candidate and employee expectations.
The employee voice was stronger than ever, including the requirements of maintaining a balance between their personal and work life. Organizations looking to fill open roles experienced increased demand for higher salaries, women leaving the workforce at higher rates, and workers looking for more purpose in their work. What is new really centers more so on the employee voice being stronger than ever.
Paula Antonelli, People Director, Trafilea, Argentina
It is hard to pick one as we had several challenges in Talent Acquisition this year (great resignation, remote vs. hybrid type of work, back to normal, etc.) However, I would like to mention one that is affecting multiple countries: The intensification of international hiring. Many companies in North America and Europe are hiring people from other countries and offering salaries that are double, sometimes triple, what some countries can offer.
This increase in compensation is causing countries and companies to have to be more flexible and creative to compete. The hunt for great talent has become very aggressive and challenging in some parts of the world. This challenge also added a different side to the story. Talent from North America now competes with other talent worldwide for more roles than before. Previously talent from North America only competed for a few roles.
Trent Cotton, Senior Director of Global Talent, HatchWorks, USA
2022 continued to put a hyper-focus on what employees and candidates truly value in employers. The focus has become less on money and more on stability, type of work, the impact of the work, and outside-of-the-norm benefits. Companies have begun trying the four-day workweek to help attract and retain those who value spending more time with family.
There has also been a shift in the globalization of talent as the war in Eastern Europe created a lot of angst in offshoring, while concurrently, several companies have begun reevaluating their offshore strategy due to high talent demand, increasing prices, and lower quality of work.
The key driver [in my view] is that candidate remains in control of the process. Companies that do not value the time and effort candidates put into learning about the firm through the interview process have suffered. Companies that do not appreciate this aspect of the interview process are losing top talent to competitors who move quickly and see the interview process as a key indicator to candidates of a company's culture and values.
Kurt Trost, VP, RPO Strategic Solutions, Manpower RPO
Flex and scale have been the #1 thing I've heard in '22. Early in the year, it was 'scale up!' Now, it's 'how do I right-size the team.' All the while, over 50% of our clients are going through technology implementations and honestly don't know what the impact of the technology will be on the people/process. All that to say, technology consultation has also been a big challenge (automation & integration & budget & security approvals).
Derek Carpenter, Executive Vice President, Hueman RPO
Several challenges come to mind as I reflect on the past year. Our partners were faced with the struggle to find and retain recruiters. We saw a lot of competition and pressure around wages, especially in the healthcare space. The advent of innovation in talent acquisition was true across industries — to recruit and retain talent, leaders need to be more strategic and cannot rely on the old ways of working. The entire organization must be involved in recruitment to drive process efficiencies and get candidates hired quickly. We saw a dire need for organizations to create a well-defined employee value proposition. In addition, we saw the importance of having managers that care about and create relationships with their employees to help drive engagement and retention.
Kelly Burlage, VP, Talent Acquisition, Lineage
Recruitment competition was the biggest challenge. Candidates had and continue to have many options, which forced record levels of salary increases. And that competition increased candidates' behavior to ghost or leave a job as the market was moving so fast that people benefited from having one foot out the door.
NES Fircroft Team
As a global workforce solutions specialist providing candidates across the Oil & Gas, Power and Renewables, Life Science, Chemical, and Mining sectors, the team at NES Fircrot shared the following talent challenges for 2022.
Candidate shortages. Upon a rapid rebound from the pandemic driven by the need for energy security and transition, all markets are close to full employment.

Passive candidates, candidates are not actively looking for new opportunities.

Two-way street, candidates assessing the company as much as the company does assess the candidates.

Change of candidate priorities. Our Energy transition survey shows people are looking for: development opportunities to work with new technologies, groundbreaking projects, sustainability initiatives, competitive remuneration – and hybrid (flexible) work models.

The importance of promoting employer branding and stories – standing out from the competition in a candidate's market.
Zach Coffey, Director of Strategic Partnerships, Hueman RPO
It isn't easy to pinpoint one specific challenge. Of course, we saw the typical struggles around competitive compensation and benefits, retention, and talent shortage. Employee engagement, however, was top of mind for professionals across the industry. The conversation shifted to treating an employee as a whole person and showing genuine concern for their well-being. Talent acquisition and human resource leaders were tasked with finding talent that would be engaged and grow with their organizations. As we transition into more challenging economic times, there will be a big focus on the ability to staff teams to meet business demands while dealing with budget constraints.
Jason Krumwiede, Executive Vice President of Broadleaf
The top talent acquisition challenge in 2022 was our clients' competitors offering significant salary increases.
The massive disruption and crippling change in the labor market created widespread workforce instability across all industries. Not only were companies contending with The Great Resignation, but they were doing so within an era of significant hiring challenges due to changing candidate demands.
And it's all on top of a severe lack of available talent. According to Everest Group, the labor shortage is expected to continue for the next three to five years. And in fact, some industries may never recover based on current candidate trends.
We are seeing several clients remain flat or down on permanent hiring for the second half of the year while that same client is leaning on Broadleaf to ramp up more temp labor usage to smooth out the short-term supply and demand challenges to run their business.
Curtis Grajedas, Founder & CEO, LevelUp HCS
Despite the economy cooling down in 2022, the Great Resignation and skills shortages have kept candidates and employees in the driver's seat. In the areas where LevelUP specializes – healthcare, life sciences, financial services, and technology – qualified candidates remain scarce and highly competitive. At LevelUP, this was an opportunity for us to help clients make sense of the market by providing data and elevating strategy based on market conditions.
Letícia Valente H. Oliveira, Associate Director, Page Outsourcing
Hiring post-pandemic was complex due to the market instability and the war in Ukraine. The entire market was unsure of which way to go and if there was going to be a strong recovery.

Last year, we experienced strong recovery in some sectors such healthcare and e-commerce, which exploded in hiring. Now we see a slowdown in the technology sector with Amazon, Google, Meta and many other tech firms freezing hiring and laying off people. The main challenge would really be this instability that we are seeing in the market, on which way to go.

Diversity and inclusion initiatives on the workforce introduced new challenges for talent acquisition. Many organization jumped into diversity hiring without adequate internal planning. Some of the questions companies needed to consider before they embarked on diverse hiring is "Do we have a safe environment? Do we have an adequate physical structure to be able to adapt and be accessible to all people? Do we have a leadership culture that can promote these talents at home, that can retain them?"

Many companies turned to external experts, not only in recruitment but in several business areas as well, to mitigate their risk and bring their external market expertise in-house.