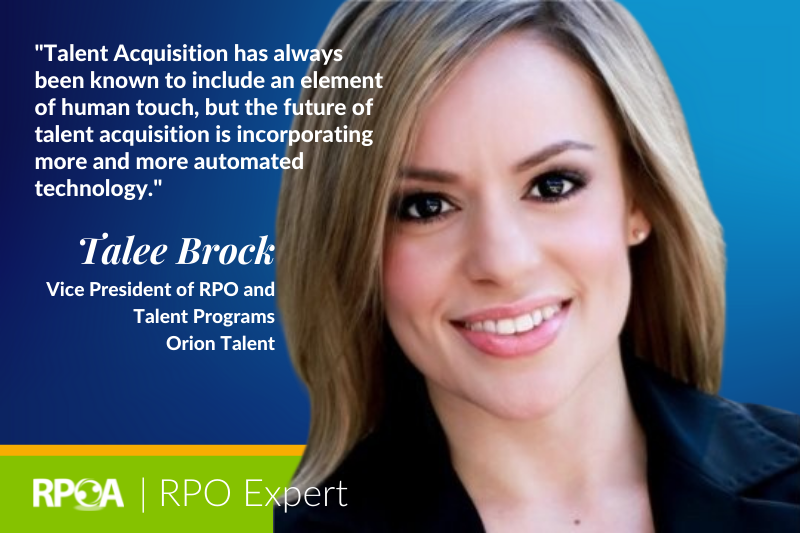 Talee Brock has been in the RPO space for over ten years starting her career in a hybrid Business Development and Recruiter role and expanding on her experience via different RPO organizations to her current position as Vice President of RPO and Talent Programs with Orion Talent. Her focus is on designing talent solutions that incorporate three primary components: TA team members, process buildout, and technology.
Talent acquisition is changing in response to the evolution of the coronavirus pandemic - which means Talent acquisition professionals and consultants are at the forefront of the future of talent acquisition. Brock, a member of the RPO Expert Series, shared her insights with RPOA's Executive Director, Lamees Abourahma about the future of talent acquisition. The following is an edited version of their conversation.
RPOA: What Do You See as the Future of Talent Acquisition
Brock: Talent Acquisition has always been known to include an element of human touch, but the future of talent acquisition is incorporating more and more automated technology. Brock pointed out that if a company commits to automating their entire recruitment process for specific, high-volume repeatable job families that allow for it, time to an accepted offer could theoretically take just a couple of days
What Has Been the Impact of Covid on Employers and Talent Acquisition
The impact of COVID on organizations has been varied. At the onset of the pandemic, companies laid-off workers and halted hiring in response to the unknown. Companies also switched to a primarily work-from-home workforce.
Working remotely gave employees a chance to view their careers from a different lens, one in which they could evaluate critical components such as career advancement opportunities and compensation alignment with the market.
Brock noted that when the labor market started opening, it created a twofold effect. Companies had to decide how to rebuild their workforce and which talent acquisition strategy would best serve them in responding to a re-hiring surge and ongoing recruitment strategy.
As companies faced their current employees entertaining other opportunities, employee retention began to decline. The increase in employees making career moves hindered companies from building back their workforce. Brock said that this development "has caused companies to react to an extreme need for talent, without a lot of time to acquire that talent."
What is the Role of RPO
The decline in employee retention magnified the impact of COVID on companies. Employers saw "they needed to solve a problem that they hadn't necessarily had to solve before to this extent," Brock said. As a result, more companies started looking at outsourcing models or a third party for volume hiring support than may have previously considered that solution.
RPO providers have been asked to provide companies with a strategic talent program in the short term while building a longer-term, strategic partnership in tandem.
What Current Changes Have You Seen in Talent Acquisition
As companies face the demand to scale up their workforce rapidly, they've needed to make the decision on whether to "build or buy." Building their workforce internally requires companies to grow their internal talent acquisition team and correct any process challenges. Buying recruiting services shifts the talent function to an outside provider such as an RPO. Brock said that companies have expressed enthusiasm to outsource because in many cases they're addressing process and technology challenges that existed even pre-pandemic.
What are Some of The Changes in Recruitment Marketing Strategy
Brock commented that the talent shortage is causing companies to be more intentional with their strategy. The simple process of posting a position and responding to applicants is extinct--it doesn't work anymore. In addition, companies are considering using technology platforms they hadn't used in the past. Some technology options provide automation along the entire talent acquisition journey. Brock said that automation lets RPOs create talent communities enabling their clients to reach new or untapped talent pools.
What is The Role of Transferable Skills
Solving the skills shortage challenge in many job families has spurred employing candidates with transferable skills. For example, the semiconductor industry has benefited from hiring military veterans for roles such as Technicians and Engineers since these skill sets are so in demand.
Brock said that hiring managers might be more accepting of candidates who might not be industry experienced, after exhausting other options. Furthermore, many companies looking to fill less-skilled roles are considering high school graduates or second chance candidates such as non-violent felons.
.The future of talent acquisition is here and having a strong partnership with a strategic hiring partner ensures that you'll hire and retain top talent. So check out this valuable e-book on-demand to discover how to build an effective partnership with an RPO provider that will get you results.