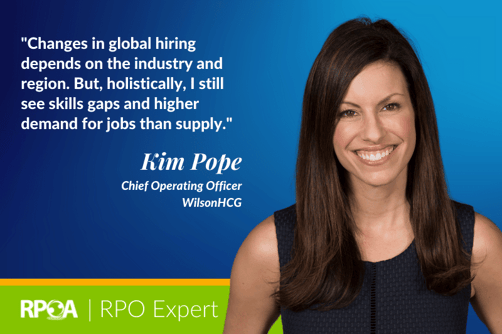 Global hiring has seen remarkable growth and shifts in the past two years. Talent acquisition and HR leaders need to understand these shifts to develop effective talent strategies to meet the needs of their organizations.
As a member of the RPO Expert Series, Kim Pope, Chief Operating Officer at WilsonHCG, recently shared her insights on the current shifts in global hiring during a two-part interview with RPOA's Executive Director, Lamees Abourahma. In this first part, Pope highlighted the macro and micro changes within the global hiring landscape. She also dove into the ripple effects of those changes.
In part two of her RPOA interview, Pope shares valuable hiring and diversity, equity, inclusion, and belonging (DEIB) strategies to overcome the current disruptions in the hiring environment. Please look forward to that post, but for now, enjoy this edited version of the first part of her conversation with the RPOA.
RPOA: What shifts are you seeing in global hiring?
Pope: It depends on the industry and region. But, holistically, I still see skills gaps and higher demand for jobs than supply. Especially in the US, hiring hasn't slowed down, in general, as evident by the 3.5 percent unemployment rate shown in the latest July jobs report that just came out. However, we do see a bit of a slowdown in certain industries. People are reassessing what the second half of the year is going to look like because of higher interest rates, a slowdown in consumer spending, supply chain bottlenecks, the Federal Bank raising rates, and so forth.
Consumer tech is an area where we've seen a lot of movement, particularly because tech went through a very robust, competitive hiring spree last year. Some tech companies may have actually over-hired the past couple of years, and they're now doing a correction more than anything else. Especially with the wage pressures that we see in the market, which are contributing to wage inflation. Tech companies are starting to take a step back to determine if they have the right infrastructure and are making some adjustments. So, it's not a knee-jerk reaction like we saw with the pandemic. What's occurring now is more of a re-forecasting, reevaluating, and then replanning.
But there are other industries that are still hiring "like crazy," including healthcare, med-devices, pharma, manufacturing, and engineering.
Hiring levels also vary by global region. In Europe, there's been a bit of a slowdown when it comes to evaluating skill sets and people moving in and out of the UK. Overall, we still have to see how hiring in this region will evolve.
Asia is a different story. We've seen China completely shut down for three-to-four months. Now that it's opening back up, you're seeing the beauty industry and retail picking up. And there's a surge of hiring again. There's also a backlog of open roles that employers are trying to fill. In addition, there's growth in executive search in that market. Employers are continuing to backfill some of those leadership roles where turnover happens. So, it's all very different perspectives.
On a macro level, there are still skills gaps. Companies are increasing internal investment in learning and development.
We've seen growth in Latin America. Mexico is a big growth country right now.
Internally, we've seen a lot of growth here at WilsonHCG. With the tight labor market throughout Europe and the US, we've hired more recruiters in South Africa and Mexico. A lot of organizations, like us, are evaluating regional expansions to anticipate the skills gaps that they're facing, especially in the US.
What can you say about hiring in the Middle East?
Pope: The Middle East isn't as mature when it comes to holistic talent acquisition (TA) strategies. For instance, a lot of organizations still operate without robust TA technologies, and they're still trying to figure out how to centralize technology that can track candidates in talent communities. Talent solutions are more scaled back in this region versus the holistic solutions in other regions. In other instances, organizations often use multiple vendors or partners without prioritizing centralization. This market [the Middle East] is prime right now for total talent solutions and talent consulting to help build centralized functions for organizations.
For more RPO and TA expertise from industry experts, check out our RPO Expert Series on the RPO Voice blog, which features interviews with top talent acquisition leaders.