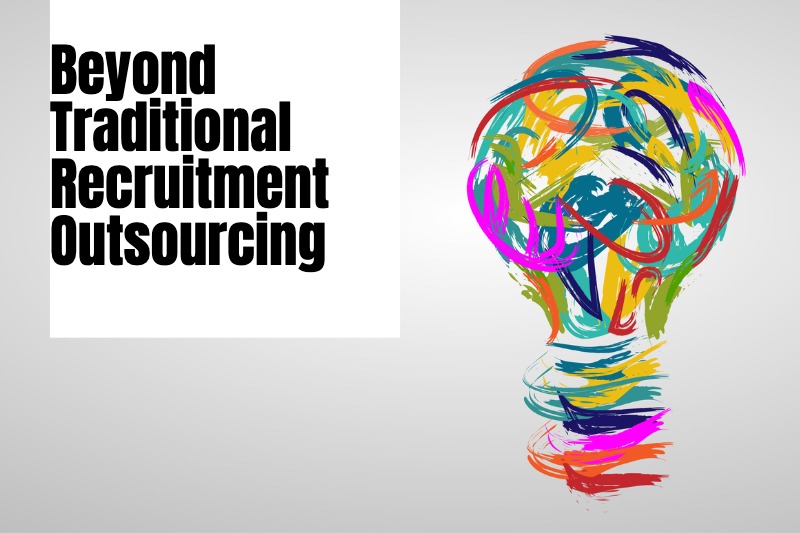 Companies, all over the world, have shifted hiring practices in response to numerous changes in the economy and labor market. Candidate behavior has also been changing whether it's a candidate-driven market or an employer-driven market; the one constant has been the skills shortage.
Over the last 20 years, organizations have relied on Recruitment Process Outsourcing (RPO) to help them solve recruitment challenges. Through those two decades, RPOs have evolved from providing simple transactional services to offering value-added services. As RPO evolved, total talent acquisition has emerged as a possible solution to the skills shortage.
In RPOA's Leadership Forum webinar, Pushing the Boundaries of Traditional Outsourcing, Andrew Brown, Head of Outsourcing Partners at Cornerstone OnDemand, describes the evolution and new shifts in the RPO marketplace from the perspective of a talent technology provider. This article provides an overview of Brown's key takeaways from the webinar.
The Evolution of Recruitment Process Outsourcing
Brown started the webinar by outlining the shifts that have taken place in recruitment process outsourcing (RPO) over the last 20 years. He pointed out that the rise of RPO came about because of two developments:
The demand for a specialized and skilled workforce in bulk.

The function of managing the sourcing and recruiting of a specialized and skilled workforce became expensive for organizations.
From Brown's perspective, RPOs attracted clients eager to reduce their recruitment cost. And in the beginning, the RPO model was transactional. That meant companies would say to an RPO, "Find me these number of skilled employees or skilled hires," Brown said. And the RPOs fulfilled that agreement. Traditional Applicant Tracking Systems (ATS) fueled the original RPO models. He added that dedicated technology had not entered the RPO space until later.
Brown noticed that between 2010 and 2012, an influx of RPO providers came on the scene and created a war on price. Brown pointed out this war on price caused providers to think of different ways to differentiate themselves. That meant moving away from a transactional model to a value-added model.
It was within those two years, Brown said, that he saw RPOs work towards becoming a valued partner and "find ways to go beyond the traditional lines of what an RPO had become, which is that partnership relationship."
For example, one of the shifts that occurred during this period is the emergence of recruitment marketing as a new recruiting practice and employer branding as a strategic talent acquisition strategy. As the labor market tightened during this period, and the war for top talent intensified, employers needed to create better candidate experiences with mobile-enabled platforms. RPOs seized the opportunity in building and improving their clients' employer brand to attract top candidates.
Along the way, new technology platforms spawned to enable and support these new recruitment practices. Brown said that the jobs were changing, and the skills that companies were trying to retain were changing. As a result of these shifts, RPOs "relied more and more on technology to try and drive either efficiency into their business, or in some instances, differentiation into their businesses," Brown said.

The Skill Shortage Challenge
From a technology perspective, Brown saw the most significant driver to shifts in the RPO space being skills shortage, the demand for certain skills in certain geographies being mismatched with the supply of talent with these skills.
A 2019 Gartner survey of about 3,500 managers found that:
Only 29% of new hires have all the skills required for their current role.
In key functions such as finance, IT, and sales positions filled today will require up to 10 new skills within 18 months.
Uncertainty about what skills will be needed in current and future roles will continue to increase as the surge in remote work sparks the redesign or automation of many jobs.
Over the last couple of years, a few innovative RPO leaders introduced total talent acquisition as a new solution to overcome the skill shortage in the marketplace.
Suggested reading: Don't Overlook This Secret Weapon in a Total Talent Solution
According to Brown, total talent solutions break down "traditional RPO programs and the borders between HR and procurement." With total talent programs, the focus is on finding the best talent regardless of who owns the program. Brown sees remote work and the gig economy partially driving the advent of total talent programs.
The adoption of total talent in the RPO market has also been evolving. A few early adopters of total talent emerged over the past couple of years. However, many RPOs haven't made the leap yet to support total talent for their clients.
As RPOs continue to differentiate and respond to new market conditions, more RPOs are likely to shift their focus to total talent. Brown sees an emphasis on what an RPO can do outside of the traditional hiring side of re-skilling and skills assessment. From Brown's perspective, this leads to an interesting question for RPOs: how far will an RPO go in supporting their clients?
How Far Will RPOs Go?
On-boarding
According to Brown, some RPOs started pushing the boundaries of traditional outsourcing into onboarding candidates raising some interesting questions. In particular:
At what point is an RPO handing off the new hire to its client?
Who's responsible for the onboarding?
Who's responsible for the traditional metrics, time-to-hire and cost-of-hire?
Is the RPO responsible for looking at metrics like time-to-productivity and how effective that person is, and how quickly can they be effective in the role they're being placed in?
Should onboarding be part of the natural RPO delivery?
Diversity, Equity, and Inclusion
With the heightened awareness of Diversity, Equity, and Inclusion(DE&I) in the workplace over the last year, the demand for diversity recruitment has increased. As a trusted recruitment partner, many RPOs started offering diversity recruitment to their clients. But, how do RPOs position this service? Brown noted that some RPOs offer it as a specific service, while others allow it to be a natural extension to their core services.
Total Talent Acquisition

Brown mentioned Total Talent Acquisition (TTA) in his remarks about RPOs facing the skills shortage, and to him, it is a new way of thinking about the role of RPO providers. It's new in that it can be "the complete replacement of HR with an outside source," Brown said.
The market of TTA is still in its infancy. From a technology perspective, Brown said that RPOs are trying to position themselves differently to create different types of value. Total talent is a way for RPOs to differentiate themselves. TTA allows organizations to look at the workforce holistically and find the best talent that fits the work, not the position. Total talent will enable companies to snag the best of permanent and contingent workers. RPOs that can deliver efficient total talent programs to their clients will add enormous value to the relationship.
Opportunity for RPOs
From the perspective of a talent technology provider, Brown offered up the opportunities he sees for RPOs.
The most important thing about being a technology provider to RPOs, Brown said, is that they enable them (RPOs) to add value to their clients. Adding value to RPOs opens them up to opportunities to add value to their clients. Whether it's through automation, artificial intelligence, or machine learning, RPOs can use technology to reduce the cost of their services and improve their profit margins.
Technology allows recruiters to do their job efficiently, build lasting relationships with candidates, and create an incredible candidate experience.
Technology will also provide RPOs with the opportunity of efficiencies they need to be a strategic hiring partner that adds value to their client relationship.
Technology and Total Talent Acquisition
Technology will play a significant role in the development of Total Talent Acquisition(TTA). Brown--and Cornerstone OnDemand--will ensure they continue to support the total talent aspect for their RPO clients. Brown understands that TTA is becoming bigger and better. He sees more and more companies across Europe looking at ways to have a holistic view of their total workforce. That means blending permanent and contingent workers into one workforce. Brown thinks, "Gone are the days where organizations are happy to have, you know, permanent over here and contingent workforce over there and have different systems." He concluded that technology would play a vital role in bringing total talent to fruition while driving efficiencies into RPO programs.
Access the full webinar on-demand and watch Brown share all these insights: push the boundaries of traditional outsourcing.