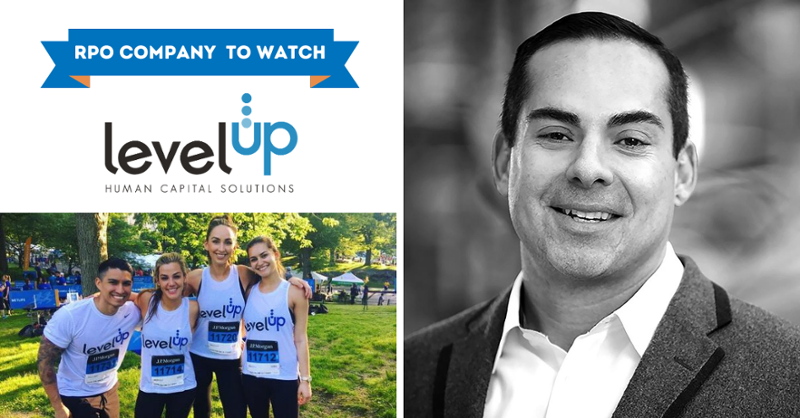 LevelUP Human Capital Solutions (HCS) is a New York-based recruitment solutions company focused on aligning strategies to solve their clients' talent and human resource problems.
Their ability to match hiring strategies with specific situations helps LevelUP create sustainable talent programs for their clients. They pride themselves on being a true partner to their clients.
LevelUP listens to its clients, adapts to changing needs, and acts to deliver end-to-end solutions delivered with the highest standard of customer service. To provide top service, LevelUP adjusts fast to daily changes that occur in the hiring process. Knowing their clients' one-of-a-kind values and needs allow them to flex their agility. LevelUP aims to connect great candidates to companies looking for larger-than-life results.
A True RPO Partner
Since launching in 2012, LevelUP has been a proactive partner with their clients. As Curtis Grajeda, managing partner and founder of LevelUP, said in an interview with the Recruitment Process Outsourcing Association (RPOA), "The RPO industry is designed to support fast-pace hiring." Working closely with their clients ensures they're being proactive in adjusting to constant changes instead of reacting to it.
By providing dedicated resources and embedding itself with its clients, LevelUP is able to share the risks and rewards of bringing new talent to an organization. As a result, the relationship is built on trust and mutual respect.
LevelUP works closely alongside its clients; this kind of connection allows LevelUP to line up talent results with the operational goals of their clients.
Outsourced Recruitment in Time of a Pandemic
Since the coronavirus pandemic, LevelUp has partnered with New York State to build its contact tracing program. The partnership allows NY State to recruit hundreds of contact tracers, community support specialists, and team supervisors.
LevelUP launched a broad-reaching effort to select and vet qualified candidates for the army of contact tracers NY state needs to hire and train. This workforce is estimated to be 6,400 to 17,000 tracers statewide. The program will run through the next flu season.
According to Grajeda, contact tracing is "more about the [RPO] industry becoming more prevalent in the U.S., and showing up as a more efficient way to go about bringing talent into [an] organization."
Challenges of Building a Contact Tracing Army
"We have an opportunity to play a small part in helping New York reopen. We have the opportunity to be part of the solution," Grajeda said. He is humbled to be part of the contact tracing effort in NY state and believes that "New York City, specifically, is the pulse of the nation."
With opportunity comes challenges. The number of coronavirus cases changes daily. To adjust to the fluidity of the situation, the LevelUP team worked seven days a week at times. Their agility allows them to ramp up quickly and fill up the talent pipeline needed for the contact tracing program. "I'm grateful LevelUp can do its part to help," Grajeda said. He points out that leveraging digital tools help run the program efficiently.
LevelUP helps NY State and municipality leaders take a macro view of things. They help them see talent acquisition, performance management, and data management working together, and understand that talent acquisition is the biggest piece of the process.
Managing the workforce includes controlling the fluid data coming from NY authorities daily. When it comes to handling the daily changes of data, the LevelUP team is as agile as the Yankees infield.
LevelUP Impact
LevelUP's ability to share the risks and rewards with their clients builds trust. They line up expectations at the start allowing them to be flexible and get results for their clients. The effects include quick time to hire and increased efficiency.
As they work with New York State, Grajeda knows the importance of their work. "We're really changing, altering, and influencing the economy of New York State. We're part of the solution. On a macro level, we're helping to save lives," Grajeda said.
LevelUP Has an Empire State of Mind
Grajeda is a New Yorker through and through. He "loves New York, grew up in New York, and went to university in New York". Started in NYC back in 2012, LevelUP added offices around the world since then including in Europe, Asia Pacific, Sal Paulo, and Canada.
LevelUP's mission is to connect top talent with best-in-class organizations through true partnership. LevelUP is passionate about working with companies to create balanced talent programs. Its experienced and talented team is devoted to designing hiring solutions that don't deplete resources.
Pillars of Service
LevelUp has three pillars of service. They are:
1. Talent Acquisition: Execution and delivery of talent acquisition programs.
2. Advisory: Consulting and training on creating talent and retention programs.
3. Managed Service Provider: handling day to day workforce operations.
Clients can apply these pillars for an end-to-end or total talent solution. This solution entails LevelUp sourcing, identifying, selecting, and handling offers to candidates. Additionally, it includes onboarding and training new hires and time management.
LevelUp is a mid-sized firm that offers enterprise-level service capabilities. "We focus on customizing solutions tailored to our clients' talent and HR demands, whether it be a short-term project, full-scale Recruitment Placement Outsourcing (RPO), or Managed Service Provider for contingent workforce." Some of the industries serviced by LevelUP include financial services, healthcare, technology, and industrial & manufacturing.
A Company with an Altruistic Spirit
The team at LevelUp is motivated, committed, and not afraid to take risks. They work jointly and share stories of success and failure. They challenge each other and mentor one another.
Mentorship goes hand in hand with opportunity. They believe peer-to-peer learning refines skills for success. Teaching those who are still learning and receiving advice from managers creates a culture of advancement.
There's a bit of altruism that lines up nicely with LevelUP's entrepreneurial spirit. LevelUP truly wants to help dreamers find their dream job. As it helps New York State control the coronavirus, Grajeda knows his team shares his altruistic spirit. LevelUP's constant pursuit of looking out for candidates and companies' best interests makes it an ideal solution for talent and recruitment needs.
RPO Company to Watch is a program offered by the Recruitment Process Outsourcing Association (RPOA). LevelUp is an RPOA member.