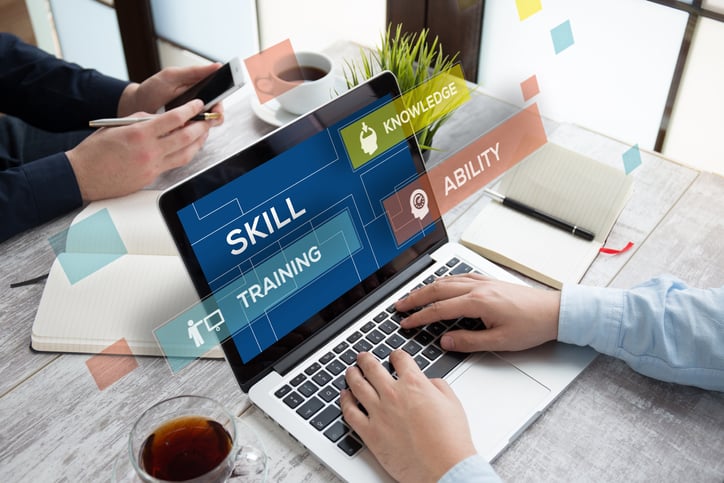 Staffing agencies and RPOs around the globe are always on the look-out for creative and cost-effective ways to meet their client's hiring goals. Today's economic climate has made it imperative to help clients run sustainable businesses with reduced budgets. Programmatic job advertising (PJA) is an innovative solution that helps recruitment providers improve candidate quality, enhance client satisfaction, and increase margins at each stage of the value cycle.
In my role as the host of the RPO Leadership Forum, I've had the pleasure of introducing RPOA members to incredible people, tools, and technologies designed to make their role as RPO providers more valuable to their clients. It's always a joy when I find something "new to me" that I can share with you.
In a recent RPO Leadership Forum webinar, we were joined by Jennifer Terry-Tharpe, VP of Strategic Initiatives, and Jim Dwyer, Start-Up Executive and Employment Branding & Recruitment Strategist at Joveo, two powerful forces in the world of data-driven recruitment via PJA. They generously shared their insights and advice on how to use this tool to get the best ROI for your recruitment advertising budget.
If you've ever wondered if programmatic job advertising was right for you, this webinar is a must-watch! It covers everything from the impact PJA has on your recruitment application process to the questions you should ask a PJA platform provider. Let's dive in.
Watch the full webinar free on-demand.
What is Programmatic Job Advertising?
Similar to, but not the same as, other forms of online advertising like Google Ads, PJA is the purchasing, publishing, and optimization of job ads by data-driven software. It can be a powerful way to expand your reach beyond traditional online job boards that are inundated with competing listings.
How does PJA differ from some other online ads? Among other features:
It uses real-time bidding.

Unlike Google Ads, which offers access to all pages linked to the Google display network system, PJA doesn't limit itself to a single inventory provider.

PJA allows the use of external (your) data, not just data collected by a search engine like Google.
As we'll get into a little further on, this last differential is an important one, as it ensures your job ads are seen by the right candidates at the right time in the right place. No more managing multiple job ad vendors or spending money on sites that don't help you meet your clients' goals.
Identifying Opportunities for Value Maximization and Cost Optimization
We currently have a lot of changes occurring in the talent acquisition sphere. More than 60 percent of the TA professionals Joveo surveyed said the COVID-19 outbreak has "negatively impacted their company's ability to hire according to plan." Not surprisingly, Terry-Tharpe says, that meant reductions in areas like staff and advertising, "just generally less jobs and everybody feeling things compress."
What does that mean for RPOs? Terry-Tharpe says "you're probably going to have to shrink your cost a little bit to make yourself more appealing to somebody that has a shrinking budget." The goal of the conversation around PJA today, she adds, is to find ways it can help you increase margins and decrease sourcing costs. One of the paths to getting there is understanding job seeker behavior in today's climate.
Of course, job seeker behavior is always in flux, but the pandemic has brought with it some unique challenges. As Terry-Tharpe says, "If you were to have asked me in December [2019] if the market would be flooded with talent" in early or mid-2020, "I would have told you you had lost your mind." Every industry and every job level were in a fight for available talent.
As we near the end of 2020, jobs that many businesses would normally be hiring for at this part of the annual lifecycle such as in the retail, travel, and service industries, just aren't there. There's a five percent decrease in retail and nearly an 80 percent reduction in waitstaff. Remote, on the other hand, continues to go up, and the pool to choose from has grown much larger with businesses and job candidates expanding their view of what they're looking for.
Based on client conversations she's had over the last several months, Terry-Tharpe says employers, staffing, and RPOs are now "looking for creative approaches to do more with less." But there's also little tolerance on the client side for reduced support or reduced outcomes. In other words, RPOs are expected to still deliver the same or better results but they've got to do it with fewer resources, i.e. money. PJA makes this mandate a less dire situation by giving you an opportunity to pivot to a more agile approach that focuses on using data to increase your margins without compromising not only your client hiring goals, but also their cost expectations.
The Core Pillars of Programmatic Advertising
When setting out to define how PJA should be used to accomplish goals, Dwyer says "I put that information into three buckets. The first is intelligence, the second activation, and the third insights." Here's what each one represents:
Intelligence is all the data that's been collected relative not only to job openings but also to the people who have applied to those openings.
Activation covers taking that collected data, feeding it into your PJA platform, and allowing the software to learn from it. For instance, the software can process information from your job openings and candidate responses and find areas where improvements can be made.
Insights are the learned outcomes you see from each and every engagement in a programmatic platform. You learn things like which publishers are going to be your best performers and you're able to use real-time data to make strategic decisions that maximize your campaigns.
This forward-facing information is a result of what Dwyer calls "a rinse and repeat" process as you continually use existing and acquired data to make your job listings more accessible and efficient than ever before.
Questions to Ask a PJA Platform Provider
The right PJA solution enables you to hire the most relevant talent in the shortest time while knowing your costs, quality, and time-to-fill before you even begin. It replaces the guesswork, complexity, and inefficiency of today's recruitment practices with intelligence, transparency, and power. You get more relevant candidates, more certainty, and more success from your job recruitment efforts.
In selecting a PJA platform, these are just a few questions you'll want the answers to, as Dwyer says, "make sure you're barking up the right tree:"
Can you buy and manage media across all your required job boards?

Can you advertise your jobs and retarget candidates on Google, social channels, and the entire world wide web using the same platform?

Can you manage your existing slots and duration-based postings from the same platform?
Dwyer goes into much greater detail and covers additional questions in the webinar.
Is Programmatic Job Advertising Right for You?
If you already have an existing agreement with publishers, can PJA help you? Terry-Tharpe says yes and she bases her reply on hands-on experience. A PJA platform can be run in conjunction with any agreements you currently have; Joveo, she says, works with all today's major market providers.
Technology solutions can be ideal for driving lower per-hire costs because you:
Pay only for performance.

Gain greater flexibility and control over ad spend.

Target great talent more efficiently.
Is PJA, then, an investment worth considering? Whether you need candidates for hard-to-fill jobs, more volume for your talent pipeline, or both, PJA allows you to hire faster and smarter. This webinar from our partners at Joveo offers much, much more to learn about the world of JPA. It's certainly well worth the investment of your time to take a listen.