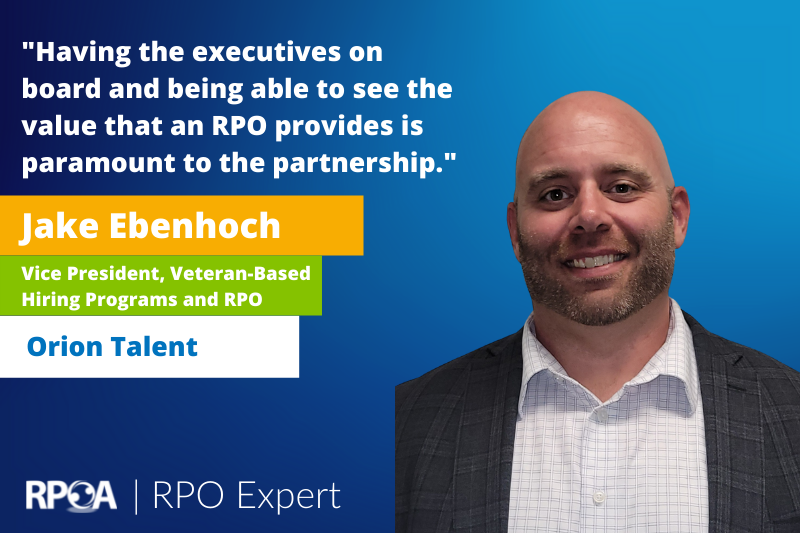 Jake Ebenhoch has invested almost 20 years into the recruiting industry in multiple facets including corporate recruitment, staffing, technology, and strategy. As Vice President, Veteran-Based Hiring Programs and RPO for Orion Talent, Ebenhoch consults with companies on ways to improve the performance of their recruitment while providing embedded recruitment process outsourcing partnerships that provide dedicated recruitment experts, accountable guaranteed performance, and state-of-the-art recruitment technology to add capacity and capability to our client's internal recruitment efforts.
As a member of the RPO Expert Series, Ebenhoch shared his insights with RPOA's Executive Director, Lamees Abourahma, on what talent leaders should know about recruitment process outsourcing (RPO). The following is the first of a 2-part edited version of that conversation.
RPOA: What are your best tips for starting a successful RPO Program?
Ebenhoch: Number one, at the start of the program, having executive buy-in is incredibly important. One of the biggest issues we see when RPO programs don't go the way we necessarily intended is that there's a feeling of more of a buyer and a provider relationship, instead of a partnership. Getting executive buy-in at the start supports change management by hiring managers who've been doing things the way they have always and don't necessarily see a need for change. So having the executives on board and being able to see the value that an RPO provides is paramount. If effective recruiting can be correlated to the impact it has on overall business drivers, that's where the executive levels are going to buy into a partnership and see the cost as being something that is going to support the accomplishment of business drivers in the long run.
So the way that you can start to think about that is by looking at the bigger picture rather than just recruiting itself. But what does increasing your workforce capacity to 100% mean to being able to reduce production backlog or being able to get products out there quicker? Those are the types of questions that can really draw parallels to the executive level and make RPO as effective as possible.
Number two, taking the time to invest in implementation is incredibly important for both parties. If the triage is so intense when we first come on, and it's just about filling positions and time isn't taken to learn the client brand, talk about the employment value proposition or go through change management strategies with hiring managers on why RPO is important, the RPO program will not hit its full potential of possible results.
RPO expert Talee Brock explains how RPO helps organziations overcome the current talent acquisition challenges.
How can organizations know RPO is the right talent solution for them?
What you get with RPO is not just somebody who's going to be filling positions. There are multiple resources and different channels that you can go to have those positions filled. With RPO specifically, the entire goal is to make sure that we're providing a holistic approach to talent acquisition performance. And so you get a dedicated team of recruiters, process accountability, and then also state-of-the-art technology. So when you start to look at that, from a perspective of who it's right for, RPO makes the most sense for those organizations that see room for improvement in their overall talent acquisition process and are looking to holistically improve their performance within that strategy.
Now, there's still, especially in times like these, a need to get those positions filled as quickly as possible. And I would say 90% of my conversations revolve around the triage of hiring demands that organizations can't meet at this point. And so that's still definitely the end goal. But if you're just looking to fill those positions and don't really care how the sausage is made, RPO may not be the right fit.
If you're looking for the opportunity for somebody to come in, and there's sustainable hiring demand over time, an RPO can build efficiency into your program. It can get those positions filled, and hit other strategic objectives that the business has around diversity and inclusion or other areas of workforce productivity and retention.
Why is the longevity of the RPO relationship important?
With COVID and the recruiter demand the way it is, potential clients who are calling are extremely overwhelmed. We're hearing, 'can you help me fill 50 jobs yesterday?' Overall, that's not the right fit for RPO, but it might be the right fit for a staffing agency. To understand the difference between a staffing agency versus an RPO, a car analogy is useful. A staffing agency is like an electric vehicle that can go zero to 60 in two and a half seconds because that's all they do. They're not building a dedicated program. They can get those positions filled in no time, or at least get candidates submitted in no time. Whereas the RPO is like a diesel pickup truck that you know is going to last 430,000 miles before it's done. In an electric car, you have to charge every 230 miles. So the staffing agency is really good at a quick speed and getting candidates submitted immediately. The pickup truck is extremely reliable and it becomes more efficient over time.
An RPO is focused on the longevity of the program and is continuously improving as we partner together. That's where the efficiency metrics start to build because everything we're doing is dedicated to the client specifically. And so an RPO partnership of no less than six months makes the most sense. The standard for enterprise organizations is usually a three-year contract. With the market the way it is right now, the sweet spot is probably a 12-month engagement with automatic renewing years. The benefit that gives to clients is the opportunity to adjust, contractually speaking, based on market volatility or inflation. Having that flexibility contractually, a 12-month contract with automatic renewing years usually makes the most sense.
What are the elements of a successful RPO partnership?
From a contractual element, it always makes sense to build clauses into the partnership that allow for material changes in scope or material changes in market trends to come together as a group. It's important when you're building a contract that everybody agrees that as the market changes, so does the contract. You don't want to be stuck in a three-year contract where your program is underfunded, overfunded, or not flexible because you're in it for a long time. And the performance will take a hit if those conversations aren't built into the contract themselves. So usually, we try to, depending on the volume and size, put something in the contract that states that if hiring volume exceeds or is decreased by 10% of the projected annual amount, we come together as a group, talk about it, determine whether this a short term situation or is it going to be for a long term duration, and we make adjustments as needed.
Flexibility is the key. Scalability is always one of the main reasons an organization comes to RPO in the first place. The higher the volatility, it's a lot more difficult to maneuver with an internal talent acquisition team than having an outsource provider help you with it. We can accommodate some of those market fluctuations because of the scalability of RPO models. But having a contractual element to talk about material changes is always important.
The level of communication over time is incredibly important. So making sure you're hitting monthly calls with the primary stakeholders, quarterly business reviews, and then annual strategy meetings are incredibly important.
Reinforcing that the RPO provider is there to work as an extension of your team, rather than just filling positions or acting as an additional channel that may be filtering qualified and unqualified candidates. In other words, if the perspective of an RPO being the extension doesn't exist, you almost compete against the RPO. If requisitions aren't mutually exclusive, or if there are multiple channels working on the same requisitions as an RPO, or it's a first come first serve of an internal recruiter versus an RPO recruiter finding the candidate, you're not going to see the results that you're really looking for. So make sure there's that perception of the extension of your internal recruitment team and allowing the RPO to operate the same way your internal recruitment team operates. You're allocating requisitions individually to the RPO versus your internal team so that they can work mutually exclusive, but achieve the same goals.
And then the final thing is shifting with market trends or dynamics or anything of that nature. Part of those quarterly business reviews should focus on continuous improvement strategies. An RPO should talk about where it sees bottlenecks in the process; making market adjustments is incredibly important to the ongoing success of the partnership.
What are some of the elements driving organizations to the adoption of RPO in the last two years?
Pre-COVID scalability was far and away from the main reason that an organization would consider the value of an RPO provider. Now, over the last two and a half years, the values we're talking about more often are strategic excellence and capability. Right now, the hiring demand is so high at most organizations, their internal recruitment team doesn't have the capacity or the capability to recruit effectively. And so that's how the conversation has transformed over the course of COVID.
Organizations can't find recruiters themselves because recruiter demand is the highest it's ever been. And they need strategic forethought, thought leadership, technology, and recruitment expertise to go into the most difficult recruitment market there's ever been and identify and qualify the best candidates in the market. So there's a little shift from scalability, because demand is so high, and the talent market is so short on that recruitment side of things.
Check out how recruiter on demand from RPOs establish repeatable hiring processes and get results.