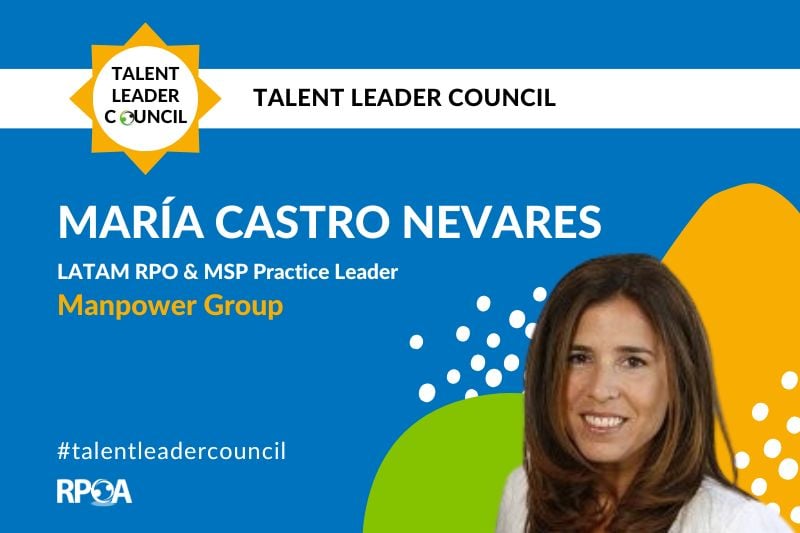 Internal mobility gives employers access to a vast pool of untapped potential talent. "Talent has no borders," says María Castro Nevares, LATAM RPO & MSP Practice Leader of Manpower Group. Enabling employees to build on their existing knowledge and experience while pursuing new opportunities within the organization expands their ability to help organizations grow locally, regionally, and globally.
So far, in our series on internal mobility, Talent Leader Council member Valeria Stupenengo has provided her insights on internal mobility affecting global employers. Then Zach Chertok, another Talent Leader Council member, provided a valuable deep dive into the impact of internal mobility on organizations and its benefits. In our final post in our series on internal mobility, Talent Leader Council member María Castro Nevares provides insights into Manpower's internal mobility program. Her insights include best practices other organizations can use to access a deeper pool of internal talent. Here's an edited version of her interview with the Recruitment Process Outsourcing Association (RPOA).
RPOA: What is causing the rise of internal mobility?
Castro Nevares: TALENT HAS NO BORDERS
Our goal is to provide career opportunities to our internal talent with a vision that crosses borders and contemplates a regional and global strategy—finding talent no matter where it is.
This benefit is highly motivational for our teams, where profile assessment takes center stage, providing growth opportunities and career plans.
With this benefit, selected individuals receive high levels of exposure, thus being able to display their results and talent, and success levels. This exposure allows for professional growth.
Internal mobility can support talent enablement--helping employees to reach their potential faster than they could on their own. What other benefits can you experience from internal mobility?
Castro Nevares: In the old days, it was thought that growth could only occur vertically, and we aspired to grow upwards in the organization; however, today, companies have evolved. Organizational charts have flattened. Growth has become exciting and challenging laterally.
Career planning can then be turned into horizontal growth, providing learning opportunities by taking on responsibilities of a different nature in different business units. Therefore, individuals can continue to grow within the organization and develop without waiting many years to achieve those objectives.
The internal mobility program becomes a central strategy, dynamic, and of high professional development.
What are some of the challenges you experienced with talent mobility, and how are you managing them?
Castro Nevares: One of the main challenges when implementing this type of program is to properly assess the candidate´s levels of maturity that apply to the benefit.
Whether the person is at the right moment of maturity to carry out their relocation must be considered, ensuring that the move is not made due to a rush decision or for the wrong reason.
Assuring personalized end-to-end support is critical and only finishes when the person reaches their destination. This support must consider all aspects, from accommodation to family needs, providing support before, during, and after the move to immerse into the new culture successfully.
It becomes key to provide a mentor system so that, upon arrival in the destination country, the candidate can be guided during the transition process.
The program was developed in a framework that consists of several steps:
Close communication with different areas to identify needs
Advice from external consultants who are experts in internal mobility programs
Policy definition
Gathering of the necessary documentation
Full documentation of processes and benefits
Clear and open benefit communication
Constant process retro feedback to identify deviations and achieve continuous improvement
Key to the program's success is maintaining a flexible process, avoiding rigidity to consider each person's specific needs at all times.
We understand that each individual has a very different life situation, and their family model may not always be as traditional as it was previously conceived; hence the process cannot be strict but appropriate and customized for each person and family.
What type of internal mobility programs has your company implemented?
Castro Nevares: As of today, our program includes minimum mobility of 3 years since we estimate this is the necessary timeframe for the person to adapt, learn and make the most of the opportunity.
Internal mobility plays a big part in ESG (Environment, Social, and Governance) as part of its pillars, taking a holistic approach to talent and resource sustainability.
That's the last post in our series on internal mobility. If you want to attract, hire, and retain the best talent, check out our Talent Leader Council on the RPO Voice blog and learn valuable best practices from top talent acquisition experts.
Internal Mobility Series:
Page Outsourcing's Valeria Stupenengo: Internal Mobility Means Success for Employers