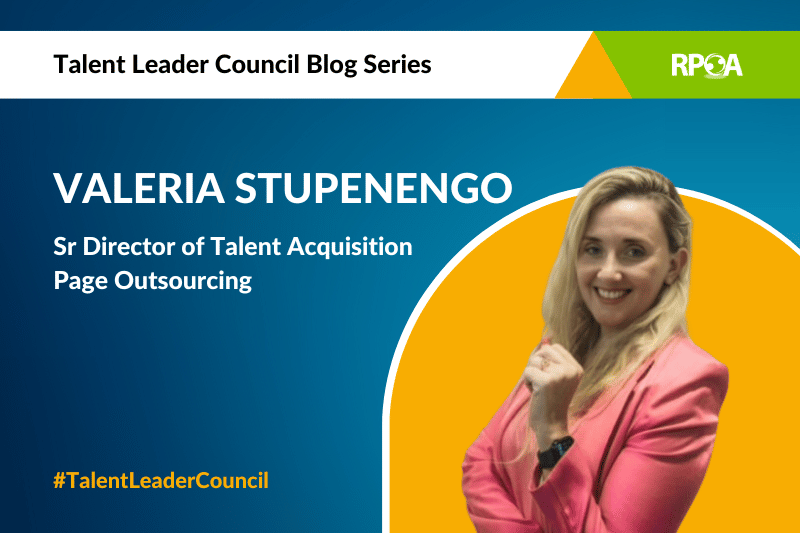 Internal mobility has become essential for organizations. What is giving business leaders the clarity to see that helping employees use their existing skills and expertise within the organization in new roles or departments over time is beneficial to their bottom line? Valeria Stupenengo, Sr Director of Talent Acquisition at Page Outsourcing, said she believes two reasons exist for the rise in internal mobility. First, companies invest daily in better work environments and reinforce their employee value proposition (EVP) to make employees feel more valued. Second, the new "work from anywhere" premise.
In our next series of blog posts for the RPOA's Talent Leader Council, get insights from three highly respected talent experts about the rise of internal mobility. Each talent leader will provide valuable observations about why the increase in internal mobility is happening, its challenges, and its benefits. This first post is an edited version of council member Stupenengo's interview for the series.
RPOA: What is causing the rise of internal mobility?
Stupenengo: Each day, companies invest in providing a better work environment and reinforcing their employee value proposition (EVP). The objective is to make people feel more engaged with company values and that their contributions are truly valued.
The rise of internal mobility results from that investment and is a consequence of the forced premise of "work from anywhere" after the pandemic.
Now, that flexibility makes employees more open to evaluating different career options outside their countries. Internal mobility has become a natural way to attract and engage with more offshore career options for the best talent.
What type of internal mobility programs has your company implemented?
Stupenengo: As a multinational company, all talent at PageGroup could apply and be considered for international roles. In 2022 with the new HR Structure, the program was reviewed and made even more robust. We re-organized the process and reinforced two main pillars for the Latin American (LATAM) region:
Global Mobility Program – Leadership positions with high impact on business are globally published from the first day and with a structured process. We mirror best practices from worldwide companies with a robust package of international mobility according to the position level.

Regional Mobility Program – Core and leadership positions that are currently open in the business and posted on the company career portal where any candidate can check, apply and participate in an internal selection process and, if approved, count on a package of mobility according to the location and position level. In this case, the movement can be considered for the same office, country, or even a different country in the same region (LATAM)
Internal mobility can support talent enablement--helping employees to reach their potential faster than they could on their own. What other benefits can you experience from internal mobility?
Stupenengo: An important value for PageGroup is DEI (diversity, equity, and inclusion). With internal mobility, we also can improve our DEI environment by counting on people from different nationalities and cultures in every operation. Besides, in terms of business results, internal mobility can facilitate the implementation of best practices from one market to another, improving the learning process and bringing faster results for all operations.
What are some of the challenges you experienced with talent mobility?
Stupenengo: Improving our internal career website and defining the best communication channels have been PageGroup's main challenges. Regarding tools, we are working to have a more user-friendly portal so it's faster and more intuitive for people to find the best career opportunities. We need to improve our employees' internal communication channels to avoid losing opportunities that could impact people's careers. In addition, as the structured process is still new, we are facing some challenges at a more administrative level for the "offer & closing deal" stage. In some locations, even with local entities worldwide, we still need to rely on an external provider, which takes longer to close the process.
What are some essential factors in implementing a successful talent mobility program?
It would be best to consider your bigger goals: company sustainability and overall business success. First, ensure you have aligned strategies globally, regionally, and locally so that each business is aware and committed to assuming additional costs. Internal mobility should be considered a long-term investment. Second, engage senior leadership with their sponsorship to help spread the message that we are developing talent for the whole company and not for a particular business. And third, empower each employee to own their success, helping them focus on areas of development, reinforce specific skills, and even learn new ones. This development will help them stand out and be one step ahead when being considered for another role.
In two weeks, one of our prominent Talent Leader Council members Zach Chertok, workforce analyst at IDC, will provide his knowledge and observations about the rise of internal mobility. In the meantime, check out our Talent Leader Council on the RPO Voice blog to gain the understanding you need from top talent acquisition experts to help your organization attract, hire, and retain the best talent.