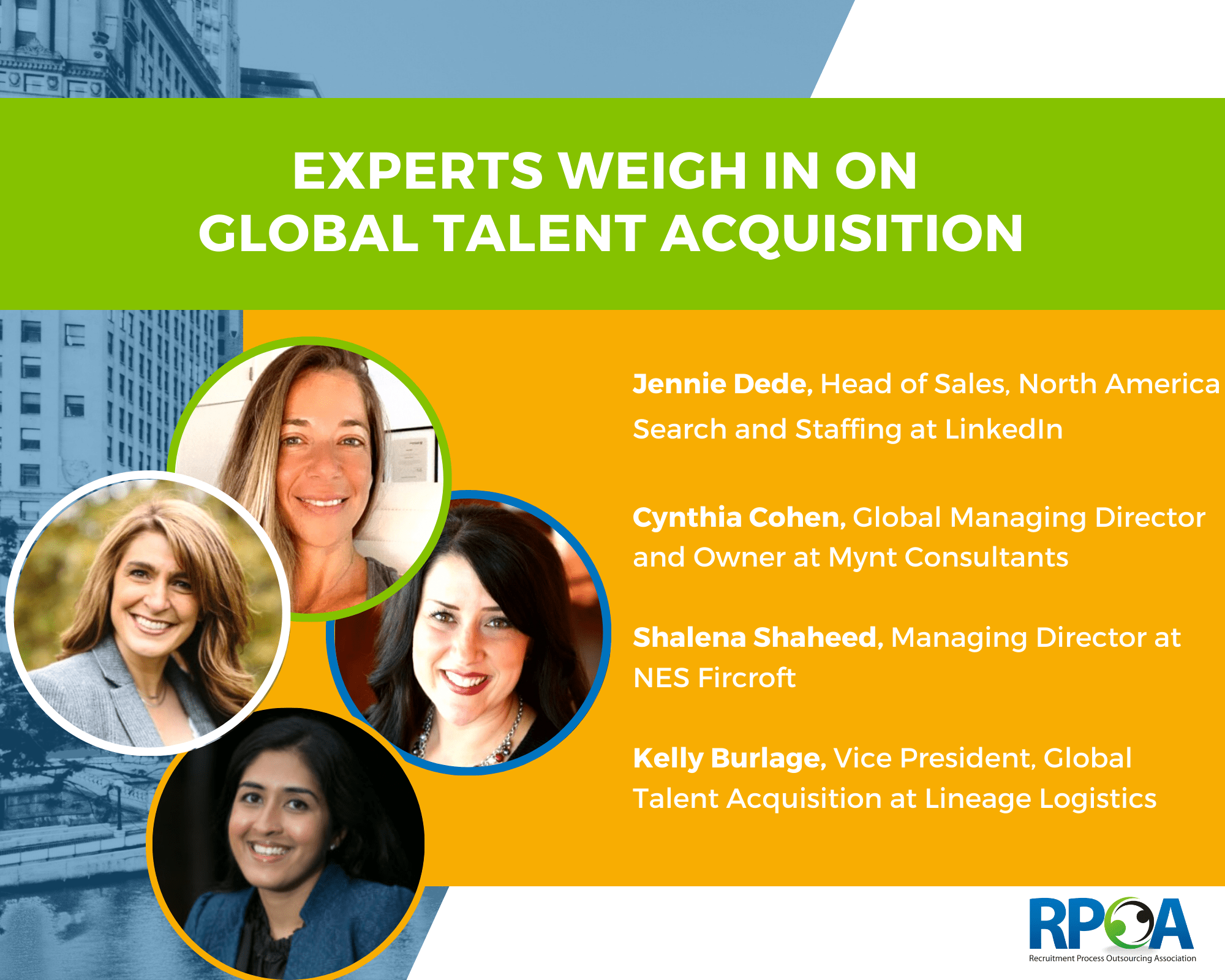 There are many insightful opinions about the strength of the oncoming recession. But regardless of its overall effect, global talent acquisition (TA) leaders need to be ready to adjust their hiring strategies to weather an economic downturn at any time.
During the State of Global TA panel at the 2022 RPOA third annual conference, Jennie Dede of LinkedIn moderated the discussion between Shalena Shaheed of NES Fircrort, Kelly Burlage of Lineage Logistics, and Cynthia Cohen of Mynt Consulting on how to shift TA strategies during an economic downturn. This post is an overview of that discussion.
The panelists agreed that for companies to persevere in an economic downturn, their talent acquisition strategies need to be:
Resilient and Creative

Open to bringing in talent early

Flexible
Resilient and Creative
Burlage shared that during an economic downturn, having a differentiated global recruitment strategy is important to surviving it. She meant that global TA professionals need to be resilient and creative. "While we really want to focus on having the right people, the right process, and leveraging the right technology, there's a fair bit of creativity that needs to happen," she said. "There's no silver bullet answer. And if you aren't pushing out a creative solution, when these headwinds hit, you're going to be left in a yucky position."
Burlage added that at her company, internal mobility is big. They instituted second-chance hiring and invested in a US-based refugee program that's been incredibly effective for some of their key locations. She explained that 80 percent of their hires are in the transportation warehousing space, and unfortunately, they experience high turnover in those locations. So they focus on using creative tactics like second chance hiring and the refugee program, not merely applying technology.
Another way to be creative during an economic downturn, Burlage pointed out, is building relationships with the community. She pointed out that TA professionals should reflect on their Employer Value Proposition (EVP). She suggested that they ask:
How can you enhance the EVP?

Why do people want to work for you?

What is in it for the potential employee?

How is your company communicating its EVP to the community?
Open to Bringing in Talent Early
Shaheed added that investing in training, upskilling, and imparting knowledge to your employees will help companies weather the storm of this recession when it does come. She shared that her company brings in talent early and invests in an associates program. Her firm also helps its clients to build their associates program.
Shaheed also suggested bringing people in with backgrounds and qualifications the company wouldn't have looked at previously. That means not only looking at education but also looking at their life experiences and what motivates them. Then put them in places you haven't thought of before. She gave the example of her firm hiring workers in Egypt. She said that five years ago, they would hire people in Egypt to work only in Egypt, but now their Egyptian team works worldwide.
Flexibility
For Cohen, flexibility is the key to surviving a recession. She shared that recession is a permanent situation in Argentina and Latin America (LATAM). "That's why Latin American people are always open to remote work, to crypto, and to what you can offer," she said. Deel's 2022 State of Global Hiring Report supports her experience. According to Deel's report, Buenos Aries is one the most popular cities for remoter workers, and workers in LATAM workers are more inclined to take crypto payments.
She emphasized that flexibility is the only way to operate during a recession. And it's a flexibility that calls for global TA professionals to open their eyes to hiring internationally. She pointed out that when global TA professionals explore other opportunities, they will see Latinos willing to work in the United States or abroad if needed.
To broaden your understanding of adjusting your strategies during an economic downturn and more, visit the 2022 RPOA Conference on demand to watch the full discussion.