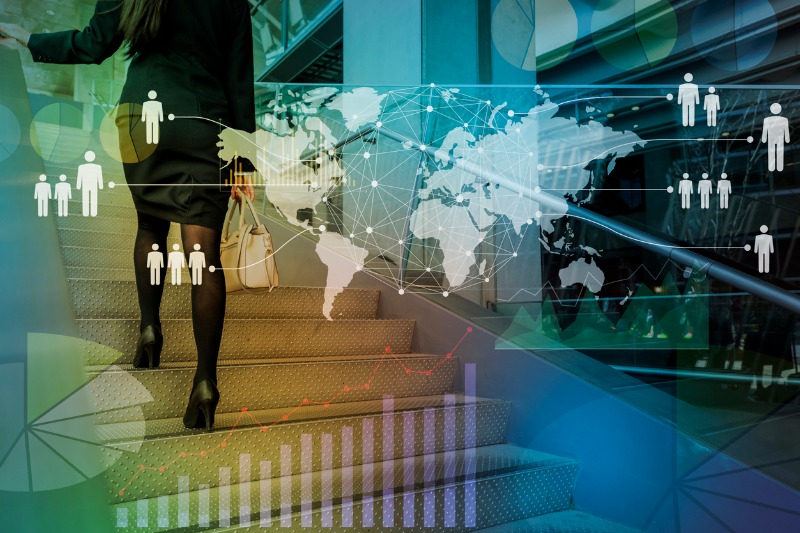 According to Everest Group's Recruitment Process Outsourcing (RPO) Services PEAK Matrix® Assessment 2022 – Global and EMEA, the size of the global RPO market increased by 33 percent in 2021. With the extreme talent shortage worldwide, global talent acquisition has a different set of challenges compared to pre-COVID19. However, since the pandemic, global RPO companies have partnered with global talent acquisition teams of small market organizations and global fortune 500 firms to help grow their revenue and increase their hiring.
During our Global RPO Expert Panel discussion, Ani Kulkarni, Practice Partner of Everest Group, attributed the following factors to the increase in the global RPO market size; a strong post-COVID recovery, pent-up demand of RPO buyers, the departure of employees en masse, and the talent shortage. Global RPO expert panelist Chip Holmes of AMS pointed out that these factors allowed RPO companies with an international reach to highlight their value to potential global RPO buyers.
In the first recap of the RPOA's Global RPO Panel moderated by RPOA Executive Director Lamees Abourahma, we summarized the panelists' discussion of the challenges of global talent hiring. In our second recap here, we use Kulkarni's research to highlight Holmes and his fellow global RPO experts Cherice Schmidt of KellyOSG and Rob Navarett of WTW remarks about the ways global RPO companies bring value to global talent acquisition strategies and solve challenges of hiring talent from around the world. Here's what they said.
Access the webinar to see how global RPO companies provide value to global talent acquisition strategies.
Global RPO Presence and Experience
From Everest Group's research for the Peak Matrix® Global RPO report, many regional hubs and new countries began to adopt RPO. The North American market increased by 32 percent in 2021. But the UK saw a 30 percent dip between 2019 and 2020 and experienced a 12 percent increase in 2021. The EMEA had a 48 percent increase, and the APAC saw a 36 percent increase. LATAM RPO experienced the highest growth in market size at 70 percent.
Holmes pointed out that the advantage of global RPO providers is that they have decades of experience working in global talent markets. He shared that many RPOs have hubs and headquarters in the five regions that make up the global talent markets.
With RPOs having established hubs and headquarters in these regions, they have the expertise to help companies that want to set up shop and hire in that region. They can help their hiring partner understand the local legislation, culture, and language. So if an organization is considering growing in the APAC, LATAM, or EMEA, it'll be in good hands working with a global RPO.
Scalability
Navarette noted that RPO companies could scale up or down because they have a full roster of seasoned recruiters. An RPO company can supply an organization with many recruiters when it's time to increase hiring. And it can shrink the supply when hiring needs decrease. He pointed out that most companies can offer in-house recruiters training and development, but not like an RPO. RPO service providers have the tools and resources to train and develop recruiters to become best-in-class recruiters.
Best-in-Class Recruiters
Schmidt shared that RPOs produce top-tier recruiters because RPOs "eat and breathe recruiting"; recruitment and talent acquisition is in their DNA. They invest heavily in the training and development of recruiters. RPOs are constantly up-skilling and growing their recruiting talent so that they're able to meet the hiring needs of their clients on the local, regional, national, and global levels.
So when a global RPO company helps increase the revenue and hiring of a partner company, its recruiters use best practices to source, attract, engage, and bring top talent into the organization.
Ability to Build Vibrant Talent Communities
For Schmidt, it's become essential for global RPOs to be able to build a talent community. Because with strong sourcing capabilities, global RPO companies can create quality engagement and market to candidates to create a vibrant talent community. Talent communities can prepare the RPO and its hiring partner for any skills gaps and the changes to how we work in the future.
Total Talent Solutions
Schmidt also shared that global RPO service providers can help their hiring partners take a total talent approach to their talent needs. Total talent allows clients to visualize their entire talent playing field so that they can attract and get the right talent quickly. This approach means assisting clients by looking holistically at their talent needs. It also means considering combining RPO solutions with other staffing solutions such as contingent labor.
Technology
Technology has helped global RPO companies become effective and efficient. Navarette shared that companies that don't have recruitment technology as a core competency can turn to an RPO service provider that does have that tech competency. As a result, the RPO becomes a strategic partner that acts as an extension of the recruiting operations and helps source, attract, engage, and hire top talent.
Holmes said that when global RPO companies talk to potential buyers, the integration of technology is top of the discussion. He observed that technology is everywhere within the recruiting process. He emphasized that hiring no longer requires direct human interaction. "We can take them through the entirety of the process. We can onboard, we can send out offers, we can do interviews, we can do video interviews, we can go through the entirety of the process without using a human," he said.
But he cautioned that every company must decide strategically between the human touch and technology components.
Schmidt shared that the technology of an RPO especially helps with sourcing strategy. Today's technology can help the RPO, and the client develop a holistic talent acquisition solution to find the right talent for the organization quickly.
Up-skilling and Re-skilling Talent
RPOs are also helping their partners with the internal mobility of their employees. Holmes observed that RPOs are partnering with their clients to up-skill and re-skill their clients' existing employees. RPOs are helping organizations figure out how to re-deploy great employees in different parts of the organization when they no longer fit in the system. Since RPOs have extensive experience in re-skilling and up-skilling their recruiters, they can pass on that knowledge to their clients. So that up-skilling and re-skilling become an RPO added value. As a result, it cultivates an even deeper strategic bond between the RPO and its client.
Global RPO companies provide a wealth of advantages to their clients, including decades of experience working in global talent markets, the ability to scale up or down as needed, and an understanding of how to produce top-tier recruiters. By partnering with their clients closely, RPO service providers can help them take a total talent approach to meet all of their staffing needs. Additionally, RPOs can create vibrant talent communities for their hiring partners through effective engagement and marketing practices. And finally, technology has helped global RPO companies become even more efficient and effective in assisting their clients.
If you're interested in learning more about how a global RPO could benefit your organization, our 2022 RPO Global Panel webinar is now available on demand. Watch this webinar to get all you need to know about hiring global talent.