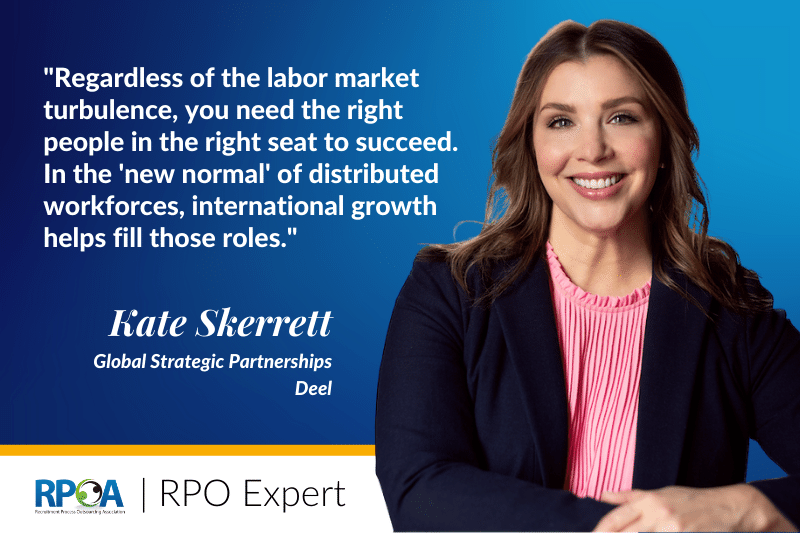 Global hiring increased by 145% or more in all regions, with companies in LATAM and APAC leading the way–a recent report published by Deel revealed. Deel's report highlights that global hiring has experienced a great adoption over the past few years, given the high demand and short supply of qualified talent. For the report, Deel used data from 100k+ across-border contractors across 150 countries and over 500k salary data points from Deel and third-party sources.
If you want to hire the best talent in the world, no matter where they are, check out Deel's report.
Kate Skerrett, Strategic Partnership Expert at Deel and member of the RPO Expert Series, recently talked to RPOA about the enormous value global hiring gives organizations during tight labor markets and unstable economic times. Below is an edited version of Kate's insights.
Skerrett delivers strategic, mutually beneficial solutions in the Saas/HRTech/TalentTech space. With a background in creativity, she enjoys solving the puzzle of how organizations can benefit one another to increase revenue outside of traditional channels. She earned her degree from Ohio University and has led strategic partnerships at Careerbuilder, Glassdoor, and now Deel.
How has the current turbulence in the labor market affected hiring in different regions?
Skerrett: It's been an unprecedented few years for the labor market. The growth of remote and distributed work has underpinned it.
At the beginning of the COVID-19 pandemic, many companies slowed down their growth and development. They either reduced team sizes or even folded. As the pandemic evolved, we saw many companies fostering remote workplaces to adapt and meet unexpected business demands. This helped spur employment and tighten the talent market.
Candidates saw 2, 3, and 4 simultaneous offers, in turn contributing to the Great Resignation. Employees were a hundred percent in the driver's seat and making holistic choices on where to work. They're choosing a workplace that fits their skills, values, and lifestyle. They also had the choice to live and work where they chose, thanks to the increasing rise of remote work. And many embraced this flexibility. According to Deel's report, London, Toronto, and Buenos Aires are the most popular cities for remote workers. Demand for product and design roles is shifting from the US to countries such as Argentina and India.
Now, we are either in or about to head into a recession after all that. And one thing remains true. Regardless of the labor market turbulence, you need the right people in the right seat to succeed. In the "new normal" of distributed workforces, international growth helps fill those roles.
What hiring tactics can help an organization during an uncertain economy?
Skerrett: It's always imperative to have the right talent to achieve company goals. There isn't room for rehiring roles when budgets are lean and sales are soft. In this situation, you need to be creative with your recruiting solution and agile in your strategy to find the right fit. Leading with your brand's strengths and culture will get the right candidates. It's essential to be candid about who your company is and who the right candidate is! From there, opening up where you hire candidates is a huge opportunity to find the right people. No longer are companies constricted by where they have physical offices. Workers want remote options anyway, so why not recruit in new locations? Deel enables companies to onboard and pay remote workers on a global scale. We've grown fast because so many companies think outside of traditional recruiting.
Want to learn more about global hiring? View our global RPO panel and hear insights from top talent acquisition leaders.
What's your approach to diversity, equity, and inclusion at Deel?
Skerrett: At Deel, we're intentionally building a team that reflects our customers. So our team of 1,100+ employees across 75+ countries is building for 8,000+ customers in over 150 countries. We are hiring the best talent, regardless of location. We hope our ecosystem of customers quickly grows with more culturally diverse teams.
How can companies decide where and how to hire global talent? Especially if global hiring is new for them?
Skerrett: It can seem very daunting for an organization to embark on global hiring. Who? Where? How? Etc.
As you can imagine, each country comes with its specific requirements. Some requirements are simple, and some are complex. This complexity and fear of misclassification risk stop many companies from hiring globally. And it's such a missed opportunity.
Many organizations use Employer of Record services as a solution to hire in countries where they do not have a registered business entity. Providing this solution is a huge part of what we do at Deel. Our EOR services onboard, pay, and serve as legal employers for hires in 93 countries (and counting). With this service, a company can hire and onboard in 1 to 5 days without fear of compliance risk. We have direct ownership of the vast majority of our entities. And our network of 250 legal partners around the world audit constantly for us. This constant auditing ensures every employee is compliant.
What other drivers have you seen in the market for global hiring?
Skerrett: There are many reasons for a company to hire globally. Some include talent for less cost, remote work, and opening new talent pools in a scarce market.
Beyond those, there are some strategic scenarios when global hiring comes into play. To name a few: M&A (mergers and acquisition); Stealth Expats (where a company finds out a worker is working out of a country they were unaware of); Parking (when a company hires in a country geographically close to another one of interest and presents logistical challenges for ex-pats going on assignment).
Again, the recession piece comes back around. While the initial thinking is to freeze hiring, it's not always the solution. Those organizations that take more time to get back on their feet should look for ways to reduce costs. Hire a remote worker and save on overhead. Hire a contractor and pay by project. Once companies lift the bounds of geography, lots of options become available.
Our recent research found that LATAM tops the list of regions hiring internationally, with a 161% increase in organizations hiring abroad. APAC follows closely, with a 159% increase in organizations hiring abroad.
To receive a copy of Deel's latest State of Global Hiring report or for a demo of Deel, contact Skerrett at katherine.skerrett@deel.com.
For more insights from other RPO and TA Experts, check out our RPO Expert Series on the RPO Voice blog with interviews with top talent acquisition experts.