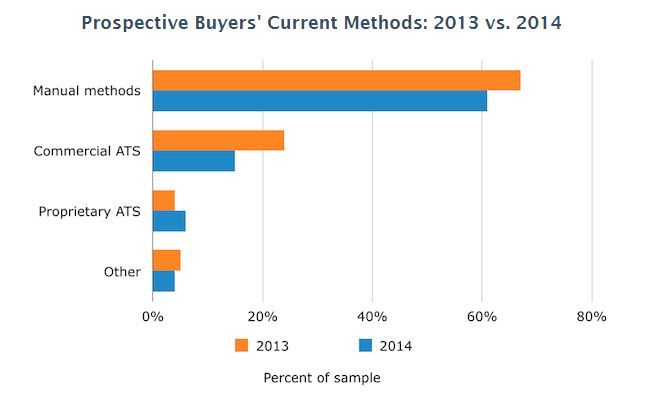 According to a recent Applicant Tracking System Buyer View by Software Advice, an online resource for ATS technology, there are three trends in the ATS market for 2014: (1) the number of businesses who automate their applicant tracking processes has increased by 33%, (2) the increase is due to company growth, and (3) the most requested feature in an applicant tracking system is the ability to automatically post jobs to social media and job boards.
What is Applicant Tracking System (ATS)?
An ATS is one of the most important components to help streamline the recruiting process. Similar to the way a customer relationship management system works for marketing, an ATS compiles a database of applicants for your company so you can easily sift through and analyze to find the right talent for the right position. These systems are becoming more and more popular each year, and small businesses are increasingly starting to adopt them to replace their current system.
What are the most basic set of features I'll find in an ATS?
The very basic features you'll find in an ATS include:
Managing candidate basic information
Overseeing where a candidate is in the hiring cycle
Tacking communication with candidates in the hiring workflow
Storing and searching candidate data
What are some of the more advanced features?
Some of the more advanced ATS features include:
The ability to post open positions on job boards and social networks
Resume parsing capabilities
Converting candidate resumes into relevant data fields
How do you classify existing ATS?
If you're looking for a way to compare existing ATS on the marketplace, then Software Advice has a great article on the Top 10 Most Reviewed Applicant Tracking Systems. This article can be sorted according to customer recommendations, number of reviews and more. It also includes a Buyer's Guide that contains an overview of ATS functionality, the benefits of using an ATS, and other information you'll need to make a savvy decision when it comes to adopting a new system.
What is the most common question buyers ask when they consult with Software Advice?
A common question that seems to appear several times on the Software Advice site is "What type of buyer am I?" Determining the answer to this question is one of the most vital components in the ATS adoption process. In order to understand which service provider will best suit your needs, you need to first identify who you are as a buyer. This is generally broken down into two types: recruiting agencies and in-house recruiters.
Since their business is founded upon sifting through vast amounts of candidate data and submissions, recruiting agencies will need a system that is more candidate-centric.
In-house recruiters may be looking for a system that will integrate with all of their additional HR systems so they can create a seamless transition from candidate to employee.
How do you explain the 60% companies who handle recruiting manually? Why not buy an ATS?
According to Software Advice's Applicant Tracking System Software Small Business BuyerView 2014, the reason why 60% of companies are manually handling recruiting is simply, growth. Smaller businesses start out handling their applicant tracking via email and spreadsheets and as the company grows so does their need for a more sophisticated system. Since the majority of businesses s Software Advice surveyed are small businesses, it's only a matter of time before they need an ATS.