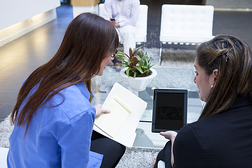 Calculating your recruiting costs isn't as easy as you may think. It's not a matter of how much money goes into filling positions, but it's also the revenue lost because of unfilled positions. These computations aren't as straightforward at first glance when you consider efficiencies and how costs themselves are determined. Knowing how to make the calculations can make a huge difference in the resources that go to recruiting and how recruiting impacts the bottom line. Here's how to calculate your recruiting costs and to use the right data to determine the business impact of your recruiting.
Cost Per Hire vs. Recruiting Cost Ratio
There are two main ways to measure the efficiency of your recruiting: cost per hire and recruiting cost ratio. Either metric offers a different picture of your recruiting costs and efficiencies.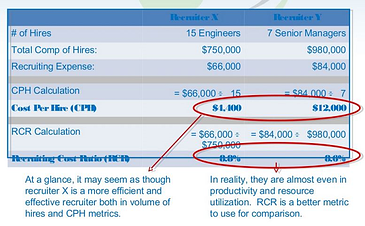 Cost per hire, as shown on the left, is found by dividing the recruiting expense by the number of hires. According to this metric, recruiter X is three times as efficient as recruiter Y, and recruiter Y needs to make some changes. However, the recruitment cost ratio tells a different story. RCR is found by dividing the recruiting expense by the compensation of the hires. According to this metric, the two recruiters are equally efficient. RCR, unlike cost per hire, takes into account productivity and resource utilization.
"Recruitment cost ratio factors in more than just the recruiting cost," said Mike Mayeux, CEO of Novotus. "It allows for complexity... It's harder to find seven good senior managers than 15 engineers."
Using Industry Data to Add Perspective
Much like the hot marketing trends that dictate where a company should look next to market themselves, there are hot recruiting trends that indicate what a company should be concerned about and where a company should look to find great candidates. Recruiting industry data can add perspective on these trends and can help your HR department prepare. For example, knowing that younger workers will have over 10 jobs by the time they are 30 can help guide an organization how to attract and to retain these workers.
"This data works," Mayeux said. "When you sit down and show a leader this kind of data... it actually helps drive change."
Preparing Talent Briefs
Since it takes time to calculate these numbers and to illustrate the business impact of recruiting, it's not something that you can do when you need more resources. It should be a process that's habitual and that maintains mind share with company executives. The best way to do that is with a talent brief, an executive-level overview of the talent acquisition of your organization. A talent brief should be produced either once or twice a year, and should include the following information:
Talent acquisition strategic initiatives
Industry landscape
Key recruiting metrics
Difficult to fill positions
"The big idea, the big numbers, pull them out into one box so that you can have one box of summaries," Mayeux suggested as an example of how to put together a talent brief. "When you build your talent brief, work with artistic people who build brochures... those things should be very well layed out. It's the summation of your work and the manifesto for change. Spend the money to build out a really great document."
Out of all HR functions, recruiting has the highest impact on revenue growth and profit margins. In this hour-long webinar, you can explore the hidden earning potential of recruiting. Not only do you learn more about calculating recruiting costs, but you can also learn:
Methods of establishing quantitative results to show the business impact of recruiting.
Examples of the potential cost savings associated with recruiting.
A method for calculating the true cost of turnover.
Access the video and slides to discover the business impact of recruiting.