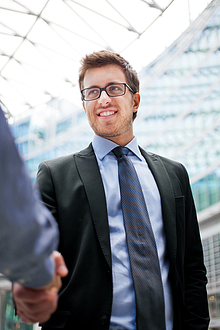 In the first blog of this series we covered enterprise RPO, which is ideal for companies with a large, sustained need for recruiting. But, what if your needs are limited or short term; for example, what if you only need to fill sales positions or a calling center? Short-term RPO might be the right solution for your recruiting needs if you have a specific recruiting need, you are looking for a short-time engagement, you need consistent process with steady results, or if you are uncomfortable with complete outsourcing of your recruiting functions.
Short-Term Project Recruitment Process Outsourcing
Short-term project RPO is exactly what the name says- a core recruitment process outsourcing service involving a specific project with a specific term. Oftentimes, it's related to engaging a provider for a specific scope of sourcing or recruiting, such as hiring a sales force, fulfilling a set number of hires, or helping processes or locations that don't have enough resources.
How is Short-Term Project RPO Different?
Short-term project RPO differs from other RPO solutions in three ways. First, there's less responsibility overall on behalf of the provider, as the provider will find the candidates or help a location while having the customer handle the rest. Second, although service-level agreements still apply, the agreement would only reflect the scope needed and the metrics that are relevant to the project. Third, contract lengths tend to be shorter, such as six months to one year, and are much more likely to be set according to the project length or to a specific volume that needs to be met. This differs from enterprise RPO, where services could continue well beyond the initial two to three years.
"Branding is equally important, although in this case it may or may not be part of what you're trying to achieve," Rivera said. "Certainly... in full life cycle RPO, that should be a key component because you're really outsourcing the company's entire sourcing process and you want to establish that branding."
However, with short-term project RPO, since there's a limited number of hires and time limit to the engagement, employment branding might not be part of the engagement. Even so, it's still crucial to a good hiring and recruiting process, but it is much more likely that the client will continue to handle the branding.
Is Short-Term Project RPO Right for You?
With short-term project RPO, a broader range of companies would be well suited and would benefit from this RPO service. This broader range of companies includes:
Any company needing a specific recruiting need met (i.e. certain number of hires, hiring for certain positions, helping one location or with one part of the recruiting process)
Any company needing recruiting help for just a few months
Not the best for 25 hires, but would be better for 50+ hires. However, this is not absolute.
Good for those that are looking for a structured process to meet recruiting goals – need consistent results and sustained activity
Good for companies not comfortable with complete outsourcing
"It's for companies that need help in certain areas... it's for those customers that are looking for a way to put some spot emphasis or focus in specific areas or for a specific time period," Rivera said. "It could be used as a pilot... a proof of concept for a larger RPO engagement or for engagements in other areas."
Previously, we covered enterprise RPO, and we'll cover the other type of RPO services in other parts of this serious. To learn more about short-term project RPO, or the other recruitment process outsourcing engagements that providers offer, then view this hour-long webinar now.