With the growing popularity of social networks, there are tons of social media tools to choose from. There are tools to automate tweets and status updates, to shorten URLs, to track data and analytics, and to curate content. There are general tools for any social network and there are tools specific to certain networks. How do you select the best social media tools for recruiting? In this article, we recommend these four steps in choosing the best tool for social recruiting.
Related: Social Media is Crucial for a Successful Recruiting Strategy
Step 1: Establish Your Presence
If you're just starting your social media recruiting strategy, then it's very likely that you don't yet have profiles designated for recruiting purposes on these sites. Joel Capperella, vice president of marketing at Yoh, suggests Twitter as the best place to start in establishing your social media presence because of its low barrier to entry.
"It's the widest broadcast network that's available," he said. "I don't need to be connected to you to see your Twitter feed."
Capperella also said that Twitter setting and driving trends, while being easily searchable. This means, with the right hashtags, you can not only create trends around your employment brand and some of your open positions, but you can make them easily searchable for your followers and other Tweeters. Hashtags, if you don't know, are a way to label or to index your tweets, using the # sign. Find popular hashtags to use, or create a few around your industry and/or employment brand.
Related: 4 Tips for successful social recruiting
Step 2: Identify Your Community
A great tool that Capperella suggests for identifying and building your community (on Twitter at least) is a free tool called SocialBro. SocialBro allows you to search user profiles on Twitter, so you can learn where your followers are from, what language they speak, what they Tweet about, which they follow etc. You can also use this tool to categorize your followers and Twitter lists, as well as take a look at analytics.
If you want to search your own Twitter feed, then a good tool for that is PostPost. Searching your own feed on Twitter itself is tedious and time-consuming, so PostPost acts as a personal search engine for that feed, so you can find any links, photos, and/or tweets that have been shared by you or those you follow. With this, you can figure out who has the most relevant information, and then connect with those people.
Step 3: Share a Perspective
Sharing your perspective may be the hard part. You have to be on social media regularly, sharing new things regularly in order to keep your perspective out there. You can't share it once and that's it. Fortunately, there are lots of marketing and social media automation tools out there, and one of them that Capperella recommends is Buffer. Buffer makes it easier to share regularly, and to share new things regularly, by allowing you to set your shares ahead of time, across multiple networks. It also comes with analytics, so you know which topics were shared the most often, and then can continue sharing on topics that are popular with your community.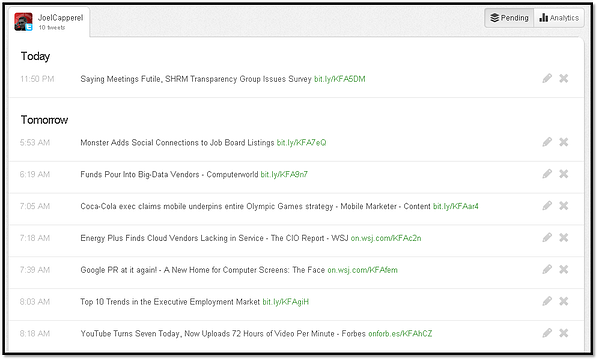 Need help finding great, yet relevant, things to share? A great place to go for that is LinkedIn Today, a customizable news feed that is accessible through LinkedIn (your personal account is fine). Use it to follow sources and industries, and then select interesting stories to share on your social networks. If you have the Google Chrome browser, then you can automatically schedule links from LinkedIn today right into your Buffer account.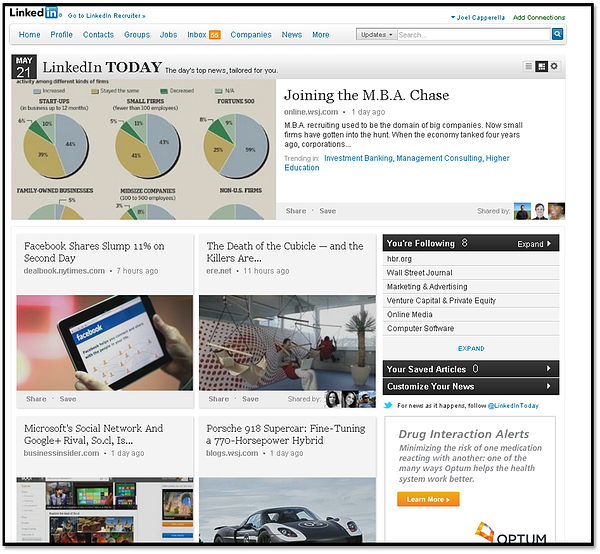 Step 4: Engage, Engage, Engage
Engaging your community is one of the hardest parts of social media and social recruiting. How do you get people to comment, to retweet, to share your content? You can't exactly make people click your links or to retweet them. However, you can have an actual conversation using two tools called TweetChat and the Twitter Chat Schedule. A TweetChat is a scheduled discussion or Q&A on Twitter, where folks can follow along with a specific hashtag and ask questions and put in their two cents. You can use TweetChat to follow along with someone else's discussion, or to facilitate your own. Through these discussions, you can build great relationships and find influencers on the topics you are most interested in. Use the Twitter Chat Schedule, a curated list of scheduled discussions on all sorts of industries and topics, to find the conversations you want.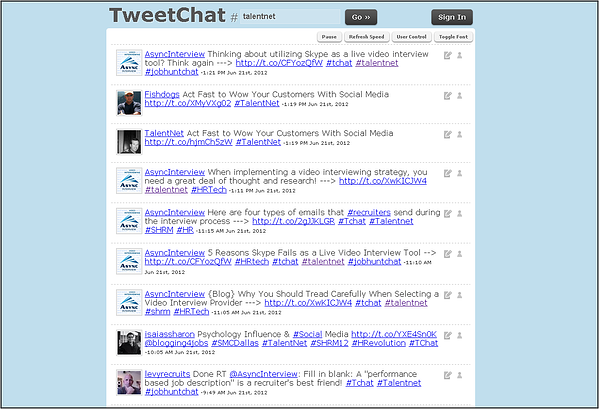 This is not meant to be an exhaustive list of the social media tools available, or of all the tools that are great for social media recruiting. You may even find that a tool or two on this list doesn't work for you, or there's a competing tool that you prefer. This list of social media recruiting tools is great for getting started, and for tracking your progress as your executive your social recruiting strategy.
Related: Establishing your social media recruiting strategy [webinar]