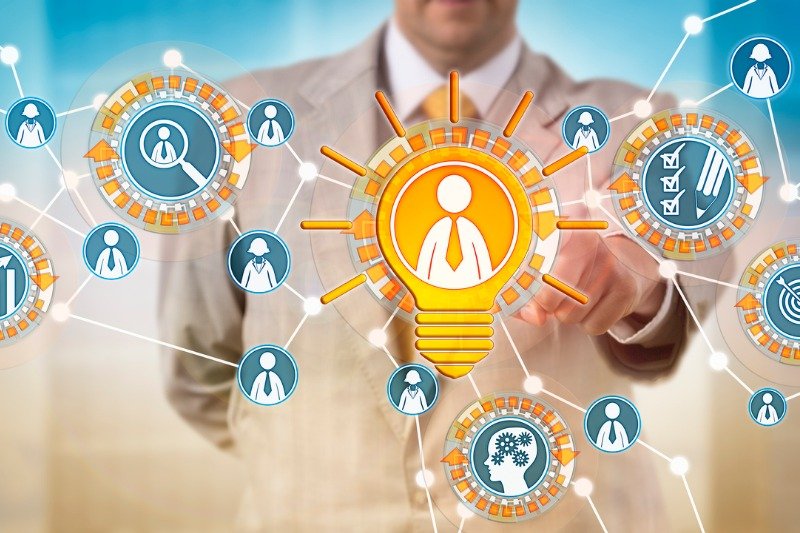 Artificial Intelligence (AI) has matured into a game-changing technology in talent acquisition, revolutionizing the entire recruitment process. AI can provide access to smarter decisions and faster performance and drive the complete automation of recruiting processes. However, AI comes with unintended consequences.
RPOA Executive Director Lamees Abourahma recently hosted an RPO Leadership Forum webinar with John Fitzgerald, President at LevelUp HCS. Fitzgerald deconstructed AI's positive and negative influence on talent acquisition (TA). Below is a recap of his presentation.
Evolution of AI in Talent Acquisition
Fitzgerald correctly said, "AI has been around for a good amount of time." IBM introduced AI via applicant tracking systems (ATS) to HR departments in the 1960s, and by 1984, companies had begun to use ATS widely. (1) Fast forward 26 years to 2010, the starting point; Fitzgerald said that tech vendors began introducing AI tools and applications to complement a company's ATS. These complementary AI tools and applications included resume screening and candidate matching. By 2014, firms were using AI to automatically parse resumes, extract relevant information, and rank candidates based on qualifications and fit for the job. Fitzgerald stated that these tools and applications have become standard AI for ATS today.
AI continued to evolve, and between 2015 and 2019, AI moved into the AI-powered video interview platform. This technology has gained popularity, and firms use AI-powered video interviews to speed up hiring. Fitzgerald noted that this technology added complexity, including facial, voice, and word choice recognition. Companies added AI chatbots for better candidate engagement. Chatbots can answer questions candidates have after hours. And help them know where they are in the process.
In 2019, AI began to accelerate its evolution in the TA space. From 2019 to 2020, companies started to explore the use of AI in identifying diverse candidates and reducing biases in job postings, resume screening, and candidate evaluation processes. Then, in late 2021 and early 2022, firms started using AI to perform assessments. Fitzgerald observed that's when people began to ask what AI's intentions are. How does AI benefit the company while protecting candidates during hiring?
Gain a deeper understanding of AI's effect on talent acquisition watch the webinar
Current Usages of AI in Talent Acquisition
Fitzgerald said that the current use of AI in talent acquisition includes the following:
Candidate selection
Automation of time-consuming tasks
Improving the candidate's experience
Predicting future performance
He pointed out that there are three areas in which AI helps with candidate selection. First, AI can source candidates by creating profiles of potential candidates and qualifying or identifying approachable passive candidates. Second, employers have started using sentiment analysis in video interviews. Sentiment analysis is a Natural Language Processing(NLP) process that can detect the behavior of candidates. Third, employers use assessments, which are popular for measuring skills and aptitude. But now, assessments can alert employers to suspicious scoring or plagiarized answers.
Automating time-consuming tasks within the hiring process includes parsing resumes and sending out rejection emails. To ensure a consistent candidate experience throughout the recruitment process, AI helps employers know when and how to communicate with candidates. Finally, AI can identify patterns for future performers, which can help improve hiring decisions; however, Fitzgerald emphasized that predicting an excellent employee versus a mediocre one is difficult due to unpredictable circumstances.
Problems and Unintended Consequences of AI
Fitzgerald emphasized potential issues with AI in talent acquisition: discrimination, bias, transparency, and a vanilla workforce. AI models will only learn one way if not fed enough diverse code or detailed information. And when that happens, unintended consequences can occur.
For instance, sentiment analysis in video interviews can create biases by misinterpreting human emotions. Potential bias can also occur in assessments due to the scoring algorithm. When there's no transparency in the code, it can create the perception that the AI model discriminates against a specific demographic. Lack of transparency, Fitzgerald said, has caused one video interview and system to eliminate its use of facial analysis; over-reliance on AI to identify patterns and predict candidates' future performance could result in a homogenous workforce lacking diversity in skills and education levels.
Overcoming the Problems of AI
Fitzgerald made it clear that AI should augment the roles of HR and TA professionals. AI should be used to free up time so that hirers can spend more face-time with hiring managers discussing skills and competencies, and recruiters can spend more time talking with candidates. He also emphasized that AI cannot and should not supplant humans in the recruitment process. He outlined two main reasons: AI lacks the judgment and insight people have, and there is too much risk associated with relying solely on AI.
Why talent acquisition shouldn't be fully automated
Local laws are now mandating that AI models used in hiring processes do not discriminate or produce biased results. Employers need to adhere to these requirements to ensure compliance. Fitzgerald provided four items employers, HR, and TA professionals need to do to mitigate the risks associated with AI and adhere to local ordinances regarding AI in the hiring process.
First, HR and TA leaders need to be risk managers; they need to ensure they understand the organization's risk tolerance, the strategy, and how and where AI should be used within the recruitment process. As risk managers, they will protect the organization, client, and candidate from any unintended consequences of using AI for talent acquisition.
Second, employers must show ethical responsibility by ensuring data privacy and security and understanding who's writing the code.
Third, employers must have strong governance around AI. Strong governance entails understanding who's writing the code and ensuring that the code is transparent and easy to understand. In other words, employers should be able to see how the AI model makes its hiring decisions. Employers also need good testers and auditors for their AI models. Robust governance also means that employers must have intense conversations with vendors, understand their audits and plans for AI use, and explain the importance of compliance to vendors.
Finally, Transparency also means letting the candidate know you are using AI in the hiring process, getting the candidate's consent for using AI, and allowing the candidate to opt in or out of using AI in the hiring process.
How RPO Providers Use AI to Resolve Employers' Hiring Pain Points
RPO providers must heed Fitzgerald's to-do list to mitigate risk, follow local laws, and improve the hiring process. By following Fitzgerald's lead, they can resolve employers' hiring pain points, including a need to rapidly locate qualified candidates with an emphasis on DEI and ensure a positive perception of the employer brand and employee value proposition (EVP).
RPO providers, like LevelUp, resolve employers' hiring pain points by using AI to:
Connect with candidates from their database for efficient candidate matching.
Proactively manage and source candidates to identify passive candidates.
Engage with a broader range of candidates to promote diversity and foster DEI.
Remove identifiable candidate data for companies that only want to know the skills and qualifications of the candidate for the sake of privacy.
Automate candidate outreach to ensure timely and positive interactions with candidates,
Automate the cultivation of large application volume to create a tracking application backlog.
And, of course, RPO recruiters play their part by effectively communicating with applicants and deciding when to use automation or manual processes.
In Conclusion
Fitzgerald said that embracing the future of AI can have significant influences on job roles and functions, such as legal aspects, risk assessments, and vendor management. Laws do not provide definite guidelines for good statistical returns, so companies need to establish risk tolerance. Prioritizing transparency, ethics, candidate and employee experience, and integrating AI into existing systems is vital to reap its benefits. Predictive analysis and decision-making will become increasingly prominent in the future of AI. However, plenty of unknowns still come with this technology that requires strong oversight.
To gain deeper insights and learn more about AI's merits, drawbacks, and possibilities, do not miss out on watching his full presentation at the RPO Academy!