Recruitment process outsourcing, or RPO, can be hugely beneficial to your company, but only if you're working with the right RPO provider. In this article, based on the RPOA webinar "If Your RPO Says This, Buyer Beware" with presenters Melinda Gotcher, Director or Talent Acquisition at Novotus and Jen Iliff, VP of Marketing at Novotus, we discuss eight red flags to look for in an RPO partner to make sure that you avoid potential pitfalls and get the help that you need.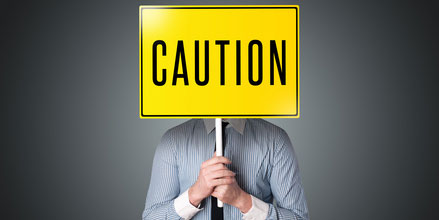 Red Flag #1: All RPO is NOT created equal
This is more of a caution than a red flag. With the increase in popularity of RPO, many staffing firms have decided to add "RPO" into their description or service offerings without being true RPOs. However, because they're not dedicated RPO providers, they may not be able to deliver the RPO solution they promise. Additionally, every RPO vendor has their niche, industry or positions that they specialize in. Keep in mind that not all RPO is created equal, and make sure that the provider's expertise and offerings match up with your needs.
Related article: 3 Basic models for RPO Engagements
Red Flag #2: "Our team will be dedicated to your account 100% of the time."
When you hear this, it's time to dig a little bit deeper. One of the biggest benefits of RPO providers is their ability to scale up or down depending on their client's needs. This means that some clients may be scaling up their recruiting while others roll it back, so RPO providers need to be able to move their people from one client account to another depending on client need. While your provider would ideally have a core group assigned to your project full-time to maintain quality and continuity along the implementation, dedicating 100% of the team 100% of the time is not feasible. If that's what you hear, ask more questions to understand exactly what it is you'll be getting.
Red Flag #3: The lowest price will achieve the results you need
When it comes to RPO, going with the lowest price can be a risky proposition. It's possible that the vendor has lowered the price to undercut the competition, but will they similarly undercut the services they provide? Also, make sure that when you're comparing quotes you're comparing apples to apples, not apples to oranges. A bare-bones solution will be less costly, but will result in add-on costs later. Understand what you're getting for the price you're quoted, and remember that finding and recruiting the right talent will have a proportional cost. Optimally, you want the vendor to understand your pain points and challenges so they can put together a plan of action at a price you can afford.
Red Flag #4: Our recruiters do it all
RPO is all about efficiency, and the goal is to give you a recruiting function that is streamlined and productive. While "they do it all" may sound good, if the recruiter's time is spent on things like scheduling and reporting, it lessens their ability to focus on things like sourcing and recruiting the right talent, resulting in wasted time and potentially fewer candidates.
Red Flag #5: You only meet one or two people on your RPO account team
For an RPO relationship to succeed, you and your team need to start building a rapport with the people you'll be working with as soon as possible. This red flag is one of the ways to separate the pretenders from the real RPO providers - true RPOs will be happy to show you around their offices, introduce you to the team you'll be working with, and start building the relationship. Additionally, it's essential to meet as many people you'll be working with as possible to gauge the culture fit between your organizations.
Red Flag #6: The bubble head salesman nodding yes to everything
If the sales process is driven by the client asking questions and sales team nodding yes, you're probably missing an opportunity to delve into more solutions for your situation. It may also create a disconnect between what is promised and what can actually be delivered. Strong RPOs set realistic expectations up front, from how quickly they can implement the program to system capabilities and limitations. Don't be fooled by a sales team that says yes to everything.
Red Flag #7: The exact same process is used regardless of complexity of hire
In RPO, one size does not fit all. Every client is different and has different needs, and RPO providers should identify those needs and provide a customized approach to meeting them. One thing to be wary of is the assumption that because an RPO provider does a high volume of work and brings in a lot of new hires, they're automatically a good match for your company. As Jen Iliff stated, "you wouldn't go to Walmart to buy a wedding dress." Volume is not everything, and does not guarantee that they'll have the solution you require.
Red Flag #8: No formal issue escalation process
In any complex project, issues will arise. What will make or break the client-provider relationship is how they're dealt with. Your RPO provider should be driving the process of issue identification, escalation, and resolution. If the provider doesn't have such a process, or doesn't know what you mean when you ask about one, take a serious pause.
Searching for RPO vendors? Access iCoCo Marketplace
There are different kinds of RPO and many different providers, and you'll be able to find one that works best for you. As you're conducting your search for a partner, keep these red flags in mind to make sure that you don't partner with a vendor only to find that they aren't what you're looking for. Ask questions, dig deeper if you have reservations, and find out as much about the company, their processes, and their deliverables as you can, and you have a good chance of forming a relationship that will net you great talent.