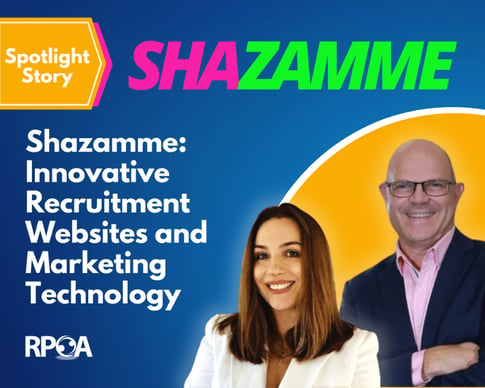 Recruitment marketing using your website is one of the most important aspects of successful recruitment online. It's crucial to create a solid foundation for your brand with your website at the heart of what you do. Landing pages, campaigns, SEO optimized job ads with easy apply, similar jobs and job alerts help recruiters globally be more competitive online. To build a solid digital recruitment marketing ecosystem, you need the right platforms to help you be found, understand your ROI, and create the best candidate and employer experience possible.
Shazamme could be the solution.
As experts in recruitment website technology and with 12 plus years of experience, Rick Maré and Nicole Clarke started Shazamme with a simple question, why can't websites for recruiting be as easy to use as Canva? Nicole Clarke said, "We were frustrated by the lack of modern easy to use drag and drop website editors available for recruitment websites, career sites, and RPO agencies." So Clarke and Maré reinvented the concept of modern, easy-to-use career sites and recruitment websites. They started with a blank piece of paper. They created the world's leading cloud-based digital no-code recruitment and staffing website technology with advanced technology platforms built solely for recruitment agencies, staffing companies, and career websites.
Shazamme Helps Recruiters Win at Recruitment Marketing
Shazamme constantly innovates and uses its 5-star customer success and service levels to solve recruitment technology gaps and issues.
With that level of commitment to innovation and support, they have helped clients such as RGF, Kelly Services, Fujitsu, Sutherland Global and Yoh win at recruitment marketing. They ensure that the recruitment website architecture, layout, and design are on brand, support a perfect candidate experience from the moment a candidate finds your brand online to the moment a candidate applies for the job, and make that process as easy as tying up your shoes.
They offer website technology specifically for recruitment, staffing, and career sites that provide:
Complex integrations with multiple platforms

Multilingual editor

Unlimited job board creation

Unlimited landing & campaign page creation

QR Code options

Data, analytics & tracking

24/7 Support

Drag & Drop editor

Job alerts

High level of security

Accessibility

Inbuilt foundational SEO
These features allow recruiters to:
Create the perfect candidate experience

Use a complex job board to set up requirements (multiple ATS feeds can be customized for one experience)

Meet multilingual requirements

Establish multiple job boards (eg location, category, keyword, client)

Gain high-level SEO from the job ad level up (Google for jobs compliant)

Solve integration issues and improve existing ones

Unify the candidate's experience

Master job boards with unlimited brands

Reduce unnecessary spend
What's Unique About Shazamme
Shazamme is a highly committed and agile team passionate about making its clients more successful and helping them drive innovation. They're unique because their cutting-edge website technology is easy to use--anyone can create, edit, and update their website. Shazamme gives recruitment teams the ability to be proactive and create an evolving brand.
Their client portal platform allows recruiters to:
See outstanding job orders and the shortlist of candidates for those job openings

Comment against candidates who have resumes

Use a Kanban board to move someone from submitted through to approved

Keep track of top candidates

Speak to customer service and support any time of the day
Nicole Clark explains how Shazamme supports recruitment process outsourcing partners in driving success and improving the candidate experience.
Shazamme Enables RPO Providers to Support Clients' Recruitment Marketing
"Our technology has always been perfect for RPO offerings," Clarke said, "Over the last 12 months we have had the opportunity to work with large RPO's to provide career site technology." She added that they now have one log-in to manage all their client's websites and a platform to make them proactive rather than reactive.
She noted that the wonderful thing about their website platform is that it integrates into multiple database platforms meaning regardless of an RPO's client's text stacks, the platform can provide a perfect website/front and experience and ensure the whole candidate experience is perfect.
Clarke understands that RPOs have a complex environment with many moving parts, and she likes making the website creation and integration parts easy.
Because of that easy website creation and integration, RPOs finally have a recruitment website platform that will drive their success online with a team that understands their industry, answers their questions, and drives great innovation and opportunities.