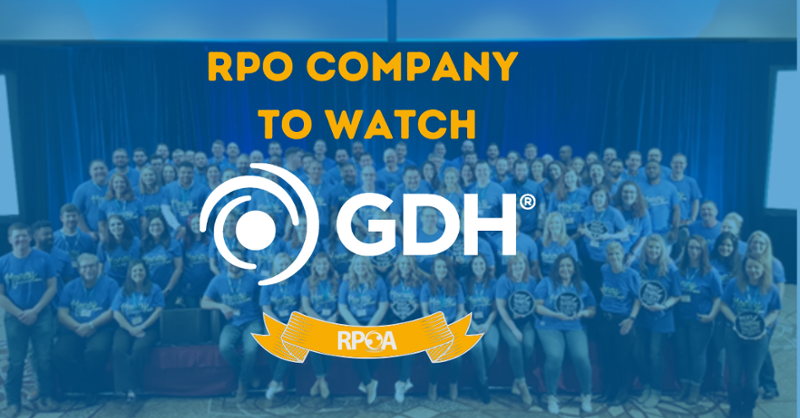 Celebrating 20 years in 2021, GDH builds strong and trusting relationships with its clients. Consequently, these clients act as GDH's brand evangelists, word of mouth powerhouse, and source of energy for its growth. GDH's Net Promoter Score (NPS) reflects this robust loyalty. GDH has an 85% Net Promoter Score (NPS) consistently earning it the Best of Staffing Award. Compare this to the staffing industry NPS average of negative 2 % and where top companies typically have an NPS of 70% or higher, and it is clear why GDH has earned the Best of Staffing for 6 years in a row.
As a leader in the staffing industry, GDH bases its growth on respect for both the candidates and its clients. Upon this footing, GDH listens to its clients' needs and works closely with its clients to develop solutions to achieve client business objectives. This approach provides clients with an authentic and collaborative team relationship.
GDH, a Tulsa, Oklahoma-based company, has been recognized as Inc. 500's fastest-growing company in America and currently has a presence in 13 markets across the U.S. and has employees in almost all 50 states.
GDH's founder, JJ Hurley, strongly believes in putting people in positions to succeed and supporting them every step of the way. JJ's vision of why GDH does what it does permeates all of GDH – GDH is "A people-first company".
A Rising Star in RPO Recruitment
Since 2001, GDH provides IT and engineering staffing to various industries for public and private sector clients.
In 2017, GDH added recruitment process outsourcing (RPO) to its service offering. With the expanded offering, GDH RPO has many tools in its tool belt to solve any hiring challenge. GDH RPO services include candidate sourcing and screening, skill assessments, reference checks, and rapid deployment and flexible integration with existing hiring processes. Through its different RPO solutions, GDH delivers additional capacity to employers for the short, medium, or long term.
Creativity, dedication, and agility are used by the GDH teams to support our clients in a variety of industries and skills.
RPO Recruitment for Government Jobs
GDH has a strong history of providing service to the U.S. Government Departments and Agencies with requirements for the highest government clearances. GDH provides RPO solutions, subcontracting, contract to hire, and direct hire talent through a growing list of Prime Vendors to a variety of agencies including Intelligence, Defense, Health, Civilian and State & Local governments. GDH partners with the top 10 federal integrators and multiple 8As. As a result, GDH has an extensive pool of highly cleared candidates and has mastered navigating complex hiring systems.
RPO recruitment for government jobs has its own unique set of challenges. The biggest challenge is finding candidates with the proper clearance levels. In addition, each agency has its requirements, background checks, hiring procedures, and even unique terminology.
GDH offers customized RPO solutions that put their clients on the path to success. Some of the RPO hiring solutions GDH provides include full-lifecycle recruitment expertise, delivering fully packaged candidates who are hire-ready, adaptable delivery teams who can furnish solutions on or off-site. The result of these solutions is that the internal recruitment team can focus on creating a significant business impact.
Recruitment process outsourcing is a relationship-based approach to hiring. GDH works very closely with its clients and aims to enhance the experience of both the hiring manager and the candidate.
As GDH's Michelle Berman puts it.
"I joined the GDH team seven years ago because of GDH's standout reputation in the market for being a client and candidate-focused organization. GDH was built solving complex staffing challenges by identifying and delivering solutions for our clients. For over twenty years, we have expanded our service offerings to serve our clients' needs in an ever-changing talent market. GDH RPO is a powerful solution because we can quickly provide a customized plan to serve any hiring challenge regardless of skillset, timeline, location(s) or volume of hiring needs. We work closely with Talent Acquisition teams to give them needed support to ensure they shine and outperform their competition. Our white-glove approach to client service and our ability to be nimble based on our client's needs is what sets GDH apart from other RPOs."
Challenges That Play to GDH's Strength
Recruiting challenges within the government sector take advantage of GDH's agility. Recently, working with a large defense contractor, GDH needed to fill over 195 positions in four months. The challenge was to find candidates with a high-demand skill set who have an active high-level security clearance. GDH's nimble team provided sourcing and screening based on a custom-designed profile that was SLA (service level agreement) compliant. This specialized profile delivered 25 new candidates per week to the client's talent pipeline. The client was so pleased with the results that GDH assisted with an additional 300 positions. Needless to say, the client is a repeat customer.
As a result of GDH's flexibility and hard work, their client experienced savings greater than 50 percent of traditional recruitment fees. Also, the client saw its time-to-fill reduced by 43 percent.
The Vision of Heart that Launched GDH Consulting.
When JJ Hurley was working at an international staffing firm, he envisioned building a national organization where people are empowered to advance their careers. In 2001 at the age of 26 years old, Hurley followed his vision and launched GDH Consulting. Today, GDH has achieved national expansion with offices stretching coast to coast.
GDH's hiring practices and culture reflect Hurley's vision for the company. The firm goes to great lengths to make sure that each GDH employee is the right add. The company puts employees in positions to succeed and supports them every step of the way.
JJ is known to call and/or write hand-written notes to employees to applaud their ideas and contributions to the team. During the COVID-19 outbreak, he immediately took the lead to have personal video calls with the whole team to reassure them where the company stood, thank them continually for their efforts and to celebrate successes. He cleared his personal calendar to provide personal support to individual employees. He is a heartfelt, genuine and transparent leader.
It's this personal approach that prompted Glassdoor to recognize Hurley twice as a Top Rated CEO in the industry. Hurley's visionary leadership has captained GDH's national expansion Touted as a great company by its employees and prospects, GDH has won Glassdoor's Best Place to Work several times.
Because GDH focuses on people and building lasting relationships, they have quickly become a trusted RPO partner and a versatile solution for staffing and recruiting needs.
Last revised on June 10, 2021.