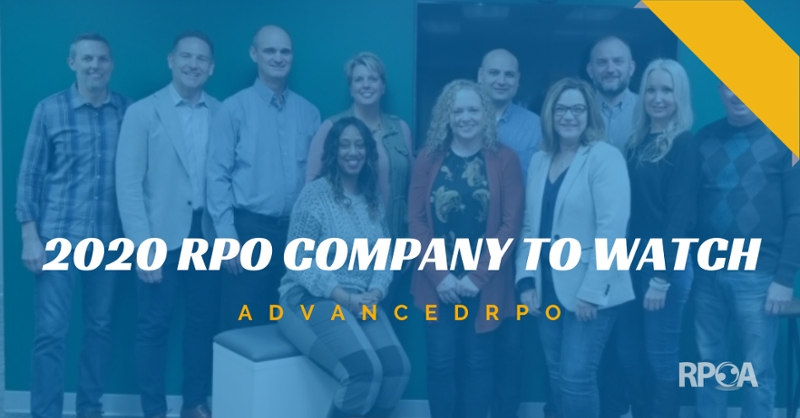 A company's most valuable asset isn't the product or service it delivers, no matter how unique or groundbreaking. It's most valuable asset is its people. This rings especially true for growing businesses. It's all about having the right people in place, which is why many mid-sized companies are turning to RPO providers to help them find the best talent.
For Advanced RPO, it's about more than filling roles in this tight labor market. The Advanced RPO team is able to help growing businesses create differentiating workforces - because they've done so themselves. While clients may have initially selected Advanced RPO for its impressive workforce solutions, the value gained from their partnership extends far beyond that. What they find is that, as a growing business itself, Advanced RPO helps its clients see their talent acquisition strategy as a way to drive their business goals.
A great customer experience starts from within
This year Advanced RPO debuted at number three on the Baker's Dozen list of mid-market leaders and providers of RPO services. The firm was also included on the Inc. 5000 list of fastest-growing private companies. The secret to this recognition? President Pam Verhoff's belief that success comes from creating exceptional employee experiences that translate to customer satisfaction.
For Advanced RPO, it starts with a thoughtful approach to hiring and developing talent. When adding new employees to their own team, Advanced RPO prioritizes diversity, passion and teamwork over individual rockstars. The company looks for employees who bring a wide range of experiences - and their whole selves - to their roles. Beyond a person's skills and expertise on paper, how will their experiences bring more depth to the team? For example, Advanced RPO's senior management team is filled with individuals who each bring something different to the table - like core RPO experience, corporate talent acquisition knowledge and varying areas of expertise. This approach boosts the credibility of Advanced RPO and elevates the work that they do for clients.
Advanced RPO's high retention rate comes not just from hiring the right people, but from nurturing a culture that's hard to find anywhere else. Why does the company retain 93% of its employees? Because Verhoff holds herself personally accountable to creating an environment where people want to stay. At Advanced RPO, this includes giving employees room to innovate as well as develop new skills to move into different roles. New employees aren't just given a job - they're given a career path full of opportunities.
What does this mean for its customers? Well, everything. By creating a great employee experience, Advanced RPO has been able to elevate its customer experience in ways that uninspired RPO providers simply can't. Clients are able to develop long-term relationships with Advanced RPO's leadership and execution teams, who truly understand their business and talent acquisition needs.
When it comes to really understanding the type of talent a client will need to reach their goals, the team at Advanced RPO has cracked the code. It starts with a dual onboarding process. Not only does each client learn about working with Advanced RPO, but the reverse happens as well. The Advanced RPO team goes through an acculturation process with each client to really understand what makes them unique. This includes participating in their new hire orientation, spending time with managers, and more. It's an investment that Advanced RPO is willing to make on behalf of each client they serve - because it takes their partnership to the next level.

The sky is the limit
Advanced RPO doesn't see any potential market fluctuations significantly changing the way their clients recruit talent. No matter what circumstances lie ahead, mid-sized companies will always find themselves competing against bigger industry players for talent. The best defense is to have a well-planned talent acquisition strategy, a strong sense of company culture and an effective way to communicate the employer brand to candidates.
Just as Advanced RPO serves as a partner to its clients as they grow, the company gets the same level of support from its parent company, Advanced Group. Being a part of this family of companies alongside Advanced Clinical, Advanced Resources and Wunderland Group is a big reason for its success.
####
Company Fact Sheet
Company Name: Advanced RPO (Privately held)
Founded: 2011 founded as TriWorth. 2016 rebranded as Advanced RPO
Founder & CEO: Leo Sheridan
Headquarters: 111 West Jackson, Suite 1400, Chicago, IL
Parent Company: Advanced Group (founded in 1988)
Companies under the Advanced Group:
Advanced Resources which Chicagoland's top award-winning staffing firm with expertise in HR, IT, Accounting & Finance, Healthcare and Office.
Advanced Clinical has over 20 years of experience in the life science industry and is leader in providing clients a better clinical experience.
WunderLand is a team of digital, creative and marketing staffing professionals servicing Chicago, San Francisco, New York, Boston, New Jersey and Connecticut.
Advanced RPO possesses the industry's most experienced leadership and delivery teams devoted to building progressive recruitment process outsourcing solutions which are highly tailored to client's unique needs.