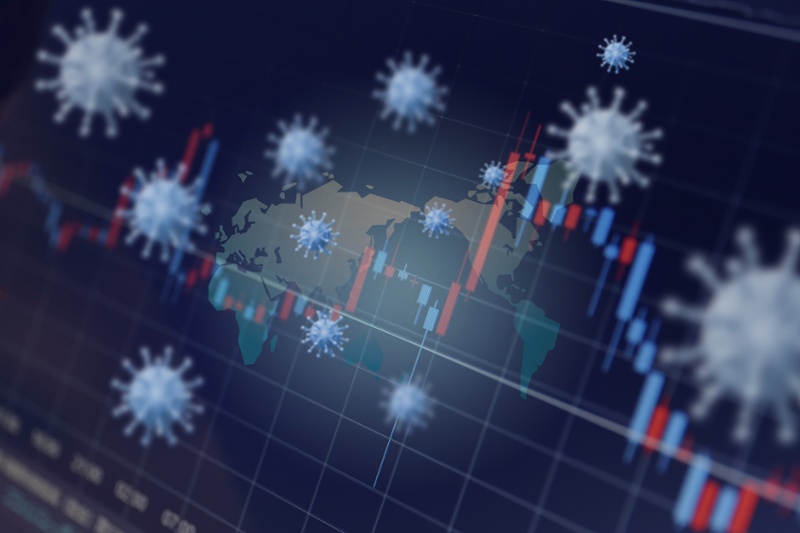 The short-term impact of the coronavirus on the economy is starting to ripple throughout the U.S. and worldwide. According to a report published by CNBC on March 18th, economists predict U.S. jobless claims could hit 2 million this week as coronavirus slams the labor market. As a result of social distancing practice, the travel, airline, hotel, and restaurant industries are some of the hardest hit by the virus.
A recent survey shows a majority of CFOs—80 percent to be exact—are concerned COVID-19 will lead to a global economic recession. Over 50 percent believe the virus' outbreak could have a significant impact on their business operations and decrease profits.
The Recruitment Process Outsourcing Association is focusing on the impact of the coronavirus on the talent and recruiting industry in particular. In this article, we look at the recent response of recruiting companies to COVID-19.
Five general responses to COVID-19 by recruiting companies
With the sudden shock of last week's social distancing orders in many states in the U.S., businesses were forced to change their operations. Here are some of the ways recruiting companies reacted to this new work environment.
1) Closing offices and suspending travel while sustaining business operations
Most U.S. businesses suspended international travel around the end of February when the coronavirus started spreading outside of China. By early March, non-essential work travel was being restricted for most executives and sales people. When social distancing was announced by the federal and state governments, many recruiting companies transitioned their teams to work-from-home to keep their team safe..
In Canada, where the wife of Prime Minister Justin Trudeau has been tested positive for the coronavirus, businesses have been ordered to shut down. In an effort to contain the virus' spread, Randstad Canada met the challenge head-on and moved quickly to take extra health and well-being precautions for its staff. The following measures were announced by the company in response to COVID-19.
The company closed its branches and transitioned its team to work remotely to provide critical client services.
Randstad maintained a core of its support staff in the head office to manage incoming calls which are transferred out to the relevant remote worker.
To comply with social distancing, in-person meetings are being limited, with the majority of interactions taking place via phone, email, instant messaging, or video conferencing.
All employee travel has been completely suspended.
Remote employees have been given full access to company tools and resources.
The firm has also adjusted its client offerings to include COVID-19 related needs such as finding staff to replace workers who become ill.
2) Communicate. Communicate. Communicate.
Warnings about the healthcare risks from the coronavirus were sudden and unexpected. While we've been hearing about the situation in China since January, businesses, both in the U.S. and globally, were not prepared for a similar lockdown. When the orders were given by the U.S. government in March, businesses became completely reactive. There wasn't any preparation for what was to come.
Like other businesses, most recruiting companies had to make rapid decisions that impacted their primary stakeholders: their internal teams and clients. And these decisions had to be communicated quickly. Many business leaders sent email communications and posted messages on their websites explaining their company's response to COVID-19.
In a letter published on its website, Chad Lane, president of global recruiting firm, Allegis, said, "The past few weeks have brought unprecedented change to the world around us, prompting companies to act quickly to take care of their people first, then figure out how to operate in a rapidly changing work environment."
3) Supporting employees and their families
The shutdown of most brick-and-mortar businesses forced them to lay off many employees. Jobless numbers have been rising for the past two weeks. However, some recruiting companies, especially those working in the healthcare sector, are seeing a sudden surge in hiring activities due to the increased demand of healthcare workers.
For Hueman, an RPO provider with extensive expertise in the healthcare sector, they turned this opportunity into a way to help their team.
Dwight Cooper, CEO and founder of Hueman, encouraged his 200 team members to have their laid-off spouses apply for jobs at his company. To date, two have applied and are being interviewed for the job. If they come on board, the company's fully prepared to train them and quickly get them up to speed as recruiters.
In an interview given to CNBC, Cooper talked about how the 2008-09 recession helped him prepare for a moment like this. The company, he said, "built its balance sheet for a rainy day" and is ready to support its employees, who he considers the most important part of the business.
4) Providing insights and advice for business leaders
Global organizational consulting firm Korn Ferry's CEO, Gary Burnison, sees the COVID-19 crisis as an opportunity for leadership to rise to the occasion. Within a week, Korn Ferry has put up a 7-part learning series that covers everything from protecting a company's economic health to practicing social distancing without disrupting revenue. His recommended six steps for leadership in these critical times are to:
Anticipate what lies ahead
Navigate and correct course in real time
Communicate on a continuous basis
Listen, especially to things you don't want to hear
Learn from experiences and apply them to future challenges
Lead and improve yourself so to elevate others
In Burnison's view, now is the time for leadership to connect with, motivate, and inspire their employees to work together to develop the right response to the economic and productivity challenges their companies face.
The Society of Human Resource Management (SHRM) was also quick to respond by collaborating with the CDC on providing webinars on managing the workforce midst the coronavirus pandemic. In addition, SHRM setup a special portal with a complete set of growing resources on "ways to prepare your workforce for the possibility of business closures, working from home, quarantines and other outcomes of a disease outbreak."
5) Adjusting recruiting practices to comply with social distancing
As the global health crisis took hold, UK-based workforce solution provider Datum RPO took quick action to protect its staff's well-being and develop new systems of support for its clients. Like Randstad, the company is keeping a core support staff in its head office to manage incoming calls that are then connected to relevant remote workers.
To mitigate infection risk, Datum has asked suppliers to take additional care when screening applicants, asking where they've been and who've they've been in contact with in the last 14 days. Its current goal, the company says, is to "continue to look at more efficient and smarter ways to tailor services as the advice [on Covid-19] evolves."

What's the economic impact of the current pandemic?
Estimating the effect COVID-19 will have on the economy would be nothing more than a guess at this stage. You can, however, look to history for some context. The SARS outbreak in 2003 is estimated to have cost global industries upwards of $40 billion. Experts are predicting COVID-19's impact could be three to four times greater.
As funds and corporations downgrade heir earnings and growth estimates, businesses are having to acknowledge how they'll be affected and what role they'll need to play in managing the health crisis. That includes those who operate within the talent industry.
How COVID-19 is affecting the talent industry
It's still early days, but there are already some indications of how this new coronavirus is having an impact on the talent industry. Talent leaders who adapt quickly to the shifting recruitment environment will be the ones most likely to survive during this challenging time.
In the short term, those who recruit for sectors like the travel and retail industries will be hardest hit. However, hiring for some companies in sectors such as healthcare, grocery stores, and some manufacturing has picked up during the coronavirus crisis.
In addition, as more businesses go into lockdown and send staff home, either to work remotely or as layoffs, that reality will change. As time goes by, we're likely to see: (1) long-term changes to workplace practices; (2) adjustments in hiring volume; and (3) an increase in remote working.
While shifting operations to completely work-from-home is new to many businesses, recruiting practitioners are accustomed to some aspects of social distancing. With the advancement of recruiting technology, interviewing candidates online has become more common in recent years.
Pam Verhoff, President of Advanced RPO, says most RPOs have already mastered the art of video interviewing and, with the current work environment. "This practice will become increasingly advantageous," she added.
Looking ahead, we anticipate there will be a substantial increase in the number of recruiting providers updating their operational strategies to adapt to the impact COVID-19 is having on the way they do business. RPOA will be right here with you, continuing to report on the pandemic as it relates to talent acquisition and recruiting professionals. Stay tuned and be well.