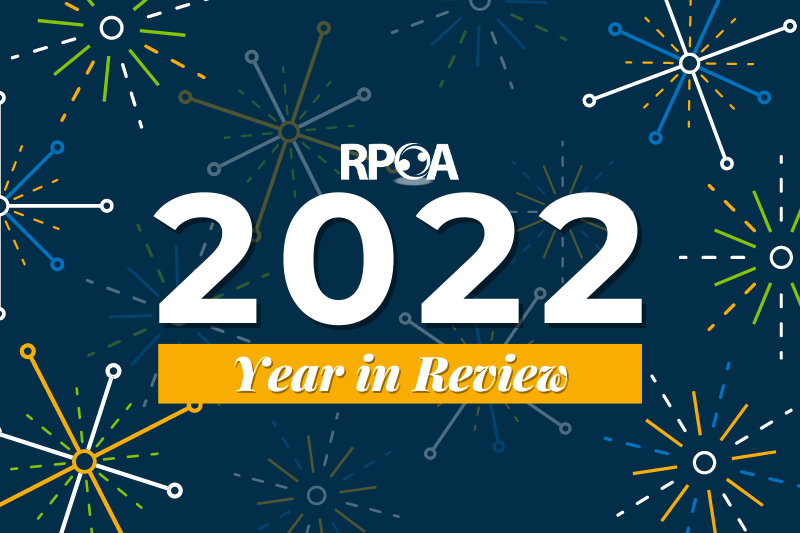 We've arrived at the end of another year - we hope yours was one filled with opportunity and growth. At RPO Association, we're celebrating another year of advancing, elevating, and promoting recruitment process outsourcing.
Before we say goodbye to this year, we'd like to take a moment to reflect on some of the accomplishments and recognize a few members who supported our mission.

Educational Content
RPOA's mission is to nurture a collaborative community where thought leadership can be created and curated to educate the marketplace about recruitment process outsourcing. In 2022, the RPOA partnered with its corporate membership to produce webinars, blog posts, and the first in-person annual conference.

Peer Networking
Relationship is one of our five key values. The Association creates synergistic value by connecting people and catalyzing mutually-beneficial relationships within the RPO community.
In April, the RPOA hosted an invitation-only event in Austin. Twelve participants from RPO providers and technology partners found great value in meeting and sharing unique insights among peers.
In October, RPOA hosted the third annual conference. The 3-day conference, hosted in downtown Chicago, attracted a total of 50 participants from over 27 companies for educational and social events.

Groundbreaking RPO Study

Innovation is another important core value. We continuously strive to improve how we serve and support the RPO community. In 2022, the RPOA commissioned Lighthouse Research and Advisory (LHRA) to conduct an independent RPO study with the goal of uncovering the perceived and actual value proposition of recruitment process outsourcing in the marketplace.

Market Intelligence
Data and market insights are critical for any business. The Association collaborates with strategic partners to bring market intelligence to our members.

Matthew Merker, IDC analyst, shared technology insights specific to RPOA members in two blog posts written for the RPO Voice blog:


Strategic Partnerships

Membership Growth
Community Membership. In 2021, the RPOA introduced individual membership to anyone interested in staying informed about the RPOA and all of our programs and activities. In 2022, over 200 community members joined the association, a 72 percent increase from the earlier year.
Corporate Membership. We could not have fulfilled our mission without our partners' generous support or contribution.

Thank you to our corporate partners for supporting the RPOA: ADP RPO, Advanced RPO,
Aspirant, Broadleaf Results, ClearEdge Marketing, DISHER, GDH Consulting, Hueman, Jobcase, Learning Branch, LevelUp, NES Fircroft, Orion Talent, and VGS.
If you haven't been a corporate member of the RPOA, we invite you to join us in 2023. Learn about RPOA partnerships.