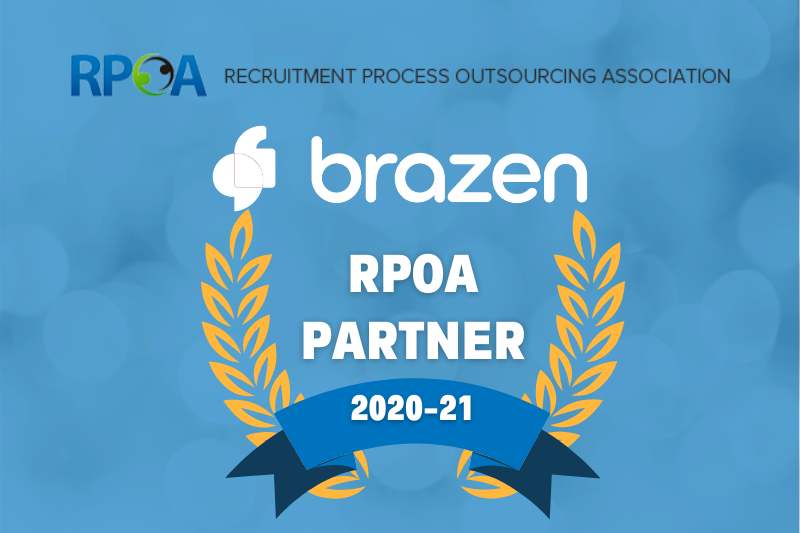 The Recruitment Process Outsourcing Association (RPOA) is delighted to welcome Brazen as a new technology partner.
With the recent shift to remote hiring and working in the Covid-era, organizations had to adapt more of their hiring and recruiting practices to a virtual world. This includes job fairs. Brazen, a virtual hiring platform, has been helping some of the top organizations in the world connect, engage, and hire top talent online since its inception in 2013.
Tim Hawk, Director of Partnerships and Business Development at the RPOA commented on the partnership. "RPOA is very excited to have the opportunity to share Brazen's innovation with our RPO community. Their virtual job fair platform provides employers and recruiting providers an innovative and engaging platform that gives candidates a better user experience."
Besides virtual career fairs, Brazen can be adapted to other virtual events such as online conferences. Brazen was the platform of choice for RPOA's recent virtual conference, Talent Acquisition Transformed, which featured 11 speakers, 3 educational sessions, keynote speaker, happy hour, networking, and partner booths with video and text chat capabilities.
The partnership with RPOA will bring Brazen more visibility in the RPO provider community, and allow Brazen to share virtual career fair best practices with the RPOA membership.
"We considered many virtual event platforms for our conference before deciding on Brazen. It [Brazen] provided the functionality we're looking for both from a programming standpoint and from a participant's perspective," said Lamees Abourahma, Executive Director of the RPOA. "I was very pleased with how smooth the event went and the positive feedback we received from participants and partners," she added. "The Brazen team is amazing to work with and I look forward to a long and successful partnership."
"Combining the power of Brazen's virtual job fair platform with the expertise of the RPOA and its members means that employers will have access to the technology and the strategic thinking that is required to compete for talent in today's hyper-competitive and all-virtual world," said Ashley O'Connor, Senior Vice President of Strategic Partnerships at Brazen. "We couldn't be more excited to partner with the RPOA and its members."
About the RPOA
The Recruitment Process Outsourcing Association (RPOA) is a professional membership association serving the global RPO community. We are committed to advancing, elevating, and promoting recruitment process outsourcing as a strategic talent solution for organizations seeking to reach their highest potential through their people. We pursue our great purpose by nurturing a collaborative community where thought leadership can be created and curated to educate the marketplace about recruitment process outsourcing. For more information about the RPOA, visit our website at www.rpoassociation.org.
About Brazen
Brazen helps employers succeed in the new all-virtual world by giving recruiters a variety of virtual recruiting tools like virtual hiring events, virtual career fairs, text, audio, and video chat, live video broadcasts, and more. By providing more options for candidates to connect with recruiting teams other than the traditional 'Apply Now,' Brazen is converting candidate interest into quality hires at twice the industry standard and in half the time. Brazen's virtual hiring event platform is designed specifically for talent acquisition and is used by the world's most respected companies including CVS Health, Starbucks and KPMG. Brazen has been the leading provider of virtual hiring event software since 2013.