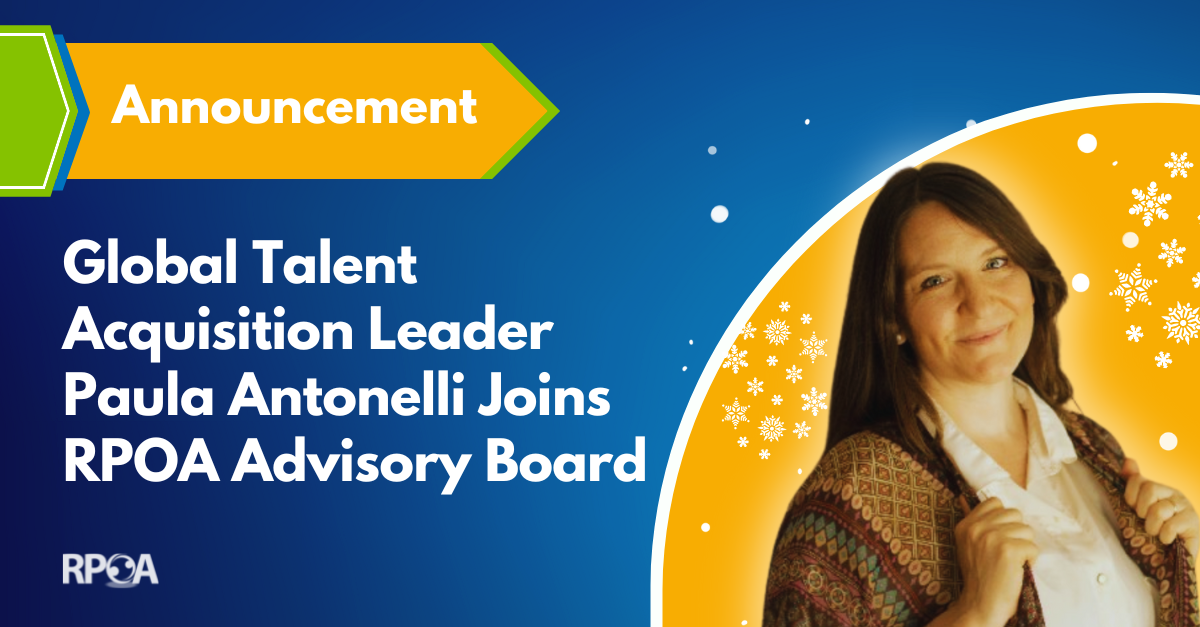 The Recruitment Process Outsourcing Association (RPOA) positions itself to focus on diversity and inclusion with the appointment of global talent acquisition leader Paula Antonelli to the RPOA Advisory Board.Since its restructuring in 2016, the Recruitment Process Outsourcing Association has been striving to serve global recruitment process outsourcing and talent acquisition communities through thought leadership and peer group programs. "While we have been very successful in engaging the RPO audience, we want to increase our engagement with the broader talent acquisition community, in effect, becoming more diverse and inclusive of different perspectives," said Lamees Abourahma, Executive Director of the RPOA. "I'm excited and honored to have Paula on the Advisory Board to guide us through building stronger connections and relationships with the talent acquisition community."
Paula Antonelli is an experienced global leader with 15 years of experience in Talent Acquisition processes and consultancy across many industries. She has led multicultural, fully remote teams since 2016. During her seven-year tenure with IBM, Paula was a Regional Talent Acquisition Executive for three major clients in LATAM, managing teams of up to 30 people based in Argentina, Uruguay, Brazil, and Panama, supporting recruiting in 17 countries, and reporting directly to the Global Project Executives based in London and the US. Paula is currently a mentor for Endeavor Uruguay, coaching and supporting new entrepreneurs. She holds a People Director role for a global e-commerce company and lives in Argentina with her family.
Antonelli joins esteemed RPOA Advisory Board members, Pam Verhoff, President of Advanced RPO, Jason Krumwiede, Executive Vice President of Broadleaf Results, Cory Kruse, President of Orion Talent, and Michelle Krier, Senior Vice President of Sales & Marketing of ClearEdge Marketing. The Advisory Board works with the Executive Director on the strategic direction of the association and membership growth.
"I am thrilled for the opportunity to collaborate with such a talented group of people," said Antonelli. "I have been very close to the RPOA for several years now and have always admired their capacity to adapt fast to what is going on in the market, provide insightful information to the community we are part of, and stay relevant. I am really looking forward to bringing value from my background and expertise."
Antonelli is passionate about diversity and inclusion in the workplace. In addition to the insights she's able to contribute to the RPOA on DEI issues, she adds diversity of perspective to the RPOA Advisory Board. "RPOA Advisory Board has been instrumental in the growth and success of the association over the past few years, and for that, I'm very grateful," commented Abourahma. "Antonelli brings a diverse point of view to the advisory team and a strong voice from the talent acquisition side to help us be more inclusive of the talent acquisition audience."
About the RPOA
The Recruitment Process Outsourcing Association (RPOA) is a mission-driven and member-driven organization serving the global RPO community. We are committed to advancing, elevating, and promoting recruitment process outsourcing as a strategic talent solution for organizations seeking to reach their highest potential through their people. We pursue our great purpose by nurturing a collaborative community where thought leadership can be created and curated to educate the marketplace about recruitment process outsourcing.