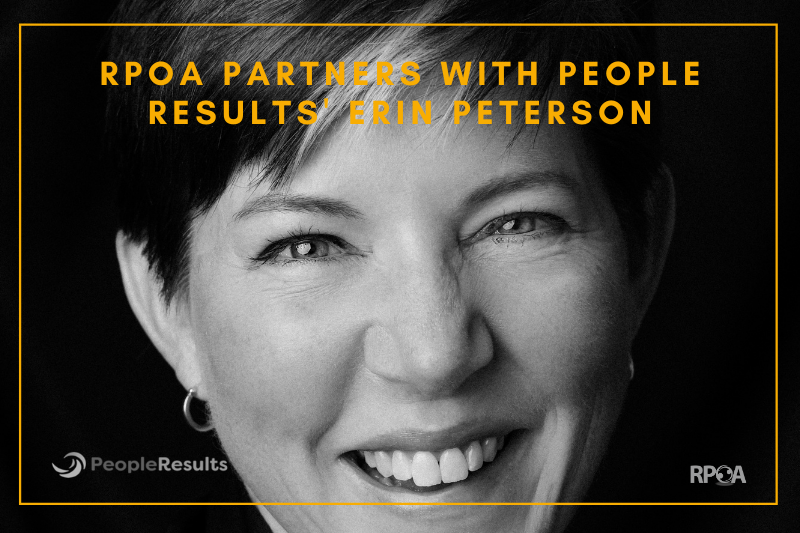 Midlothian, Virginia - October 3,2020 - The Recruitment Process Outsourcing Association (RPOA) welcomes People Results as a new partner of the association under the leadership of Global Talent Acquisition Consultant Erin McDermott Peterson.
Peterson has been an active member and an advocate of the RPOA for several years. She's a frequent speaker on the topic of RPO best practices, including the RPO Leadership Forum, a webinar series hosted by the RPOA. Her podcast, Big Fish in the Talent Pool, also provides insightful content for RPOA's blog, the RPO Voice.
The new partnership with PeopleResults will position Peterson for a more active role with the RPOA. "Erin's industry connections and unique background as an RPO leader, both in the corporate and provider worlds, are huge assets for the RPOA. We can't be more thrilled about expanding our relationship with her," said Lamees Abourahma, Executive Director of the RPOA.
Peterson recently moderated one of the three educational sessions in 2020 RPOA Fall Virtual Conference, Talent Acquisition Transformed, hosted by the RPOA and its partners on October 6th. Additionally, she moderated an RPO Leadership Forum webinar called What You Always Wanted to Know About RPO, But Didn't Know Who to Ask, with guest speakers Rob Navarrete, Director and Head of North American Recruitment at Willis Towers Watson, and Nicole Cox, Head of Talent Acquisition for Ontrak, Inc.
Peterson has been a Talent Acquisition leader for some of the most successful organizations in the world including Accenture, Aon Hewitt, and Amazon. She translates her unique global experience to help her clients with employment branding, candidate experience, talent technologies, executive search, and recruitment process outsourcing (RPO) decisions.
About RPOA
The Recruitment Process Outsourcing Association (RPOA) is a professional membership association serving the global RPO community. We are committed to advancing, elevating, and promoting recruitment process outsourcing as a strategic talent solution for organizations seeking to reach their highest potential through their people. We pursue our great purpose by nurturing a collaborative community where thought leadership can be created and curated to educate the marketplace about recruitment process outsourcing. For more information about the RPOA, visit our website at www.rpoassociation.org
About People Results
PeopleResults works hand-in-hand with business leaders across the globe to deliver change and grow capability. The company works to deliver excellent results to its clients by designing an up-to-date and innovative workforce, leading big changes in the workplace, attracting and growing the right talent, creating an open and engaging dialogue for employees, and managing programs. To learn more, visit https://www.people-results.com/
About Big Fish in the Talent Pool Podcast
Rated in the top 10 of Select Software Review's 100 Top HR and Recruiting Podcasts, "Big Fish in the Talent Pool" is the virtual coffee shop where Erin interviews global recruiting leaders about the joys and challenges of TA Leadership. From candidate experience, to AI recruitment technologies, advanced employment branding, RPO decisions and partnerships, to global orgs that follow the sun, no topic is off limits.
The format is casual - as if listeners were overhearing a coffee conversation between leaders getting to know each other and discussing strategic and tactical talent solutions. Big Fish is perfect for corporate recruiters, aspiring or current TA leaders, executive search partners, or TA product vendors wondering what keeps Talent Acquisition Leaders up at night.