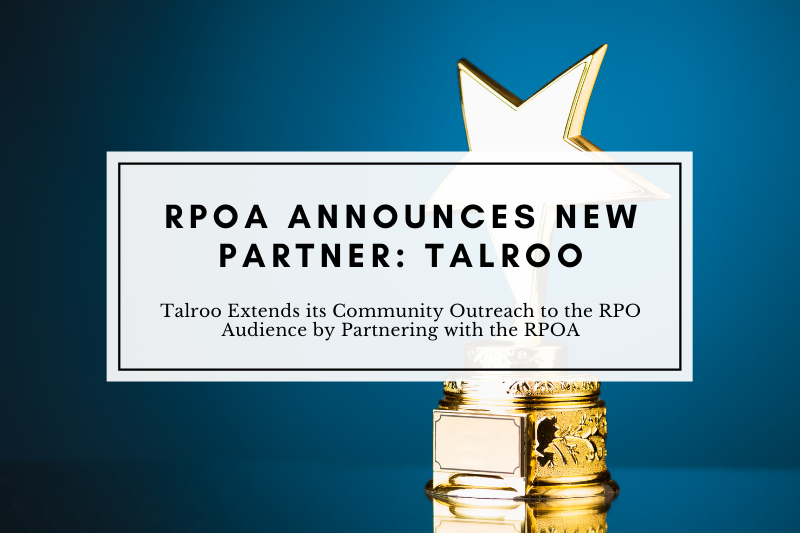 Midlothian, Virginia - September 24, 2020 - The Recruitment Process Outsourcing Association (RPOA) is ecstatic to welcome a new association member, Talroo, an Austin-based data-driven job advertising solution that uses cutting-edge technology to attract unique applicants to help employers hire better.
The new partnership will bring Talroo's deep data-driven industry insights and thought leadership to the RPOA audience and bring visibility and business opportunity to Talroo within the RPO community. To kick off the collaboration between the two organizations, Thad Price, Talroo CEO, will be moderating one of the three educational sessions offered at the RPOA Fall 2020 Conference, Talent Acquisition Transformed, on October 6th.
"Talroo is a dynamic innovative company that reflects the missions and the values of RPOA as well as deals in data and candidate volumes that will be of great interest to our members," said Tim Hawk, RPOA Director of Partnerships and Business Development. "We look forward to working with the prodigious Talroo team," added Lamees Abourahma, RPOA Executive Director.
Talroo is a leading data-driven job advertising solution that helps attract unique talent to fill hiring needs. The Austin-based company prides itself on the core values of integrity, passion, and positively impacting the community by providing exceptional customer service. By joining the Recruitment Process Outsourcing Association, Talroo is extending its community outreach to the RPO audience and creating opportunities to collaborate with and serve RPO partners.
"We're thrilled to have the opportunity to work with the RPO community. We're looking forward to sharing our data about job seeker behavior insights to help inform recruiting strategies," said Paige Drews, VP of Talent Solutions at Talroo. "Whether it's where to find new talent, how job seekers are conducting their search, or which job titles are most effective, Talroo has a wealth of data from billions of job search queries to help answer those questions."
About RPOA
The Recruitment Process Outsourcing Association (RPOA) is a professional membership association serving the global RPO community. We are committed to advancing, elevating, and promoting recruitment process outsourcing as a strategic talent solution for organizations seeking to reach their highest potential through their people. We pursue our great purpose by nurturing a collaborative community where thought leadership can be created and curated to educate the marketplace about recruitment process outsourcing. For more information about the RPOA, visit our website at www.rpoassociation.org.
About Talroo
Talroo is a data-driven talent attraction solution that reaches the candidates you need to make hires. With unique audiences you won't find anywhere else, plus expert client service throughout your campaign, Talroo helps save time, spend wisely, and hire better. For more information, visit www.talroo.com/about.
###