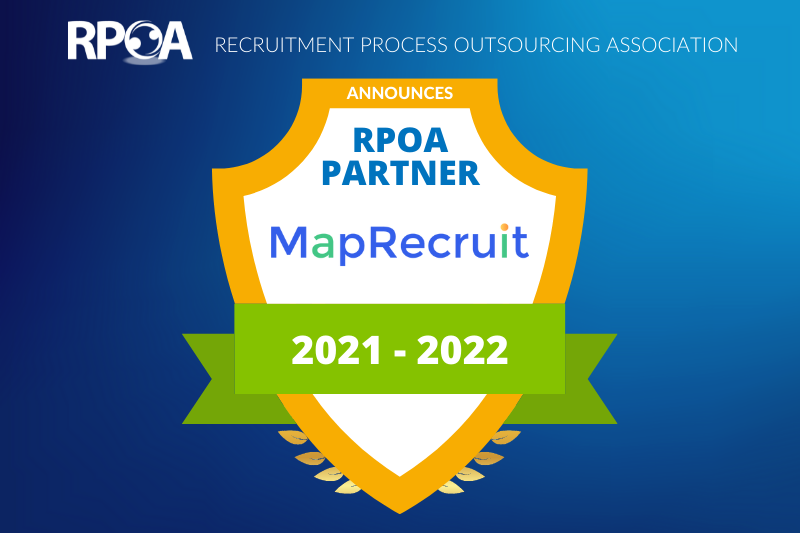 The Recruitment Process Outsourcing Association (RPOA) is excited to announce that MapRecruit joined the association as a platinum technology partner under the leadership of Swamy Sriperumbudur. This new partnership brings MapRecruit's frictionless AI recruiting solutions to RPOA's iCoCo community.
"We launched iCoCo this year with the goal of empowering RPOA members to learn about and connect with technology platforms that help them grow their businesses and serve their clients," said Lamees Abourahma, Executive Director of RPOA. "MapRecruit is the perfect addition to the iCoCo community because of the comprehensive recruitment platform it provides."
MapRecruit offers an exceptional recruitment process experience to candidates through its AI-powered platform and helps RPO companies hire diverse talent at a faster pace. We are in the midst of the War for Talent, Diversity & Inclusion, and the Great Resignation. This is the time for all RPOs to innovate their technology solutions and step up their service offering to meet customers' expectations.
"Diversity & Inclusion in recruiting is a culture and process. AI solutions, depending upon the type of AI used, can bring conscious or unconscious bias into the algorithms. Our Explainable Artificial Intelligence offers transparency on how we hire the right talent without any bias," said Swamy Sriperumbudur, President & CoFounder of MapRecruit. "Now is the perfect time to partner with the RPOA in order to help RPO companies evolve with the latest HR technology and lure potential talent by providing the best candidate experience. The Future is Here."
About RPO
The Recruitment Process Outsourcing Association (RPOA) is a member-driven, mission-critical organization serving the global RPO community. We are committed to advancing, elevating, and promoting recruitment process outsourcing as a strategic talent solution for organizations seeking to reach their highest potential through their people. We pursue our great purpose by nurturing a collaborative community where thought leadership can be created and curated to educate the marketplace about recruitment process outsourcing. For more information about the RPOA, visit our website at www.rpoassociation.org.
About MapRecruit
MapRecruit is a global SaaS HR technology provider, offering AI powered Talent Acquisition Platform (All recruitment needs including Blue Collar & White Collar) for recruitment process automation through multi-channel, multi-lingual (supports 105+ languages).
MapRecruit is passionate about making the recruiting process "an art with science" giving the best candidate experience and recruiter experience with a focus on "Frictionless Recruiting." For more information about MapRecruit, please visit their website www.maprecruit.ai, and follow on @MapRecruit.