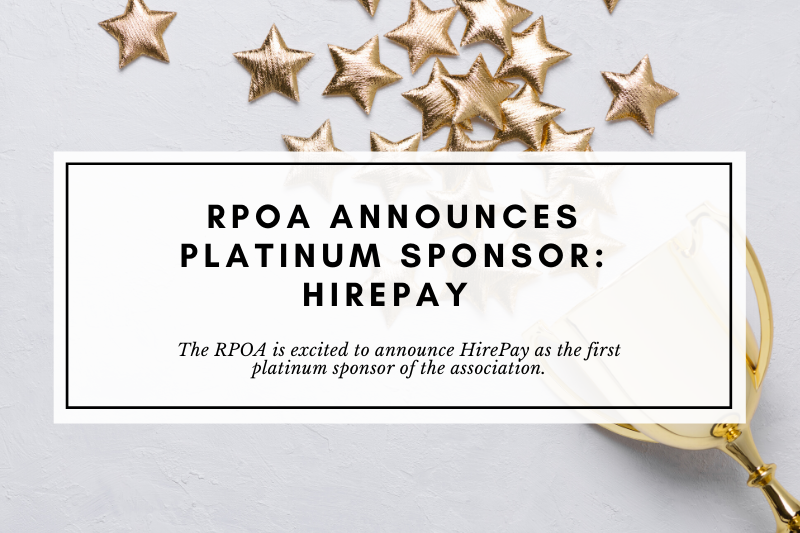 Midothian, Virginia, July 24, 2020. The Recruitment Process Outsourcing Association (RPOA) is pleased to announce HirePay as the first Platinum sponsor of the organization.
This partnership will allow RPOA members to offer the financial flexibility of 'Pay Later' or installment options for every aspect of the hiring process. HirePay pays recruiting providers 100% of their client fee in 24 hours, whilst enabling clients to pay them in 4 easy monthly installments. These extended payment terms eliminate any cashflow impact and costs associated with the RPO & staffing business models.
"Our partnership with RPOA is based on a very strong goal alignment of helping organisations unlock their growth potential through exceptional talent", said David Price, HirePay CEO.
HirePay's founding team and its advisory board are made up of passionate industry-focused minds interested in enabling companies to grow by hiring their dream candidates, using state of the art technology that simplifies the entire process.
"We're excited to introduce HirePay and its revolutionary platform to our RPO members and grateful to be their partner as they enter into the US market," said Lamees Abourahma, RPOA Executive Director. "HirePay has the potential of helping our members grow their business by adding flexibility to their payment options with their customers."
About RPOA
The Recruitment Process Outsourcing Association (RPOA) is a professional membership association serving the global RPO community. We are committed to advancing, elevating, and promoting recruitment process outsourcing as a strategic talent solution for organizations seeking to reach their highest potential through their people. We pursue our great purpose by nurturing a collaborative community where thought leadership can be created and curated to educate the marketplace about recruitment process outsourcing. For more information about the RPOA, visit our website at www.rpoassociation.org.
About HirePay
HirePay is a technology platform that solves cash flow issues associated with the hiring process. Founded in 2019 in Sydney, Australia, HirePay has recently launched operations in the United States and offers a technology platform that solves cash flow issues associated with the hiring process to RPO providers and their customers. Learn more at www.hirepay.co