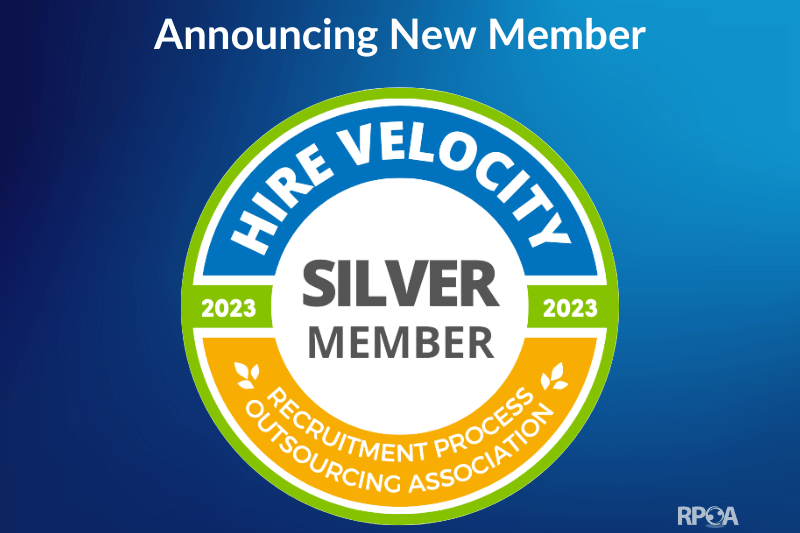 The Recruitment Process Outsourcing Association (RPOA) welcomes Hire Velocity, a national recruitment process outsourcing provider, as a new Silver Member.
As a member-driven organization serving the global talent acquisition community, RPOA collaborates with member organizations and industry thought leaders in educating the marketplace about talent trends, shifts, and best practices. The association offers many robust content marketing programs and events to connect members with peers to further their knowledge of shifts and opportunities in the talent acquisition industry.
Sara C. West, Managing Director of Hire Velocity, commented on the new partnership.
"We are excited to partner with the RPO Association, as we truly believe in its purpose to advance, elevate, and promote recruitment process outsourcing as a strategic hiring solution. RPOA provides truly insightful thought leadership to the RPO and business community, and we look forward to contributing to that thought leadership and the conversations about the future of our industry."
"One of the greatest values of RPOA membership is regular and interactive access to great thinkers and doers," said Leslie Vickrey, CEO & Founder of ClearEdge Marketing and RPOA Advisory Board Member.
"This is an association full of talent acquisition experts and innovators who have shaped the industry, who have challenged its norms, and who will build its future. The time we get to spend together in collaboration, at learning events, or simply sharing challenges and opportunities leads to unexpected partnerships, career-changing connections, new ways of thinking, and critical support in times of need."
About RPO
The Recruitment Process Outsourcing Association (RPOA) is a member-driven, mission-critical organization serving the global RPO community. We are committed to advancing, elevating, and promoting recruitment process outsourcing as a strategic talent solution for organizations seeking to reach their highest potential through their people. We pursue our great purpose by nurturing a collaborative community where thought leadership can be created and curated to educate the marketplace about recruitment process outsourcing. For more information about the RPOA, visit our website at www.rpoassociation.org.
About Hire Velocity
Hire Velocity designs talent strategies that build great teams and great businesses. We are a proven leader in Human Capital Solutions and trusted by companies for customized Recruitment Process Outsourcing (RPO), Search, and Talent Advisory solutions. Hire Velocity partners with clients across nearly every industry to solve recruiting challenges and achieve sustained outcomes. Consistently recognized as a partner that goes the 'extra mile', we are devoted to delivering outstanding customer service. Learn more at https://www.hirevelocity.com/