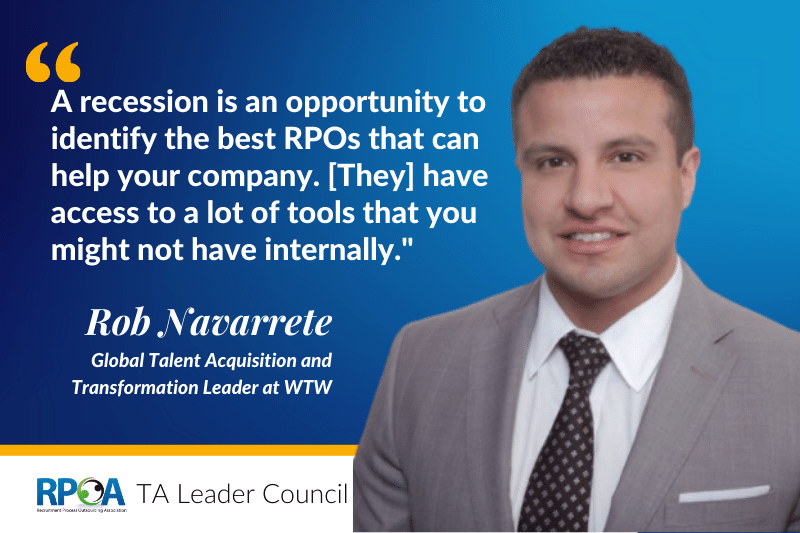 The impending economic downturn presents talent acquisition (TA) leaders with formidable challenges. At WTW, (NASDAQ: WTW), who provide data-driven, insight-led solutions in the areas of people, risk and capital. Leveraging the global view and local expertise of their colleagues serving 140 countries and markets, they help organizations sharpen their strategy, enhance organizational resilience, motivate their workforce, and maximize performance. Each global location has been experiencing a significant war for talent. "In this current labor market, the war for talent has never been fiercer. We are responding to this challenge by ensuring we have a resilient recruitment strategy that allows us to pivot and adapt to the changing environments with a strong focus on the candidate experience," said Rob Navarrete, Global Talent Acquisition and Transformation Leader at WTW.
With a workforce of more than 40,000 employees, Navarrete said that WTW is currently going through a transformation and plans to add more than 3000 new positions over the next 2 years as they expand and build their Operations and Technology Centers and Hubs across the world. Recently, WTW invested in increasing its Lisbon Delivery Hub, where it'll create approximately 300 exciting new career opportunities.
Navarrete's years of designing and implementing new talent acquisition delivery models and global talent sourcing teams have led him to develop a practical approach to confronting recession-driven challenges. Navarrete discusses ways to recession-proof a TA strategy in this latest post from the RPOA's TA Leader Council.
RPOA: How's WTW planning for talent acquisition this year?
We're planning a resilient recruitment strategy that allows us to pivot and adapt to the changing environments. It is competitive in all locations and some more than others. For roles that are high in demand with a low supply of talent, we might extend an offer, and that same candidate will receive multiple offers from other companies making it very difficult to hire. We're not compromising on talent or expertise, but we are listening to the market and ensuring that our career opportunities, flexible workstyles, and candidate experience stand out to attract top talent.
With the change in today's climate, we're doing a lot of sourcing, which may not necessarily change in a recession, but what could change is that some of those great candidates whom we might not have been able to easily convert to being interested now, might be more willing to have a conversation with us during a recession if they are feeling vulnerable at their current employer. This presents a great opportunity for us in recruitment to attract top talent.
Given a looming recession, how do you expect to change your talent acquisition strategy and tactics?
As we look to the future, if there is a recession, we want to ensure our process is lean and efficient. We're optimizing our process and technology to support any changes in the labor market and job seeker behavior. For example, today we have fewer applications to some of our jobs. In the event of a recession, we might suddenly receive a higher than usual volume of applications. Leveraging our various technologies, we can ensure that we are able to continue to provide a great candidate experience while also scaling our resume review process objectively. Our goal will always be to hire the best person for the job and technology can enable us to achieve this efficiently, even at a time when we might be asked to do more with less.
We also recognize that a recession could present an interesting opportunity for us. Talent sourcing requires a good amount of perseverance. With so much competition recently, it can be very challenging to convert passive candidates to interested. During a recession, we may be able gain the interest of candidates who may have not entertained a new opportunity before, but this this new environment would be much more willing to explore a career move. We leverage technology to build and maintain a ready pipeline of talent so we can keep engaged with them. Having a resilient, adaptable recruitment strategy allows us to pivot when necessary.
How important is the employer brand in these recruiting conditions?
It's critically important. Let's talk about technology professionals as an example. Most of them look to some of the big tech companies who are household names as an employer of choice. But many of these big companies have been laying off workers. This presents another great opportunity for a company like ours.
Tech professionals may not have considered us for career opportunities in the past and may not have even known that we existed. We're launching a multi-location employer branding and recruitment marketing strategy to attract talent in various areas, including technology. We did a lot of research to understand what's important to tech professionals, such as what type of technology they enjoy, their preferred work style, and what kind of projects they want to be involved in.
What is the value of using RPO during a recession?
A recession is a great opportunity to identify the high performing RPOs that can be a strategic partner and help your company attract and hire top talent. They have access to a lot of scalable tools and resources that some corporate recruitment functions may not have. Partnering with an effective RPO can help you scale recruitment up and down more easily. They can also continue to support your company on a strategic level especially if you are able to think about and plan for your future hiring needs and the skills you will be requiring when the market shifts. Running a skills gap analysis in collaboration with an RPO can be an excellent strategy to secure the future. By understanding and sharing the skills your company will require in the mid to short term, an RPO partner can help you build talent pipelines and make pro-active strategic hires. You can attract and build a team of the talented professionals that you will need while the competition is lower.
As an example, you could ask an RPO to identify the top 100 salespeople in a particular market and then ensure you're developing a proactive outreach campaign to engage and attract them. During a recession these top salespeople might be feeling some uncertainty about the security of their current role. They've seen some of their peers and some of their managers leave. And they too are thinking to themselves and wondering if they are next. This uncertainty may make them more willing to have a conversation about a new career opportunity if they get tapped on the shoulder. It's a perfect time to partner with an RPO that can leverage economies of scale, to fully utilize and deploy the great tools that they have to engage with talent.
For more insights from other Talent Acquisition Experts, check out our TA Leader Council on the RPO Voice blog with interviews with top talent acquisition experts.