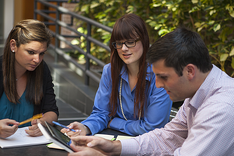 Why does the RPO buyer/provider relationship matter? What's the benefit in paying attention to the relationship, when most other outsourcing relationships don't need a lot of attention? Essentially, the time and attention matters because recruitment process outsourcing is much more than a business transaction. It's a 50/50 relationship that requires a good fit, good communication, and a consistent evaluation of success to be successful. There are three points to remember to maintain a healthy RPO relationship and to stay focused on your recruiting results.
It's a Partnership
Recruitment process outsourcing is somewhat of a misnomer because "outsourcing" implies that the recruiting work is being removed from the organization, when it needs to stay internal in order for an RPO relationship to succeed. Don't treat recruiting like a problem you're throwing over the fence, or just as a way to cut costs. Treat it like a challenge that you'd like to overcome, with help to overcome that challenge and to measure progress.
"If this is not a partnership that the executive leadership team in totality really supports and thinks is not a strategic imperative, we actually will not pursue a partnership," said Ray Rike, Chief Operating Officer at Accolo. "In fact, we actually say 'no' to more opportunities than we say 'yes' and end up implementing."
A partnership perspective is important because part of RPO's success is in asking the tough question and measuring parts of the recruiting process to track progress. It really is a relationship. It's not just hiring a service or offloading a headache.
Know the Responsibilities of Every Party in the Relationship
In an RPO partnership, it's important to know you're role as the buyer, but it's also important to know the provider's role and their strategic objectives. Knowing the strategic objectives is important because your objectives need to align with their objectives. If those objectives don't align, then there will be stress in the relationship.
"It's the [foundation] stuff. You're having those conversations about, 'what's the business problem we're trying to solve here?'" said Matt Rivera, director of customer relations at Yoh. "That's the honest way to start that relationship."
Essentially, providers will take the lead in outling responsibilities and objectives, but buyers also need to be prepared for that. Buyers who aren't prepared for the conversation will have to face some hard truths on what they really want out of RPO.
Fit is Everything
Although any relationship will have communications, systems, and activities that contribute to success, that triad of factors won't lead to success if you don't have the right fit. Without the right fit, the communications, systems, and activities may not work as well because they happen throughout the relationship, not just at the beginning. After all, doing good business keeps you in business and good business comes from good relationships.
"One of the things to... getting the fit right is to have a discussion about the types of jobs that you have," Rivera said. "A lot of companies will use RPO to help them with large volumes of people that come in and out of the organization... Understanding the types of needs that you have and being able to talk about them pretty discreetly. There's a great range of providers out there."
Rike added that recruitment process outsourcing can focus on recruitment, and/or could focus on the process. If a buyer is considering improving upon the process, or is open to that option, then they also need to be open to a lot of change to their recruiting. A good fit can be a matter of viewing RPO as a huge change management implementation versus simply using different recruiting techniques.
Overall, buyers need to be comfortable with outsourcing and with a change in process and structures. Outsourcing, recruitment outsourcing or other types of outsourcing, is not the same as doing it yourself or as a consulting engagement. Understanding this difference and being accepting of this difference will help in facilities the change that will happen and progress toward your recruiting goals.
If you want to learn more about managing your RPO relationship and keeping it healthy, then you should listen to the following webinar hosted by the Recruitmet Process Outsourcing Association (RPOA). Listen to the interactive discussion from Ray Rike, Matt Rivera, and moderator, Rachel Clark now.
Access the video and slides to the webinar here!