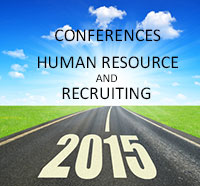 Welcome to our third annual list of recruiting and human resource conferences that will be taking place in 2015. Below, we've tried to provide as much information on each individual conference as possible, although it should be noted that some of the later conferences will probably have more information available nearer the time - so it may be worth checking the websites closer to the dates provided.
This list is in chronological order to allow you to keep track of how many recruiting and HR conferences there are for each month, giving you plenty of opportunity to attend one or two this year, network, learn, and hopefully take away something valuable from your experience.
Have a question about this list? Contact us at info@rpoassociation.org.
Host
Event
Dates
Location
GSMI
Social Recruiting Strategies Conference
Jan 27-29

San Francisco, CA

For HR corporate recruiters, VP o of recruiting, recruiting leads, senior HR executives, VP strategy, satffing director, senior sources, social recruiting strategiests, VP/SVP HR, HR Directors/Managers, and other HR professionals. Learn key recruitment strategies, including how to recruit for retention, implement strategies on a budget, optimize your mobile recruitment strategies, make the most of social media, and much more.

HCI
Workforce Planning and Talent Strategy
Feb 23-25
Dallas, TX

An industry-leading conference designed to help you improve your business-driven people strategy for 2015 - and beyond.

Workforce planning is essentiall to an organization's success, and the biggest challenge for companies is adapting to the various workforce types. Key issues that will be addressed in this year's conference include constructing a plan, creating the infrastructure for such plan, and considering external factors as part of your plan.
Executive Forum
March 16-19
Orlando, Fl

Learn new strategies for the next era in staffing, with a promising selection of keynote speakers that have guests attending year after year. The Executive Forum will inspire you to learn how to lead in different ways, and challenge the assumptions you're currently making about business practices.

ERE
SourceCon
March 24-25
Seattle, WA
Sourcing has changed greatly over the past few years, with recruiters using the Internet to find prospective talent. This year's premier sourcing conference will cove real tools and tactics you can use to ensure you always source the best of the best. Meet, network and learn all you need to know at SourceCon.
PAW
Predictive Analytics World for Workforce
Mar 31-Apr 1
San Francisco, CA

At the inaugural Predictive Analytics World for Workforce Conference in San Francisco, a powerhouse gathering of the most innovative employers, consultants, and vendors will discuss how to proactively take full advantage of predictive analytics to strategically solve workforce challenges.

Includes an online introduction to predictive analysis, ways to make the most of Big Data, how to optimize the impact of your marketing, and plenty more to get your teeth into.

HCI
Human Capital Summit
March 31- April 2
Orlando, FL

Learn how Human Resources is transforming into an entirely new creature, with revolutionized roles and more strategic business partnerships that align to help you achieve your business goals.

ERE
Recruiting Conference & Expo
Apr 27-29
San Diego, CA

The perfect conference for leaders who manage a team, recruitment functions, budgeting, or strategy development. Find out more via this video.

This conference is going to features case studies and many hot trends in recruiting and human resources. These features include sessions on your employment brand, RPO, college recruiting, and retaining your best recruiters. If you register by Feb. 7, then you save $300 off the conference fee with the early bird discount. This conference is also restricted in-house recruitment and HR professionals. Any other roles in the recruiting industry need to call ERE regarding the participation opportunities.

SHRM
Talent Managment Conference
Apr 27-29
San Diego, CA

If you're a talent management or recruitment professional, this is the event for you. Get all the resources, tools and innovations to find the perfect solution to craft your human capital strategy. Sessions will cover topics like social media, global concerns, employee engagement, metrics, and productivity. Early bird registration runs through Feb. 14, while late registration starts Apr 4.

ASA
Staffing Law Conference
April 28-29
Washington, DC
This is the only conference this year dedicated to the laws and regulations that apply to staffing companies, so if this is a concern for you then this is the conference that you must attend.
HROA
HRO Today Forum
May 4-6
Philadelphia, PA

Learn how to build relationships, increase your profile and unlock new opportunities for your most productive workforce yet. As a result, your company will become more competitive, efficient and profitable.

SHRM
SHRM Annual Conference & Expo
June 28- July 1
Las Vegas

This year's SHRM forum has some inspiring speakers, including COO of Facebook, Sheryl Sandberg, best-selling author Marcus Buckingham, and world-renowned surgeon Dr Mehmet Oz. The event heavily encourages networking and provides plenty of opportunities to collaborate with peers.

NAPS
NAPS Annual Conference
Sep 28-30
Boston, MA
Keynote speakers for the NAPS Annual Conference will be announced soon.
LinkedIn
LinkedIn Talent Connection
Oct 13-15
Anaheim, CA

Back for another year, LinkedIn Talent Connect is all about networking and making the right connections for talent acquisition leaders and their teams.

Currently, the pre-registration rate is $785. However, admission to this conference is limited to LinkedIn Recruiting Solutions corporate customers only. Staffing and search firms are not eligible for attendance. If you're not sure if you're able to attend, then it's best to contact your LinkedIn sales representative.

SIA
Oct 19-20
Dallas, TX

Details will be released on this event shortly. Visit the conference website for updates.

OnRec
Annual Recruiting Conference and Exibition
Oct 21
London

OnRec's annual recruiting conference and exhibition is now in its 11th year, and will mainly cover the UK economy's impact on the recruitment industry, and the challenges many recruiting experts now face.

This is the one and only international conference on the list, so if you're interested in how the recruiting industry is doing in the United Kingdom, then this is the event for you. Everything from social media to communicating with candidates will be covered in this one-day conference. The agenda isn't yet set, and registration has yet to open.
ASA
Staffing World
TBA
TBA

Known as the biggest, most comprehensive annual convention and expo for the recruitment industry, Staffing World always attracts key speakers and industry leaders. Details still to be announced.

HRSWC
Oct 25-28
Fort Worth, TX

The largest regional human resources conference in the US. More details to be released shortly.

HRSourcing
HR Shared Services & Outsourcing Summit
TBA
TBA
HR.COM
Ongoing webinars and conferences

Year long

Online

Online (throughout the year)
RPOA
RPOA Leadership Forum
Year long
Online
Educational Webinars presented by recruitment process outsourcing providers on topics related to the RPO and recruiting industry