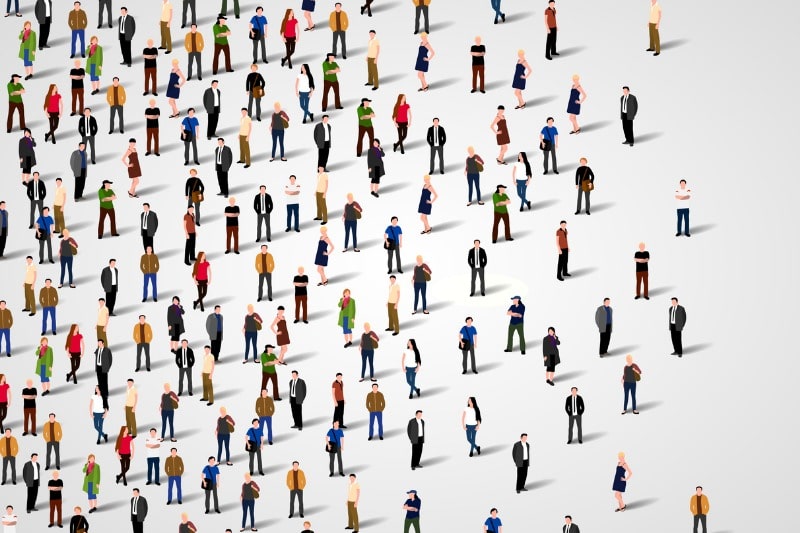 The labor market is ever-changing, so it's important for employers and recruitment process outsourcing (RPO) providers to stay up-to-date on the latest trends.
At the third annual RPOA Conference held in Chicago this year, Daniel Culbertson, Senior Economist at Indeed's Hiring Lab, provided an overview of the current state of the labor market and where things may be headed. Culbertson presented data to help inform recruiting strategies and give a big-picture view of the current labor market landscape.
Culbertson described a labor market landscape that is tight on the demand and supply sides with high wage growth, rampant job switching, and workers wanting remote work. Below is a recap of his presentation.
Check out Culbertson's presentation on-demand to stay current on the labor market trends.
Stay The Course on The Road Ahead
Culbertson reminded the attendees at this year's RPOA Conference that we are in a very jobseeker-driven labor market where demand far exceeds supply; it's difficult to find talent. "The strategies that you have today in recruiting in a tight labor market and what you've been doing over the past couple of years to really thrive in this type of market could very possibly still be valid in the next six months to a year no matter what we see economically," he said.
There's been much discussion and debate about whether we're in a recession. Culbertson said we are hearing about a recession because the Federal Reserve is raising interest rates to slow down the economy. And "There's always a chance they could tip us into a recession," he said. Culbertson said the possibility of recession exists because the reserve needs to hit a small target to control inflation, and the reserve has not had a good track record of hitting its intended target.
Culbertson shared that the current economic data is hard to interpret because it lacks clarity. However, "We're probably not in a recession because of how strong the labor market is," he said. "Over the past six months, the economy is adding about 350,000 jobs on average every month. And job openings are high on Indeed and other job platforms."
He shared that workers feel confident about finding work, for ghosting is still a problem, and the quits rate is still high. When it comes to layoffs, he said that despite the layoffs at tech companies making the news, "across the labor market data, layoffs still remain very flat and very low."
The Anatomy of The Current Labor Market
Tight Labor Market
Culbertson shared that there is a tremendous imbalance within the labor market, and it's creating a difficult recruiting environment. He said that the Bureau of Labor Statistics (BLS) shows job openings outnumber unemployed workers; there is less than one unemployed person for every job opening. He pointed out that the same imbalance existed in early 2020 pre-pandemic, but the current imbalance is worse than the one in early 2020. However, he did observe that the trend line moved horizontally in June and July of this year. The horizontal line, he said, means that the labor market isn't tightening like earlier this year.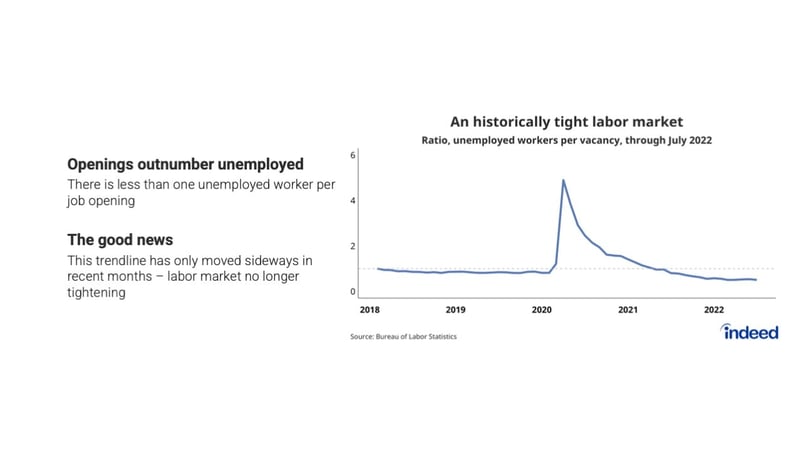 Strong Demand for Labor
Culbertson said, "Part of the reason for the difficult recruiting environment in a tight labor market is strong demand coming out of the pandemic." He said that Indeed's data shows how the labor market changed during the pandemic and after the pandemic. According to Indeed's data, the site saw demand/job postings consistently climb, starting in June 2020 and peaking in December 2021. And since then, Culbertson pointed out that job postings have been moderating, which is the labor market slowing down a little.
However, as of September 23, 2022, he said that job postings are 48.5 percent above the pre-pandemic baseline. So Culbertson's takeaway is that despite the labor market moderating, there's an incredible level of demand. "We still have nearly 50 percent more jobs on our site than we had pre-pandemic. So there's a lot of demand out there," he said.

He added that data from the BLS shows the same trend. "That lets us know our data is telling us something true about the labor market," said Culbertson.

Quits Rate
Culbertson explained that the quits rate is the percentage of workers who voluntarily leave their job every month, and the BLS has tracked this data for about 20 years. The BLS data shows that pre-pandemic in 2020, the quits rate was at its highest. Culbertson shared that the high quits rate tends to fall in line with the overall economy. "When the economy is doing well, the quits rate rises," he said. "Because people know there are other opportunities out there and they go out and find those jobs. When things hit the fan with the economy, people tend to hold on to their job. So you see that quits rate decline."
He pointed out that the BLS data shows that the quits rate fell during the pandemic, rose after the pandemic, reached a new high level, and hasn't budged much since then. He said that it's come down a bit, but there still is a lot of churn happening in the labor market. Culbertson emphasized that everything that's associated with the high quits rate, including job switching and ghosting, will not change until the economic environment changes a little.

High Wage Growth
"An upshot of the tight labor market," Culbertson said, "is strong wage growth." He explained that Indeed has seen that every industry has stronger wages than they had pre-pandemic.
He explained how strong wage growth feeds into job switching and showed the attendees that people who switch jobs receive higher wages.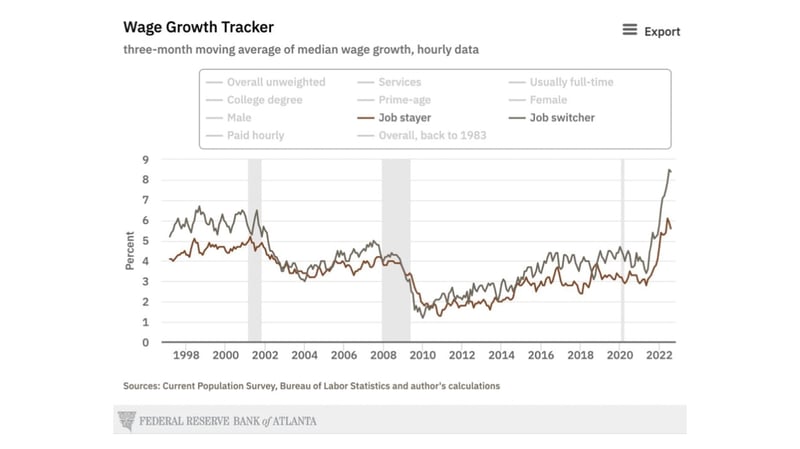 Wage Growth Per Industry
Using data from the BLS, Culbertson pointed out that transportation and warehousing and leisure and hospitality have been the two industries that have seen the strongest wage growth. He noted that there is strong wage growth across the labor market, and there hasn't been a slowdown. He highlighted that the leisure and hospitality industry has had nearly a 12 percent wage growth over the past year, and over the last three months, wage growth has stayed at 11 percent. He believes wage growth won't slow until the labor market stops running hot.

Signing Bonuses
Culbertson said that Indeed is seeing employers now mentioning signing bonuses inside the job description more than they did pre-pandemic to get candidates in the door and gain a competitive advantage. He said that the rate of employers announcing a signing bonus in their job description rose drastically in early 2021 when everyone was trying to hire simultaneously. He noted that the rate has leveled off, but it's still several times more common to see a signing bonus inside the job posting.

As for the industry using signing bonuses the most as an incentive, Culbertson shared that healthcare leads the way, specifically nursing. He observed that nearly one in five nursing job postings has a signing bonus inside of the job posting. He added that 1 in 10 job postings for medical technicians mentions a signing bonus.

Labor Supply Issues
The crux of the labor supply issues, Culbertson said, is that the labor market hasn't gotten back all the workers lost during the pandemic. "We're still about 500,000 workers short of where we were pre-pandemic," he said.
Labor Participation
"We lost a lot of workers at the onset of the pandemic and got a lot of them back quickly," Culbertson said. "But it's been slow progress getting the rest back. We are nearly back to where we were pre-pandemic, but there are still some gaps out there." One of the biggest gaps is older workers."
He shared that the current issue for recruiting in the current labor market is older workers not coming back into the labor market. He highlighted that older workers left the labor force at a higher rate during the start of the pandemic and have been much slower to come back. He also emphasized that this is important because it remains an open question of how many workers will return since so many are close to retirement age.

Remote Work
Culbertson said that remote work is the one element of the labor market that has changed during the pandemic and that change will be long-lasting. He believes that remote work will be more prevalent post-pandemic than pre-pandemic.
He shared that about 10 percent of the searches on Indeed were for remote work. He observed that the search for remote work has ebbed and flowed throughout the pandemic. And although employers now want a return to the office, job seekers are still interested in remote work.

There are many opportunities for remote work. Culbertson recommended that employers be upfront about what they offer regarding remote work.

Recruiting in Today's Labor market
In his closing remarks, Culbertson provided some advice about:
wages

employments gaps

backgrounds

remote work
"Pay is always going to be important," he said. "But it's especially more important when demand for labor is very high." He added that even when the demand for labor is low, wages have to rise. He believes employers need to think both short and long-term. "It's important to think short term with signing bonuses, retention bonuses, and whatever you can enact quickly. and back quickly if the economic environment changes, but also longer-term decisions among base pay benefits, total compensation." He added that employers must ensure they're competitive in their industry and other industries they want to draw workers from.
He advised not to mind gaps on resumes. He reasoned that with so many workers returning to the labor market, there will be gaps for numerous reasons. He pointed out that employers could leave quality talent if they screen out resumes with gaps.
He also mentioned that Indeed has seen an increase in second chance or fair chance hiring job searches. He emphasized that leveraging the second chance hiring practices is a great way to build your talent pipeline.
And finally, he emphasized the importance of being clear in your job posting about what remote work means at your workplace.