When we published our first take on this in mid-April, the landscape was already looking challenging, but some of the economic indicators that we were watching then have continued to shift over the last month. This piece has been updated with new information available as of mid-May.
A world of uncertainty.
This is the reality for many employers today. The landscape changes daily, and of all of the legislative movement and other pandemic responses, one of the biggest challenges is the sheer uncertainty at how long it will last and what the economy will look like on the other side. The RPO provider landscape is not immune to this economic uncertainty.
Over the last few weeks, the word "recession" has been used numerous times. However, the definition of a recession is two successive quarters of falling GDP, so we can't technically declare a recession until we've had enough time to look back on the data and say for sure one way or the other. That said, things are challenging to say the least.
Fear of Economic Impact
Two months ago, the biggest challenge for many firms was finding talent in a historically low unemployment situation. Today, the world looks drastically different.
Mid-April: searches for unemployment data on Google are up 20x this week from normal levels (and continues to set new records on search volume daily).
Job Posting Volume
Pre-COVID: March job postings were set to exceed February by 50%.
Mid-April: Job postings for week ending March 28th were down 60%, according to new data available at that time.
Mid-May: Job postings are vacillating greatly based on industry lines.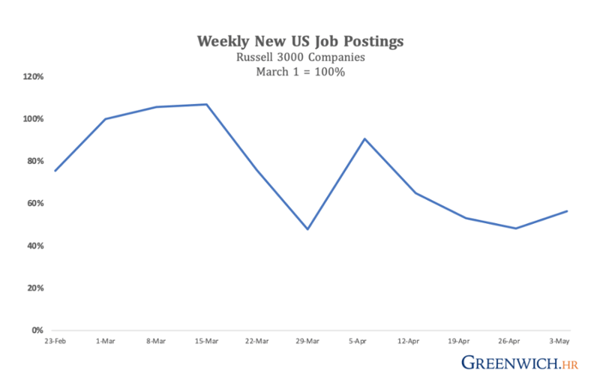 Source: YahooFinance
Job posting volume is a proxy for the impact businesses expect the economy to have on their hiring activities, but below we will examine specific industries and how they may fare in the current climate. Compare and contrast the next two images to truly understand the reality of hiring today.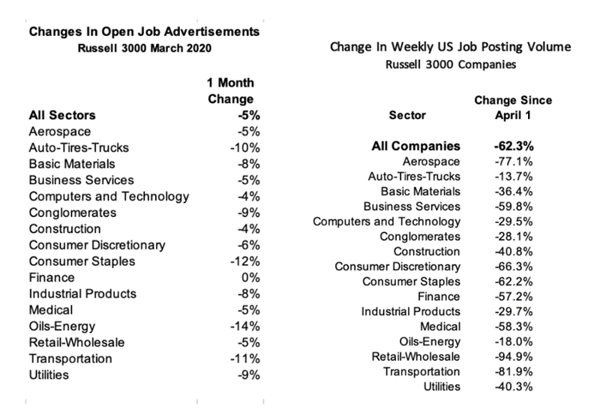 Source: YahooFinance
The lines are distinctive. While early impacts of job postings for March were fairly mixed, April job posting changes varied widely between industries. In March, retail saw a 5% drop and technology saw a 4% drop. However, things look dramatically different a month later. For instance, April retail job postings have fallen by approximately 95%, and computers and technology are only down 30%. Note on accuracy of the data: this is all based on data from Greenwich.HR as reported on YahooFinance covering the Russell 3000, which totals approximately 98% of all US-traded securities.
Unemployment Data
Mid-April: approximately 10 million unemployment claims have already been filed so far with more expected to come with additional shelter in place orders setting up state-by-state.
Mid-May: over 26 million unemployment claims have been filed. See data from Department of Labor below. If this trend continues, we may have passed the peak unemployment rate in terms of weekly claims. Current unemployment is over 15%.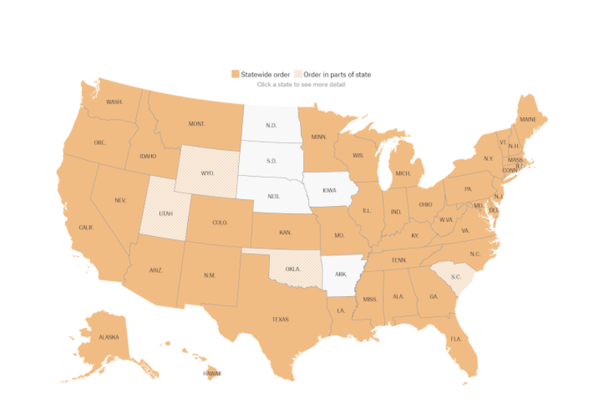 In spite of not knowing whether we're in a recession at this time, the indicators would seem to show that we are on the edge of something major. For instance, during the Great Recession in the US from December 2007 to June 2009, unemployment peaked at 10%, or 15 million people. We could cross that threshold very soon at the current rate of filings. The St. Louis Fed estimated in March that the US could see up to 47 million people lose their jobs because of the coronavirus shutdown.
Shifting the Conversation to #returntowork
As of mid-May, one of the biggest conversations happening in the market is around returning to work. There are obvious safety and health concerns, but there are also differences based on what kind of role workers perform. For instance, some companies in the technology industry are allowing some workers to remain remote until 2021. At the same time, executives at other firms are speaking out about the need to be more concerned with worker wellbeing and health during these challenging times.
One of the unintended side effects of the CAREs act passed by Congress to alleviate economic concerns during the COVID crisis has been a particular thorn in the side for some employers and workers alike. Paycheck Protection loans, which were offered to help support operations, require employers to maintain certain levels of staff in order for the money to qualify as a grant instead of a loan. However, PUA, or Pandemic Unemployment Assistance, includes a higher weekly payment than some employees would earn at their job, which is creating a challenge for some companies to get their people back to work and for employees that may not feel safe returning to a work location.
With different areas of the country recovering and opening back up at different rates, only time will tell how quickly and completely this recovery will be.
The Recession and RPO Relationship
Overall, the data are not clear on exactly what happens with RPO firms during a recession.
While it would be nice to have a solid answer here, the historical facts are a bit murky. There are some indicators that highlight the positive opportunities for outsourcing during cost-cutting measures, but at the same time, others point to challenging times ahead.
For example, looking at the stock prices for some of the few public firms doing recruiting and staffing show that they had the same general rise and fall of the overall market during the Great Recession. In the graphic below, the dark blue line is for Manpower, the light blue line is for Kelly Outsourcing and Consulting Group, and the pink line is for the Dow Jones Industrial Average. This isn't conclusive that all businesses doing recruitment process outsourcing are in dire straits, but it is a data point worth examining in the broader context.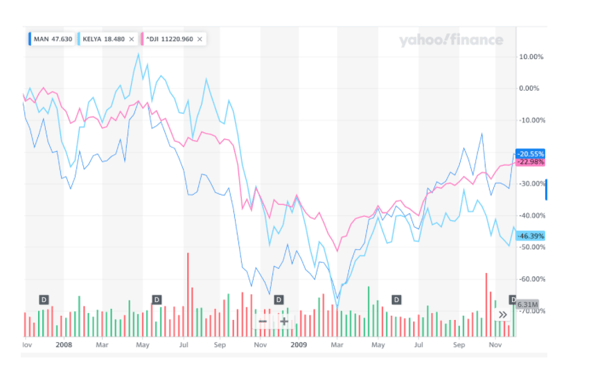 Other positive perspectives come from a variety of sources.
The International Association for Outsourcing Professionals (IAOP) have reports from the 2007 recession and they tend to show positive growth in outsourcing overall as companies looked to shift costs and reduce headcount.
The Bureau of Labor Statistics, a branch of the US government that looks at employment and demographic trends, reported in a study that spanned over 30 years of data that the business services industry was fairly inelastic. In economic terms, the demand for business services does not vary significantly based on the economy.
That said, data from the American Staffing Association that examines staffing levels year over year shows a definite dip in staffing employment during the recession. However, the silver lining is that the recovery is much faster than the rest of the economy as employers attempt to ramp back up to meet demand.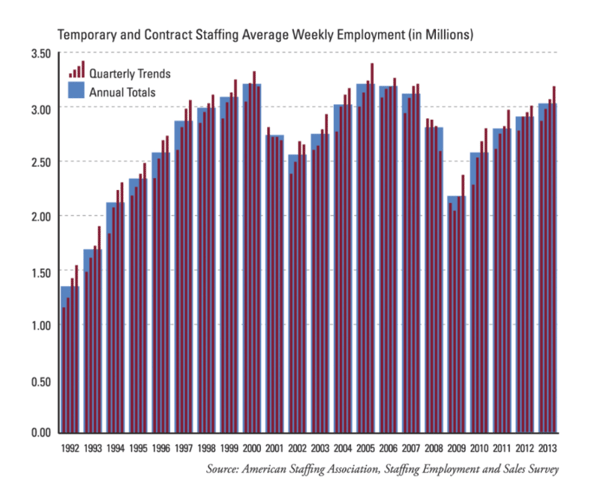 Anecdotally, several of the business leaders we talked with for this analysis laid out a similar set of responses based on historical experience:
Employers slow their hiring but prefer to maintain existing staff if possible, which would put emphasis on internal recruiting teams and pressure on the RPO industry.
Employers that need to cut deeper as things worsen economically may lay off their internal recruiting workforce, but getting approval for working with third party vendors is easier than bringing back headcount, which swings the value back in the RPO direction.
As the economic tide turns positive, employers will need to hire quickly to ramp back up production, which gives RPO firms a chance to show their true value and scalability.
This overall trend is backed up by data from the Great Recession that showed RPO continued to grow, albeit quite slowly, during the economic downturn.
If this feels like a two-sided argument, it certainly is. There are complicating factors, to be sure. Also, some industries, as outlined below, will definitely fare better than others in the coming months. If a shift to prioritize more "recession proof" industries is not already on your immediate planning horizon, it should be.
Industries Affected by COVID-19
In terms of industries affected by the coronavirus shutdown, the strange part about this situation is that it cuts across normal verticals to a single focal point: anything related to people gathering or using shared spaces is taking a hit.
In other tough times historically, industries like food and beverage and some varieties of retail were fairly recession-proof, which is what makes this current situation somewhat unique.
According to this list, which totals over half a million workers affected by various layoffs and furloughs thus far, we can expect to see continuing impacts to retail, travel, food and beverage, entertainment, and hospitality.
Industries like manufacturing and construction, if they are not currently considered essential services, are also being limited in their capabilities to operate and employ workers. That's the impact on the immediate landscape, but the long-term impacts of this shutdown will likely manifest in a ripple effect across industries that span the entire economic landscape.
This is supported by data from Brookings that looks at concentrations of jobs in industries and geographic areas that are expected to be at highest risk for impacts from the coronavirus shutdown. For instance, in an area like Midland, Texas, four out of every 10 jobs is one put at risk by COVID-19 restrictions.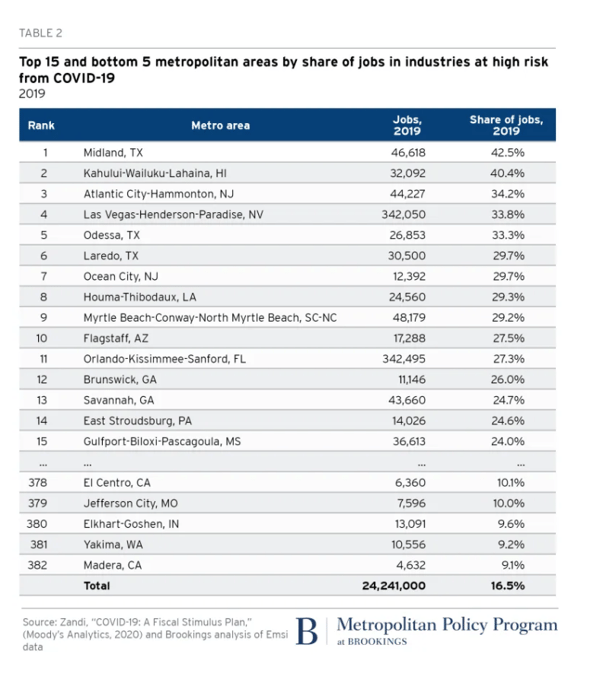 In spite of relatively quick movement by the government, it's unknown how many small businesses will be able to survive the current shutdown environment. Not surprisingly, the industry that is continuing to move unscathed, as has been true historically regardless of the overall economy, is healthcare.
One other update as of mid-May comes to us from Glassdoor's economic research team. Their monthly updates look at affected industries and how employers are proceeding with hiring, and their data show that one in 10 companies are increasing openings while 42% have reduced and 25% have paused all openings for now.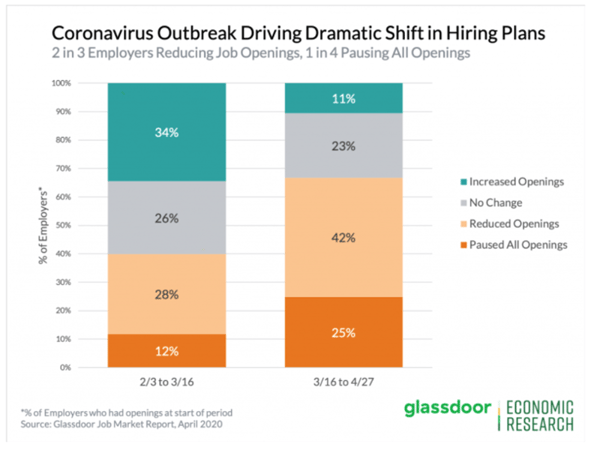 The bottom line is that this is an evolving situation that continues to change on an almost daily basis. We will continue to monitor this space for changes that impact the RPO providers that are serving employers across the landscape.
About the author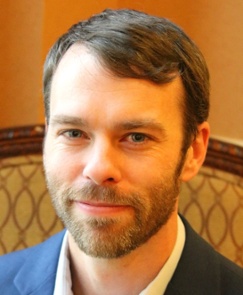 Ben Eubanks is an analyst, international speaker, author, and podcaster. He leads the research agenda as the Principal Analyst at Lighthouse Research & Advisory, providing insights for today's talent leaders and vendor partners. His book, Artificial Intelligence for HR, was published in 2018 and was highlighted as the #1 New and Noteworthy HR Books on Amazon. He has experience running the HR and talent function in the trenches and brings a practical perspective to his approach. Ben has worked with business leaders from notable organizations such as Southwest Airlines, Intel, Cox Enterprises, Delta, and AlliedUniversal in his role as the host of We're Only Human, a podcast focused on the intersection of people, technology, and the workplace. In addition, he founded and operates upstartHR.com, a community for HR leaders that has served more than one million readers since its inception.