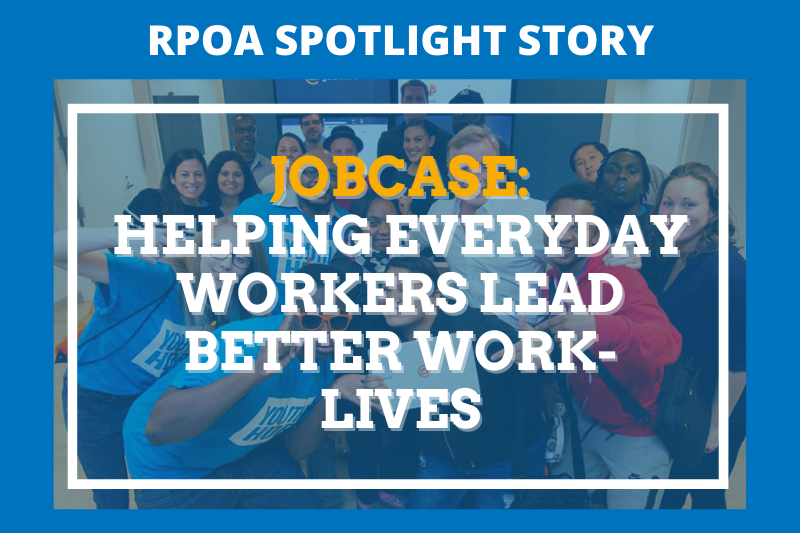 From the ash heap of the Great Recession of 2008, Fred Goff created Jobcase, a social media platform empowering workers to find everyday jobs.
Goff was a co-founder of Percipio Capital Management, a successful machine-learning money management firm. His team were innovative thinkers in the financial community but saw an opportunity to take that expertise and apply it to a greater cause – leveraging their data science and software development background to help millions of hourly workers who were so greatly impacted by the recession. In 2015, Jobcase the social media platform was born, a community focused on empowering the hourly workers of America.
Community and empowering workers are the driving factors at Jobcase, a social media platform dedicated to helping everyday working people lead better, more meaningful work-lives. The platform provides access to jobs, tools and resources, and a community for support. "We are much more than a Facebook for your work-life," Goff told Dr. Woody Woodward in a 2017 LinkedIn interview. "We focus on empowering the working folks of this country."
Jobcase also offers robust products and services for employers and nonprofits–such as job promotion, virtual and physical hiring events, brand building, and community engagement–to help them find the right hires and provide great jobs for members. Jobcase expertise in data science and machine learning, combined with its member relationships, makes it particularly good at helping employers engage with everyday workers.
The Everyday Worker Job Platform
Jobcase supports a community of 110 plus million everyday workers. This community creates a larger spectrum of the labor market than most job boards or work-oriented social networks. It specializes in helping non-professionals–such as hourly workers, tradespeople, people who do not have a 4-year degree, and those who change jobs frequently–encompassing about 80% of the US workforce.
Jobcase is unique because it helps workers with every aspect of their working lives, a personalized experience, tools, resources, advice, and the empathetic support they need to achieve a better tomorrow.
Furthermore, its products help clients leverage the power of its community, enabling them to reach candidates that are not likely to be on other social networks or job boards designed for professional or exempt employees. As a result, Jobcase members are connected with great opportunities, and employer partners reach more qualified candidates for their positions.
Some of the ways Jobcase helps members and employer partners connect include:
Access to a diverse, hourly worker audience not found on other channels. Jobcase offers the ability to reach and build relationships with millions of these workers in its community.
Hiring at scale. Jobcase data scientists and multi-channel marketing expertise help clients with high-volume, multi-location, or peak season hiring projects at the national or local level.
Solutions that improve the candidate experience. For instance, Jobcase integrates with ATS platforms such as Bullhorn and Workday to make it easy to provide direct applications.

A Quick and Effective Response to the Pandemic
Jobcase adapted quickly during the coronavirus pandemic to provide several companies with virtual hiring solutions, branding, outreach, and promotion assistance for workforce development with state governments.
Jobcase also provided their members with various resource centers – addressing the need for information on subjects like unemployment benefits, stimulus payments, work-from-home jobs, finding a new job, government programs, etc.
In the Summer of 2020, the state of Rhode Island partnered with Jobcase to get workers back to work and jumpstart the state's recovery from the COVID-19 induced economic downturn. Jobcase developed a platform specifically for over 60,000 Rhode Island job seekers to inform them of back-to-work training and job opportunities.
This example shows that companies and institutions that team up with Jobcase will not only meet their hiring goals, but they'll also be a part of improving the lives and access to opportunities for working people everywhere.
Committed to Helping America's Workers
The people at Jobcase are highly committed to its mission. Many choose to work there because of the enormous potential to help working Americans. "We are empathetic, data-driven problem solvers with a big heart for the members of our community and a strong desire to help our employer and nonprofit partners achieve their goals," Jim Hoen, VP of RPO & Staffing Solutions, said.
Jobcase also knows that improving work-lives begins with their team and strives to create a fun, inclusive, and challenging atmosphere that helps employees succeed and achieve their own better tomorrows.
The three beliefs that drive the culture at Jobcase are:
Success happens when we care about others: Caring is fundamental to how the Jobcase Community works. We help and encourage one another because we're stronger when we work together.
Each of us needs to drive our own work-life: Gone are the days when companies or managers nurtured a person's career. Now, it's up to the individual. Own it. Drive it, and know that Jobcase is here to support you every step of the way.
Good companies value workers as much as shareholders: All too often, only shareholders get to split the profits when workers are the ones that get the job done. So in our opinion – if you developed it or built it – you should be rewarded too. Period.
"Being a part of an organization that is dedicated to helping people and workers find meaningful employment opportunities and careers is a noble cause," Hoen said. Jobcase helps people find life-changing jobs that may enable them to feed their families and build a future. It's an organization that embraces and strives to help all people equally and truly focuses on the underserved population and workers throughout this country.
Joining Forces with RPO Partners to Improve the Lives of Workers
Around 2018, in an effort to find new employment opportunities for their members Jobcase started an effort to develop partnerships with RPO firms. "RPO firms support employers in delivering the recruitment, marketing, workforce planning expertise and diversity of thought in talent acquisition," said Hoen. "Through its partnerships with leading RPO organizations, Jobcase is assisting RPO program teams in creating opportunities for the membership community." This collaboration helps influence employer solutions for issues like access to opportunity, pathways for upward mobility, diversity in the talent pool, and rewarding all stakeholders. As a result, these solutions improve the lives of everyday workers.
Jobcase believes RPO is such an excellent option for employers. RPO firms are truly the talent acquisition experts. Employers can leverage the best and brightest minds in the TA space that have participated in so many different talent strategies and recruiting tactics. Companies can outsource and partner with RPO firms to deliver their critical high volume hiring needs. Jobcase builds strong relationships with RPO firms and continues to play an essential component for their program sourcing requirements