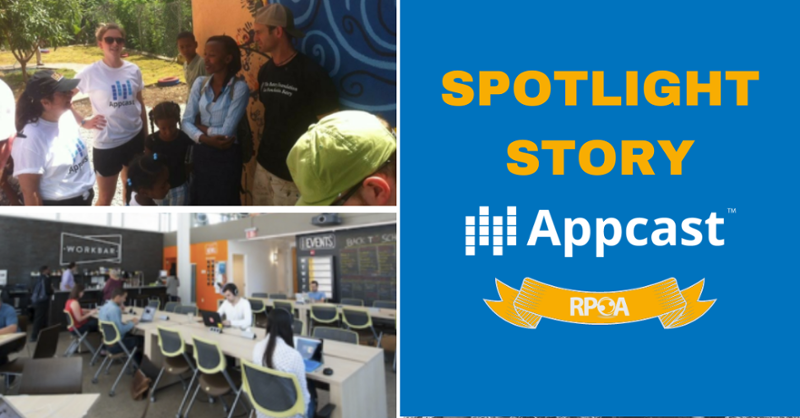 Chris Forman, Appcast CEO and Founder, has spent his career building software that is impactful to HR teams. After leading these efforts at companies like ADP, The Right Thing, and Startwire, Forman saw an opportunity to help recruiting teams take advantage of the benefits of big data to scale, automate and optimize many of the tasks and processes that bog talent acquisition teams down.
Founded in 2014 in Lebanon, New Hampshire, a $79 million acquisition catapulted Appcast onto the big stage of programmatic recruitment by mid-2019. The company is currently over 150 employees (and over 20 furry office mates) rooted across the United States, Canada, UK, and Belarus.
Recruitment efficiencies and cost savings are key drivers for Appcast technology. Considering that in recent years, eMarketer estimated that around 80% of digital advertising spend is wasted, there was an obvious opportunity to help those advertisers who focus on recruiting and TA to get better results from their budgets and achieve their hiring goals more quickly and effectively. This enabled talent acquisition and recruiting professionals to focus on what they do best and what is most important - the people!
A Dynamic Solution to Meet Moving Recruiting Targets
Recruiting and talent acquisition is challenging because there are so many inputs and variables that can affect the employer's ability to find candidates and fill open positions, and they change constantly!
If you break it down, talent acquisition teams are up against 3 things - external factors (like the labor market, the economy, etc), internal factors (such as shifting business goals or priorities or sudden changes in hiring needs), and internal process (like the efficiency of the application process or the candidate experience offered by the ATS, for example).
Overwhelmed by so many variables, results in many recruiting teams having reactive, inefficient strategies with little control, agility, or scalability. They run into challenges such as wasting budget on jobs that don't need any more candidates, being overwhelmed with jobs that are flooded with applicants (which recruiters can't disposition quickly enough and leads to poor impression of your employer brand), struggling to find candidates for hard to fill roles or those in hard to fill locations, and so on and so forth.
Appcast solves this dynamic problem with an equally dynamic solution - data, technology, and automation. The Appcast software enables TA teams to be more data-driven and to understand how to get the right volume of candidates for every open job at the best price possible, and this all happens with the power of real-time data. In the current hiring environment, current data and the ability to pivot on a dime are paramount to a recruiting strategy that will grow, and evolve over time, and adapt to whatever the world throws our way!
Appcast: A Job Ad Exchange
"Appcast is unique in that it's the only programmatic job ad exchange focused on aligning customers' quality and hiring goals to the sources of candidates out in the market," said Leah Daniels, SVP of Strategy at Appcast.
A job ad exchange is a data-based, single point of access to numerous job sites/boards that (usually programmatically) facilitates the ease (through automation) of job distribution and budget management. How does that help employers or recruiting firms? It means they only need a single vendor/tool with 1) access to many sources of candidates, 2) ability to allocate budget and candidates across the jobs that need them most, and 3) the price to post jobs are aligned to the job title, location, and volume required. In essence, with Appcast, employers are getting the best reach possible which means they get the volume, quality, and speed to reach the candidates they need.
"Additionally, there are no hidden costs to working with Appcast - the budget employers spend is that which they use to post jobs and get candidates. Based on the Appcast model, employers only pay for applicants--not for clicks--and so they know they are paying for a real, actionable result. For RPOs specifically, the advantage of Appcast is the ability to work with the margin constraints that are unique to their business model," shares Daniels.
Lastly, because Appcast works from a sort of agnostic position to support employers, staffing and recruiting firms, RPOs, and job boards, Appcast manages a significant portion of job advertising spend in the U.S. Why is this important? Because it means Appcast has the largest corpus of data in the industry and from that, they're able to analyze and share what works best for reaching ideal candidates.
Appcast + RPOs = Big Recruitment Impact
Appcast has long been on a mission to help hiring organizations find candidates and connect great job seekers to great jobs. Because RPOs are not recruiting for their own teams specifically but for the hiring needs of many organizations, it really adds to the complexity of it because then you're managing against many sets of goals, budgets, needs, and expectations of what makes a qualified candidate.
As a result, Appcast's programmatic platform is made for anyone who needs to hire at scale and get the best results possible from their budget available.
Appcast's Passion for the RPO Industry
"We love to help our RPO clients see results and get better ROI from their job posting efforts by focusing on sources of qualified candidates, removing jobs from the market that have enough qualified candidates, as to ensure no money is spent on unnecessary candidates and building consistent talent pipelines for high-volume positions. Our solution gives RPOsthe flexibility to tailor strategies across their client base and because they're able to help clients more efficiently and effectively use the budget and fill roles The RPO in turn, is able to centralize their recruitment advertising efforts to be more efficient and effective," said Daniels]. "We find RPOs are able to have more transparent conversations about the cost to acquire candidates, especially for harder to fill roles, because they have a better mechanism for insight and accountability. A programmatic recruiting solution for RPOs is really a rising tide that lifts all boats!" Daniels added.