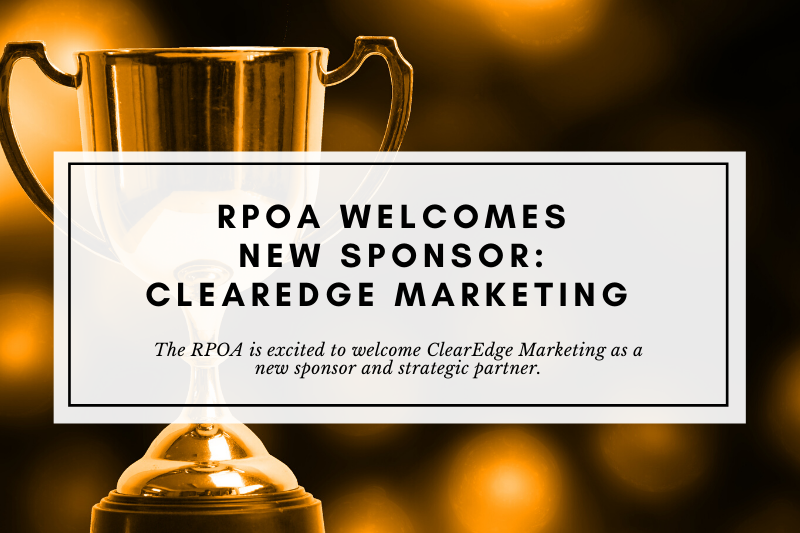 Midlothian, Virginia - July 20, 2020 - The Recruitment Process Outsourcing Association (RPOA) is very delighted to announce that ClearEdge Marketing has joined the association as a Gold-Level sponsor and that Michelle Krier, SVP of Sales & Marketing, has joined its advisory board.
ClearEdge Marketing is the perfect strategic partner for the RPOA, and Krier is a welcomed addition to the advisory board. "This partnership allows ClearEdge Marketing to contribute our thought leadership and industry experience to the RPOA membership and demonstrates our commitment to the RPO industry, "said Krier.
Pam Verhoff, Advanced RPO president and RPOA advisor, commented: "I'm thrilled that ClearEdge will be partnering with the RPOA! Their team's expertise in talent acquisition and more specifically, RPO, will bring great value to both the Association and its membership."
A domain expert in the talent and HR technology space, ClearEdge Marketing combines deep industry knowledge with a plethora of marketing services focused on business growth. Krier is a welcomed addition to the advisory board providing directions and insights to the RPOA leadership.
"We're thrilled about our partnership with Michelle Krier and ClearEdge Marketing. Michelle's remarkable industry knowledge and connections offer great assets to the RPOA," said Lamees Abourahma, RPOA Executive Director. "ClearEdge Marketing has been a reliable strategic partner for many of our members. I'm really looking forward to working more closely with Michelle going forward and introducing ClearEdge Marketing to our entire membership."
Founded in 2005, the RPOA has evolved into the go-to destination for talent acquisition leaders passionate about RPO. The RPOA website offers the largest digital content of RPO resources and its programs offer a platform for RPO peers to connect and share thought leadership. Together with its members and partners, the RPOA is committed to serving its RPO community by keeping RPO leaders informed on the state of the recruiting industry and keeping employers informed on the unique value of RPO to the success of their business.
About RPOA
The Recruitment Process Outsourcing Association (RPOA) is a member-driven association serving the global RPO community. We are committed to advancing, elevating, and promoting recruitment process outsourcing as a strategic talent solution for organizations seeking to reach their highest potential through their people. We pursue our great purpose by nurturing a collaborative community where thought leadership can be created and curated to educate the marketplace about recruitment process outsourcing. We are "the place to go for RPO (TM)".
For more information about the RPOA, visit www.rpoassociation.org.
About ClearEdge Marketing
ClearEdge Marketing is a fully integrated agency trusted by growth-obsessed talent and HR tech companies. The firm couples its domain expertise with super-smart strategies that accelerate pipelines and make brands matter. Think digital, creative, brand building, utterly targeted, data-driven and ahead of the curve. The team thrives on sparking conversations that ignite relationships between brands and their audiences — and make them stick. Whether special forces by the project, integrated into a client team ongoing or an entirely outsourced marketing team, ClearEdge is agile in its delivery approach and meets clients at their needs.
For more information about ClearEdge Marketing, visit www.clearedgemarketing.com.