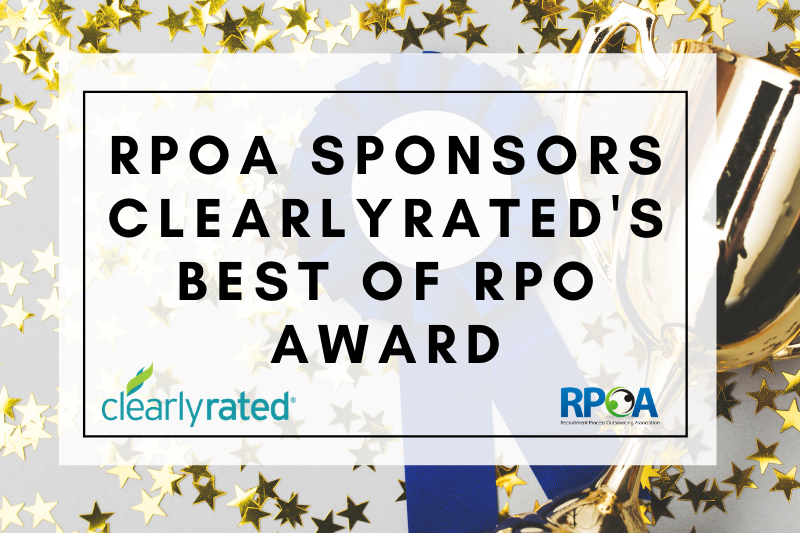 The Recruitment Process Outsourcing Association (RPOA) is proud to announce that it partnered with ClearlyRated to bring RPO providers the same credibility and transparency ClearlyRated has provided staffing and recruiting providers for more than a decade.
With an estimated annual revenue of $4 billion and a growth rate of over 15 percent (three times higher than the broader staffing industry), RPO has been a very attractive space for many small and large staffing and recruiting providers. The RPO marketplace continues to see an influx of newcomers from small recruiting and staffing companies without the proper experience in RPO implementation and unique business model, running the risk of failed RPO relationships and damaged reputation to the provider and the industry in general. As such, differentiation has become essential for RPO providers, and partner selection has become crucial for RPO buyers.
ClearyRated's Best of RPO, presented in partnership with Indeed, is a customer-and-employee-satisfaction based program with the top-rated participants recognized by the annual Best of RPO Award. The program allows RPO providers to differentiate their company in a crowded marketplace, and provides prospective buyers with a credible and transparent symbol of quality as they vet RPO providers.
"We [at the RPOA] are passionate about advancing, elevating, and promoting RPO. The Best of RPO program aligns with two of our core values, honesty and stewardship, and provides our members and the RPO industry the transparency it needs," said Lamees Abourahma, Executive Director of the RPOA. "Many RPOs are dissatisfied with the existing RPO ranking programs. We're excited to partner with ClearlyRated to bring a transparent and unbiased alternative to what's out there," she added.
"ClearlyRated has worked closely with Indeed and RPOA to design a program to help protect revenue and increase trust with buyers," according to ClearlyRated CEO & Founder, Eric Gregg, "By providing true transparency to the ratings, our goal is to be the premier quality measurement program within the RPO industry. The support of RPOA will help us continue to shine the light on top RPOs, and help RPO buyers find the best service providers in the space."
"The RPOA is excited to partner with ClearlyRated on Best of RPO - Client Satisfaction 2020," Cory Kruse, Orion Talent's president and RPOA Advisory Board Member, commented on the partnership. "For any legitimate RPO provider, delivering and sustaining exceptional levels of service is critical. ClearlyRated's methodology and scoring provide the valid and objective quality benchmarks needed to ensure alignment and delivery excellence," Kruse added.
About RPOA
The Recruitment Process Outsourcing Association (RPOA) is a professional membership association serving the global RPO community. We are committed to advancing, elevating, and promoting recruitment process outsourcing as a strategic talent solution for organizations seeking to reach their highest potential through their people. We pursue our great purpose by nurturing a collaborative community where thought leadership can be created and curated to educate the marketplace about recruitment process outsourcing.
About ClearlyRated
ClearlyRated is a client feedback program designed to help recruiting firms leverage the Net Promoter® Score survey methodology to measure the client experience, build online reputation, and differentiate on service quality. ClearlyRated's annual Best of RPO program is the only industry award recognizing RPOs that have demonstrated exceptional service quality based exclusively on ratings provided by their clients.