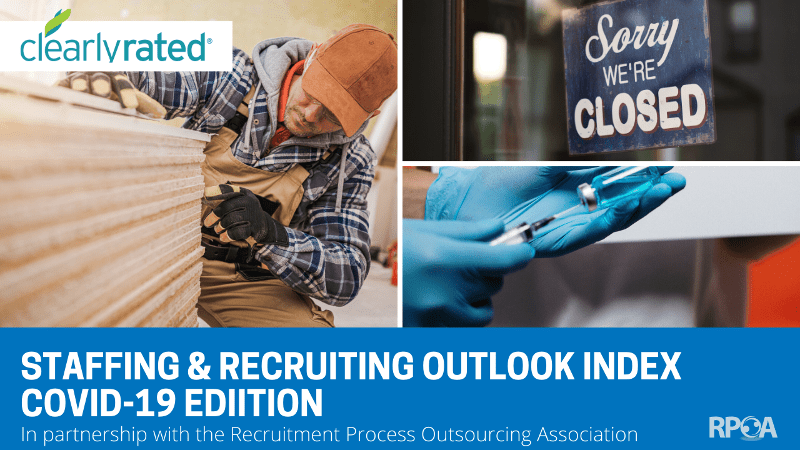 The Recruitment Process Outsourcing Association (RPOA) is very pleased to partner with ClearlyRated on a crucial report showing the state of the staffing and recruiting industry during the coronavirus pandemic. Launched in April, the monthly Staffing and Recruiting Outlook Index aims at providing a pulse check for RPO leaders. The "60-second survey will contribute to a larger data set that offers RPO professionals a more comprehensive perspective on business sentiment (and business outlook) across the industry," said Eric Gregg, ClearlyRated CEO and Founder.
Initial responses highlights the following findings:
While the majority of RPOs (85%) are prioritizing cost cutting over investing for growth;
38% expect job orders to increase in the next 30 days;
And 92% of RPOs expect their business outlook to be better 6 months from now.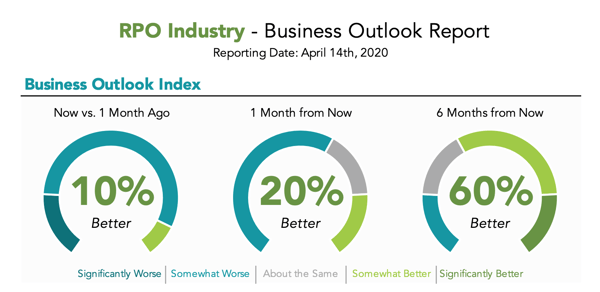 RPOA Executive Director, Lamees Abourahma, said: "We understand this is an ominous and unprecedented time for everyone. The Recruitment Process Outsourcing Association is committed to serving our community during this time by keeping RPO leaders informed on the state of our industry and keeping employers informed on the unique value of PRO to the continuity of their business." The Staffing and Recruiting Outlook Index offers benchmark data for RPO leaders they can use to compare their company's performance against.
"We're delighted to partner with ClearlyRated on this important research and invite the RPO community to participate for their own benefit and the greater good of our industry," said Abourahma.
"The impact of COVID-19 has been felt by everyone, with RPOs on the front lines of job creation. At ClearlyRated, we will continue to work alongside you to bring timely industry insight to all within our community, and by helping recruiting leaders attract and retain the clients and talent who power their business," said Gregg.
A one-page summary of April's index result is available here, but RPOs are highly encourage you to participate in the monthly index to access the comprehensive findings specific to the RPO industry.