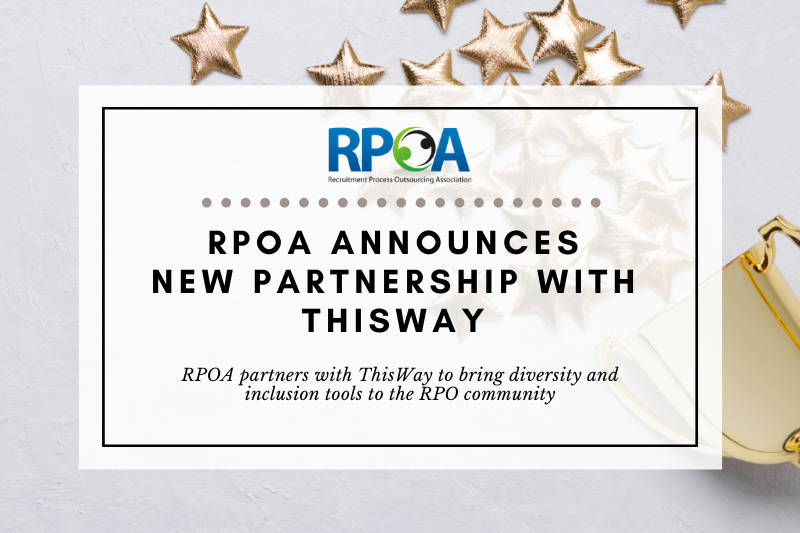 The Recruitment Process Outsourcing Association (RPOA) is delighted to welcome ThisWay Global as a new technology partner.
Diversity, equity, and inclusion (DE&I) in the workplace is more important today than ever before. Research show DEI increases talent pools, increases innovation and improves performance and profitability. The challenge for organizations remains to recruit and hire top talent without the influence of unconscious bias.
Angela Wood, ThisWay's CEO explained the value of their technology: "RPOs can truly benefit from a partnership with TWG because our sourcing and matching technologies can help an RPO instantly connect with new qualified talent, and reveal current applicants within their internal databases."
"We're very excited to introduce ThisWay to our RPOA membership and the RPO community. Our RPOA members are passionate about solving clients' talent problems," said Lamees Abourahma, RPOA's Executive Director. "ThisWay can be a great partner for RPOs who are looking for a talent diversity solution for their clients,"
About the RPOA
The Recruitment Process Outsourcing Association (RPOA) is a professional membership association serving the global RPO community. We are committed to advancing, elevating, and promoting recruitment process outsourcing as a strategic talent solution for organizations seeking to reach their highest potential through their people. We pursue our great purpose by nurturing a collaborative community where thought leadership can be created and curated to educate the marketplace about recruitment process outsourcing. For more information about the RPOA, visit our website at www.rpoassociation.org.
About ThisWay Global
Through her personal experience working in a male-dominated industry, Angela Hood, ThisWay CEO and Founder, saw firsthand the importance of bias removal to deliver more qualified candidates and benefit from a diverse workforce. Through years of incubation and 15 trillion matching events, unbiased matching technology can now be embraced by all industries. Headquartered in Austin, Texas, the ThisWay team is committed to providing recruitment solutions to all. To learn more visit https://thiswayglobal.com/