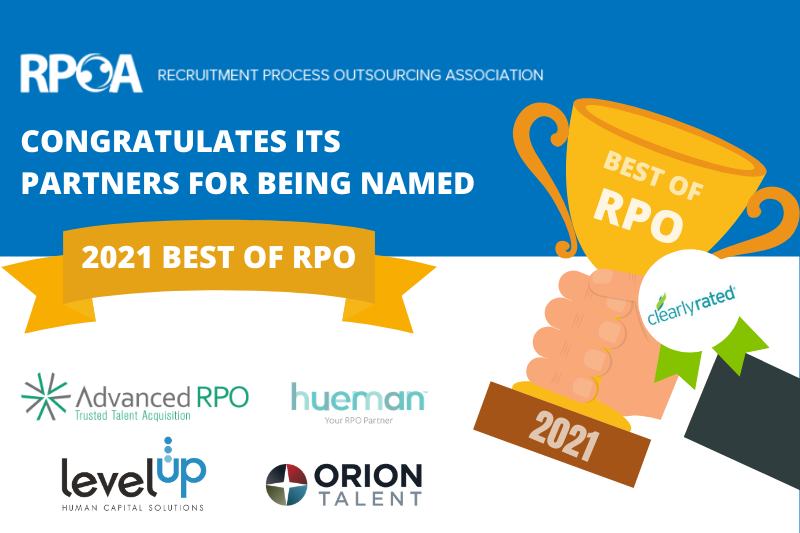 The Recruitment Process Outsourcing Association is proud to announce that several of its RPO members have been named 2021 Best of RPO Winners.
ClearlyRated's Best of RPO is the nation's only service excellence award for the RPO industry that leverages third party validated survey responses from RPO firm clients. 2021 Best of RPO award is a special recognition for those RPO companies who demonstrated exceptional client service with the added constraints of the COVID-19 pandemic of 2020.
2021 Best of RPO winners include RPOA's member LevelUp, in addition to three founding members of the RPO Association, Advanced RPO, Orion Talent, and Hueman RPO. "We know our RPOA members are some of the best in the RPO industry," said Lamees Abourahma, Executive Director of the RPOA "The Best of RPO award is a well-deserved recognition of the exceptional levels of service they deliver to their clients."
RPOA, the place to go for RPO, brings many programs and resources to the RPO industry. This year, the RPOA is proud to be the official Association Sponsor of ClearlyRated's Best of RPO program and to bring another valuable resource to RPO clients. "ClearlyRated's methodology and scoring provide the valid and objective quality benchmarks needed to ensure alignment and delivery excellence," said Cory Kruse, Orion Talent president.
"We [at the RPOA] are passionate about advancing, elevating, and promoting RPO. ClearlyRated's Best of RPO program aligns with two of our core values, honesty and stewardship, and provides our members and the RPO industry the transparency it needs," said Abourahma. "Many RPOs are dissatisfied with the existing RPO ranking programs. We're excited to partner with ClearlyRated to bring a transparent and unbiased alternative to what's out there," she added.
About RPOA
The Recruitment Process Outsourcing Association (RPOA) is a member-driven association serving the global RPO community. We are committed to advancing, elevating, and promoting recruitment process outsourcing as a strategic talent solution for organizations seeking to reach their highest potential through their people. We pursue our great purpose by nurturing a collaborative community where thought leadership can be created and curated to educate the marketplace about recruitment process outsourcing.
About ClearlyRated
ClearlyRated's Best of RPO is a client feedback program designed to help recruiting firms leverage the Net Promoter® Score survey methodology to measure the client experience, build online reputation, and differentiate on service quality. ClearlyRated's annual Best of RPO program is the only industry award recognizing RPOs that have demonstrated exceptional service quality based exclusively on ratings provided by their clients. Award winners are showcased by city and area of expertise on ClearlyRated.com - an online resource for companies to find and vet RPO providers. RPO profiles on ClearlyRated.com feature Best of RPO award history, satisfaction ratings, and testimonials from clients.