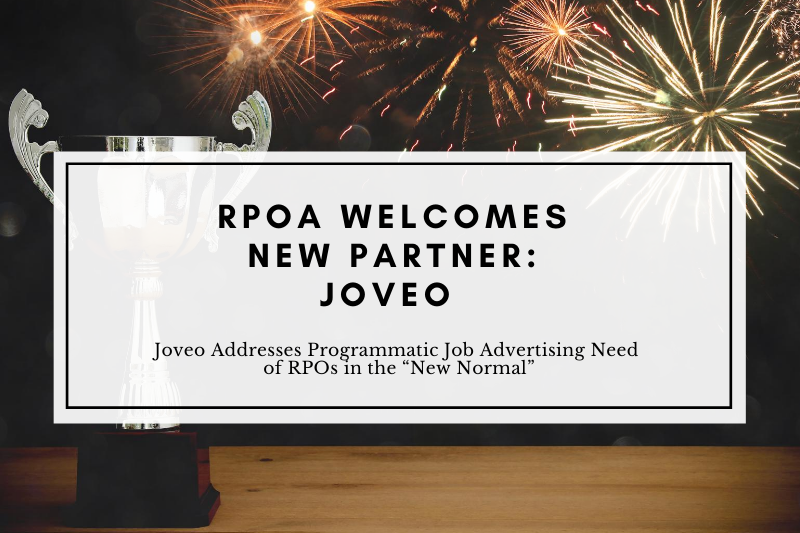 Midlothian, Virginia - August 20th, 2020 - The Recruitment Process Outsourcing Association (RPOA) is thrilled to welcome our newest association member, Joveo, the global leader in programmatic recruitment advertising technology. The partnership comes at a time when RPOs around the world are searching for creative and cost-effective ways to fulfill their clients' hiring goals while running sustainable businesses with reduced budgets.
"We are thrilled to partner with the Recruitment Process Outsourcing Association and enhance our ties with the RPO community," said Jim Dwyer, Vice President of Strategic Partnerships at Joveo. "This partnership will enable RPOA members to leverage the best of Joveo's industry-leading programmatic job advertising technology. Joveo delivers the most qualified hires quickly, reduces cost per hire, and delivers unmatched transparency and predictability, all in real-time." The partnership will also offer RPOA's audience access to Joveo's deep recruitment marketing expertise, thought leadership, and unique, data-driven industry insights. This enables Joveo to bolster its market leadership in the global RPO community.
"Programmatic is one of the most important innovations in recruitment outsourcing. We're ecstatic to partner with Joveo, one of the foremost programmatic providers in the industry today," said Tim Hawk, RPOA Director of Partnerships and Business Development. "Joveo is rapidly transforming the global talent acquisition and recruitment marketing ecosystems with its cutting-edge technology and best-in-class global team. We look forward to collaborating with Joveo on delivering educational and thought leadership resources to our RPO community," added Lamees Abourahma, RPOA Executive Director.
About RPOA
The Recruitment Process Outsourcing Association (RPOA) is a professional membership association serving the global RPO community. We are committed to advancing, elevating, and promoting recruitment process outsourcing as a strategic talent solution for organizations seeking to reach their highest potential through their people. We pursue our great purpose by nurturing a collaborative community where thought leadership can be created and curated to educate the marketplace about recruitment process outsourcing. For more information about the RPOA, visit our website at www.rpoassociation.org.
About Joveo
Joveo, the global leader in programmatic recruitment advertising, enables businesses to hire the most relevant talent in the shortest time, while knowing their costs, quality, and time-to-fill before they even begin. Powering more than 20 million job postings every day, Joveo's intelligent job advertising platform uses machine learning to dynamically manage and optimize sourcing and applications across all online channels, while providing real-time insights at every step of the job seeker journey from click to hire.
Joveo replaces the guesswork, complexity, and inefficiency of today's recruitment practices with intelligence, transparency, and power, delivering more relevant candidates, more certainty, and more success to employers around the world.
For more information, visit www.joveo.com. Follow us on LinkedIn and Twitter.
###