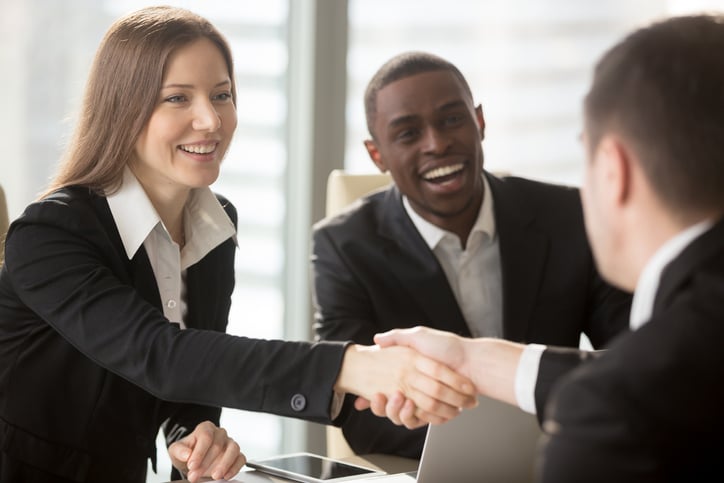 With 2020 just rolling in, experts predict that candidate experience will continue to be one of HR's top priorities, and for good reason. A positive candidate experience helps companies not only attract more talent, but attract a higher quality of talent. It can expand referrals, increase positive social recruiting connections and improve company reviews, ultimately leading to more resumes. More importantly, candidate experience can have a long-lasting impact on a company's reputation – good or bad.
This makes creating a positive candidate journey a critical function of an RPO. Not only does the RPO need to ensure its own team is effectively managing the recruitment process but that they're providing specific counsel to the client on how to create a positive experience for each and every candidate.
RPOs and the Power to Improve Candidate Experience
Most candidates aren't in tune with the inner workings of the recruiting process. They don't know if they're interacting with a company's internal team or an outside firm. What they do know, and what they will share with others, is a bad experience. In its survey, Career Arc found that of the 60% of job seekers that had a poor candidate experience, 72% shared it either online or directly with a colleague or friend. Over time, these negative comments can damage a company's employer brand and make it harder to attract talent.
Here are a few simple steps an RPO can take to better engage candidates on behalf of their clients:
Timely communication: A CareerBuilder study showed that 81% of job seekers felt that frequent status updates would greatly improve the overall experience. Quick check-ins by phone, text or email go a long way in building a solid recruiter/candidate relationship. Even if there's no new information to share, it doesn't hurt to let candidates know that they haven't been forgotten.
Honest feedback: Recruiters should never leave a candidate in the dark about why they didn't get a job. Whether it's a lack of qualifications, a flubbed interview or a culture mismatch, the concerns should be personally relayed with specific recommendations on where to adjust. Additionally, recruiters should always reinforce a candidate's areas of strength and let them know of possible future opportunities.
Candidate sharing: If a client doesn't have the right position available for a talented job seeker, the recruiter should consider referring the candidate to a trusted colleague in their network that may have an appropriate position. It's important to get the candidate's approval first and always follow-up to determine if the experience with the new recruiter was positive.
Social media: Recruiters can make themselves more valuable to candidates by creating or sharing online communities where job seekers can share tips and get expert advice. They can also position themselves as thought leaders to candidates and clients by posting articles, data and resources to their network of followers.
Recommended: Key Recruiting Metrics for Measuring Recruitment Process Outsourcing (RPO) Success [free webinar]
How RPOs Help Clients Step Up Their Game
One big role of an RPO is to counsel clients on how important it is to provide a consistent and positive candidate experience. Interviews can be especially fraught but recruiters can help by sharing their techniques and best practices with the client's internal team, including the hiring manager. Once the candidate is hired, recruiters can also work with the hiring manager to ensure prompt contact is made with the new employee and that a thorough on-boarding experience is delivered. While many companies think their onboarding process is effective, there's always room for improvement as evidenced by a recent Accountemps survey. It found 59% of employees have experienced a mishap when starting a position with the most common challenges being technology issues (39%), lack of necessary supplies (24%) and not being introduced to colleagues (21%).
Additionally, RPOs can work collaboratively with clients to improve a variety of internal processes in order to enhance the candidate experience. These can include:
Data analytics: Many companies rely on ATS metrics to evaluate the pros and cons in their recruitment processes. But to truly understand the candidate experience, companies need more insight than just number of hires and time-to-fill rates. RPO recruiters can gain additional insights directly from candidates through one-on-one conversations, surveys and social media interactions. These data points and anecdotes should become part of the client's regular analysis of its recruitment process.
Recruitment marketing: A positive brand image can start the recruiting journey off on the right foot and marketing is an instrumental Yet according to an HR.com study only 36% of HR professionals rate their understanding of recruitment marketing as "high" or "very high." RPOs can provide guidance to clients on a variety of marketing strategies such as career and web pages; social media posts and online company review sites. They can also solicit feedback from candidates on the effectiveness of the company's marketing and their impressions of its brand. Beyond recruiting, many RPOs also deliver branding services and can provide insight into how to effectively represent an organization's brand throughout the recruitment and onboarding process.
Job descriptions: The old way of creating job descriptions is not effective in our fast-paced, highly-entertained, digital world. They can be seen as dull and way too long. Alternatively, some are vague and attract too many of the wrong candidates. RPOs can help clients develop compelling and accurate job descriptions that succinctly convey the position and company culture. Losing buzzwords, using short paragraphs and providing details in a bulleted format are just a few of the tips that RPOs can walk through with their clients.
For busy HR teams, developing and maintaining relationships with each candidate is an insurmountable task. But in a competitive job market, a positive candidate experience is a necessity for attracting and retaining top talent. RPOs can provide organizations with the vital on-the-ground support needed to build personal connections with candidates while also delivering expert advice on how to improve internal processes and systems. The result? Satisfied candidates that are more likely to pay it forward with positive feedback about the client company and its brand.
Recommended: A quick guide to understanding recruitment process outsourcing (RPO) [free eBook]
About the Author
As ClearEdge Marketing's senior vice president, RPO and tech industry veteran Michelle Krier provides insight and direction to ClearEdge clients on talent acquisition, strategic marketing, sales enablement, customer engagement, and brand growth. She is passionate about working closely with clients to help their recruiting, sales, marketing, and HR operations teams work together and achieve success.