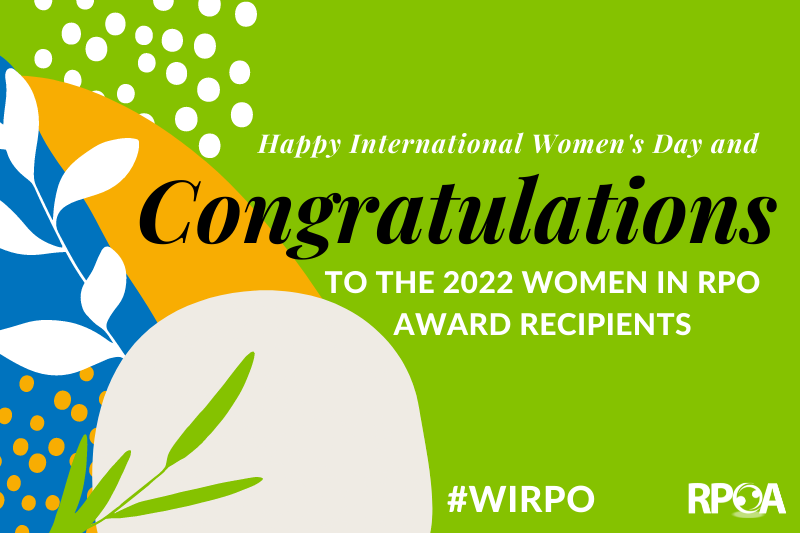 The Recruitment Process Outsourcing Association (RPOA) is honored to recognize 52 remarkable women during Women History Month.
Erin Peterson, PeopleResults Partner, and Global RPO Consultant commented on the significance of this recognition. "I was humbled and honored to be named last year among the accomplished women receiving this award," Peterson said. "The RPO career path is not for the faint of heart. This award speaks to the strength of character and grit it takes to be a woman in leadership, especially in this great industry."
All fifty-two women were nominated by their peers for one of two awards introduced by RPOA: the Influential Woman in RPO is awarded for women who have made significant contributions to the RPO industry and their organizations for over five years, and the Rising Woman in RPO award is for women who've been in the industry for five or fewer years. In addition to the obvious requirement of working in the RPO industry, the only other requirement is to be nominated by a peer. There is no selection process for these awards making them unbiased and fair for all.
Introduced in 2021 as a community engagement initiative, participation in this year's Women in RPO Award program came from 29 organizations across different geographies including the United States, United Kingdom, Mexico, Argentina, and United Arab Emirates.
"It is very heartwarming to read all the wonderful things people said about the women they nominated when we asked them why they made their nomination," said Lamees Abourahma, Executive Director of the RPOA. "When we launched this initiative last year to create community engagement and celebrate diversity in the RPO world, I didn't expect to see the results we received in just our second year. We're very humbled to be a conduit for women's advancement in RPO. "
The complete list of award recipients (along with the recognition they received) is published on March 8th, International Women's Day, and can be found on the RPOA website. Furthermore, each award recipient will receive an individual LinkedIn post announcement. The 52 announcements, tagged with #WIRPO, will be scheduled alphabetically by the first name between March 8th and Mar 31, 2022.
For any inquiries, please contact info@rpoassociation.org.